I was(am) on the search for a more hi-fi bass offering and came across this beauty. I wasn't after a botique style, certainly wasn't after a singlecut but couldn't pass this one up. It's a great bass and impeccably built but just not for me.
This is the first Benavente D style singlecut Benavente made. Beautiful woods, great fretwork, straight neck and perfectly working truss rod. The sound is your "typical" Benavente Hi-Fi with an interesting kind of hollow woody tone that I've found in basses like Warwick. Pronounced low-mids and subtle, sweet highs that never get harsh... more airy and articulate.
The preamp is very useful and doesn't add much color to the sound, rather enhancing the inherent tone of the bass. The volume/volume layout allows you to blend desired levels of each pickup. Each volume has a push/pull pot that allows for active/passive and series/parallel.
There is really no noticable fretwear, the fingerboard is clean and there are no noticable dings, scratches or dulling from fingerwear... this bass is veeeeery clean. Comes with a beautiful Levy's/Benavente leather gig bag.
I'm really looking for trade only. I prefer 5 strings with 34" scale. I'm into more traditional basses but also dig Spector, Zon and select few Warwick basses. A Sadowsky Modern would be killer, would add cash for a NYC. If anyone has an MTD they'd put up I'd add cash for one of those as well. May consider a 2 for 1 deal for A Spector Euro+Musicman or G&L or something along those lines.
I will sell for $2500+shipping. Don't want to ship internationally.
Here are the specs:
- SCD #1 (First Benavente SCD ever)
- Buckey burl top/back
- Mesquite burl back
- Buckey headstock
- Mahogany body
- Pearwood core
- Maple neck
- Ebony Board
- Abalone inlays
- Lowend Pre: 3 Band/Vol/Vol/Active/passive/single coil switching
- Gold/black hardware
- Custom spacing, 1 3/4 nut and 18mm string spacing at the bridge
- 35" scale
Pics blatantly ripped off due to the superior photo talent of others.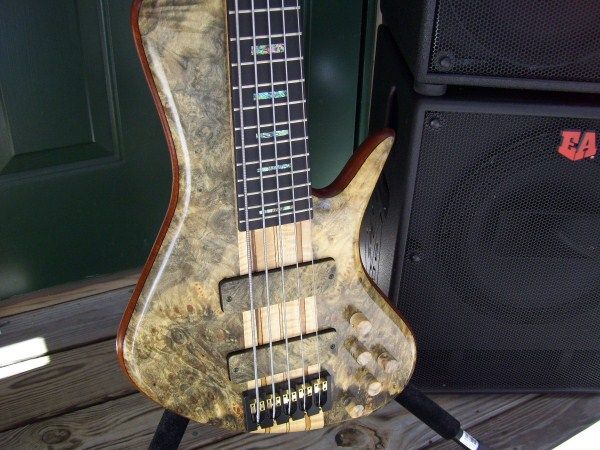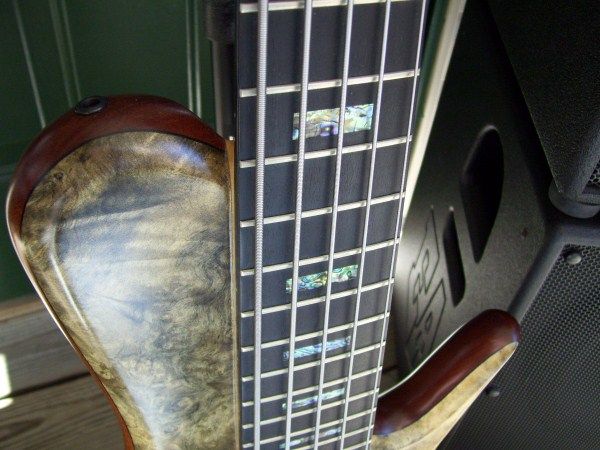 Here's a link to my soundcloud account. It's a clip of the Bennie noodling around to Satriani's Love Type Thing ( I think)... It's a little choppy as I'm turning knobs the whole time. It's starts with the pickups balanced then pans from neck to bridge throughout adding bass/mids/treble at points.
http://soundcloud.com/ben-hughes-42/sounds-from-friday-afternoon