| | |
| --- | --- |
| shanetram | 02-06-2014 10:11 AM |
---
Chandler Austin Special Bass VI / Baritone Guitar $775

$old!
This is a rare bird in great condition! Made in the USA, the Chandler Austins were the only mass produced guitars designed by Ted Newman Jones (worked with Keith Richards). 30" scale is currently strung up as a Bass VI (e to E), but can also be set up as a Bari with lighter strings.
The body has a Seafoam Sparkle front, pearl binding, and Black back. The instrument has a great offset shape and is very balanced with a nice rear belly cut/contour. Get your wiggle on with the very nice trem/vibrato. Features two lipstick picks and a 3 way switch. Tone knob is a pull pot that engages an active boost which is a very nice addition and makes this sound nice and big.
It's been recently set up by a great local luthier and plays very nice. I'm paring down since my wife and I are expecting our first child in a couple of months.
I manage a shipping department so this will be packed very carefully! Comes with a heavily padded gig bag that's not pretty, but protects well. Price includes ground shipping within the Continental USA and I will cover PayPal fees. Many great transactions here, on The Gear Page, and 100% positive feedback on EBay under the same username.
Thanks!
-Shane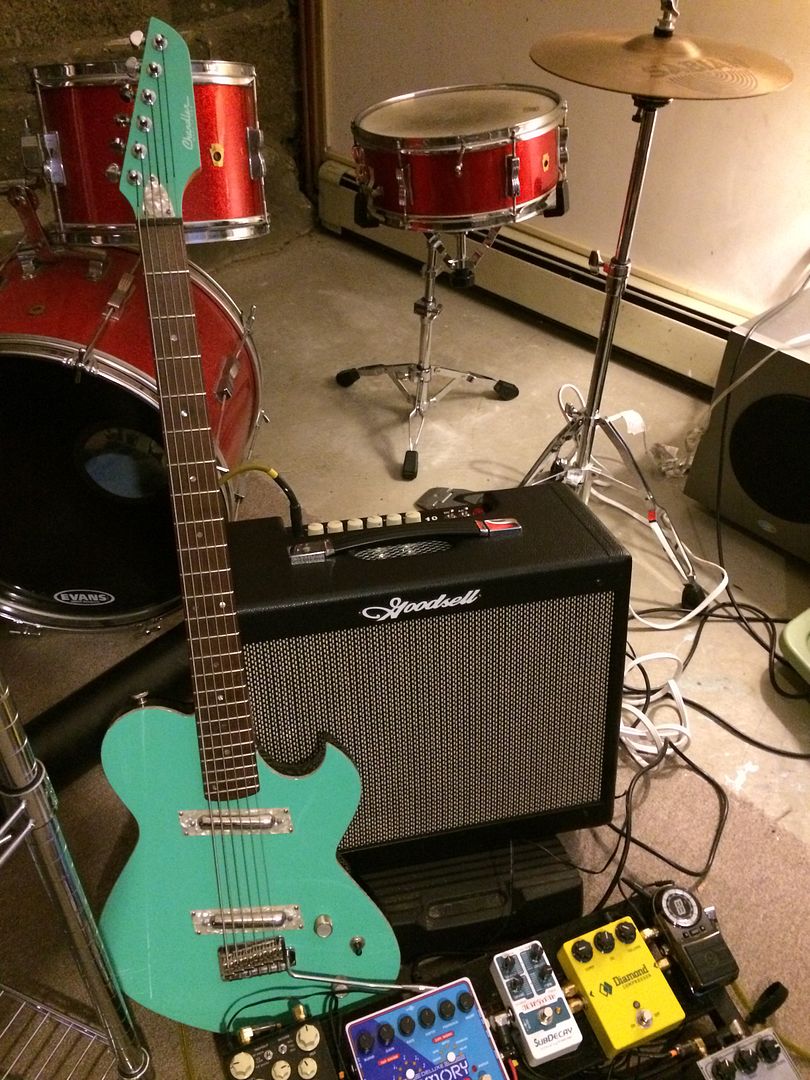 | | |
| --- | --- |
| shanetram | 02-10-2014 11:16 AM |
---
$850 shipped for a unique US made Bass VI!

I'd be interested in a shortscale Guild JSII in trade.
| | |
| --- | --- |
| shanetram | 02-12-2014 09:17 AM |
---
$775! Final price drop before EBay auction starts this weekend. I know this is an odd duck, I figure I'll give it one more price reduction.
| | |
| --- | --- |
| shanetram | 02-14-2014 10:29 AM |
---
Bump.
| | |
| --- | --- |
| shanetram | 02-19-2014 10:02 AM |
---
On Ebay now:
http://www.ebay.com/itm/Chandler-Aus..._qi=RTM1562569
Looks like this is more rare than I thought -
"What people don't understand about Chandler is that everything they built in-house was extremely "small batch". Except for Strat/Tele bodies, and maybe some OEM we did for Washburn or National Resophonic, there was no "mass production" of anything. We initially imported maybe 50 or so black and white standard scale 6-string Austins from an OEM mfg in Japan, along with a lesser number of 555's. When all production was moved to the Burlingame, CA factory, which is where this baritone was made, we only involved ourselves in making Austins that were custom ordered, like this one. If you wanted black or white standard scale, you got one made in Japan, unless you ordered it custom in some way. I don't know for sure, but I would estimate that there are fewer than 10 of these Austin Baritones in the world. There probably aren't very many more US-made standard scale Austins either. Cheers, Corey Wadley V16 Custom Shop"
Thanks!
| | |
| --- | --- |
| hexade | 02-20-2014 06:34 PM |
---
Hey there, I really want to pick this guitar up, but it looks like I just missed the listing before it landed on the Bay. Seems like $775 shipped is a pretty good deal! It looks like it might sell for more than that in the auction, but Ebay now charges like 10 percent of the final selling price so maybe I could persuade you to let it go for the price listed here? Anyway, cool bass, and I have been looking for something like a "bass VI" for a while now! Feel free to email or PM me any time. Thanks!
All times are GMT -6. The time now is

12:43 PM

.
Powered by vBulletin® Version 3.6.12
Copyright ©2000 - 2014, Jelsoft Enterprises Ltd.