Hello,
***********************************
* Dropping bass price, and pricing it to sell!!! *
* Price - $1,800 U.S. *
***********************************
I am selling my CB Bass - Big McNeely 5 string fretless 35 inch scale bass that I am the original owner of.
This is the bass that Cliff and I worked on designing the new shape that is now the Big McNeely model! He was nice enough to name it after my last name, and he even used it in his ads in bass player magazine which I still have a copy of. This is your chance to get the very first of this model.
The bass was delivered in 2009, and rarely left my office!!! It is a great bass with a killer looking Maple wood top that I paid extra for. I've had this bass for a few years, and its just time for a new one to get me playing again. This bass is in mint condition, and one of the best sounding basses I have ever played!!!
Dropping bass price, and pricing it to sell!!!
Price - $1,800 U.S. (Paid over 4k for it from the builder).
I will pay shipping in full with insurance - only ship conus. Will be willing to ship oconus for the right talkbasser, but they'll have to pay shipping.
I pay a ton of extra money to have everything professionally packaged by my friends at the UPS store, usually costing at least $100+ dollars. See my feedback for more info.
NO TRADES!!!
The specs are as follows:
Big Mcneely-Bass
5-string
Deluxe base price
Dimensions
Scale length: 35
Neck shape: oval
Thickness at 1st: .850(standard) .810(thin)
Width at nut:
String spacing at Bridge:
Body thickness: 1.525(required for battery)
Construction
Neck: Wenge with 2 Maple stringers
Fingerboard: Stabilized, figured Maple fingerboard
Fingerboard Radius: 0(Flat)
Nut: Stabilized Ebony
Full faced top: Yes
Body woods
Burl Maple Top
Thin Purpleheart accent under top
Cedar core
Thick Wenge Layer in the middle of the body with Purple Heart stripes through body(See below picture).
Thin Purpleheart accent
Birdseye Maple Back
Hardware
Color: Black
Bridge: Hipshot style
Tuners:Hipshot Ultra
Truss rod: two-way adjustable
Strap locks
Output: 1/4" Face mount
Electronics
Pickups: Quad Coil (Two dual coils wired together - Kent Armstrong) with Wenge cover.
Preamp: Audere Z mode
Controls: V/Blend/t/m/b and z-mode switch
Control Knobs: Wenge Knurled sides.
Chambered body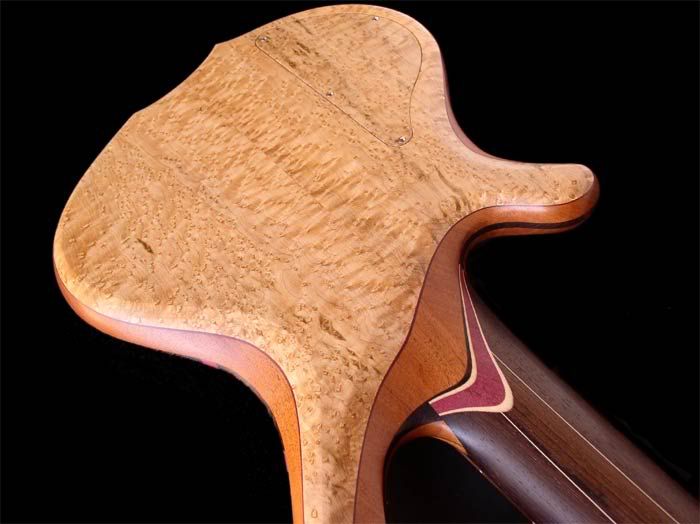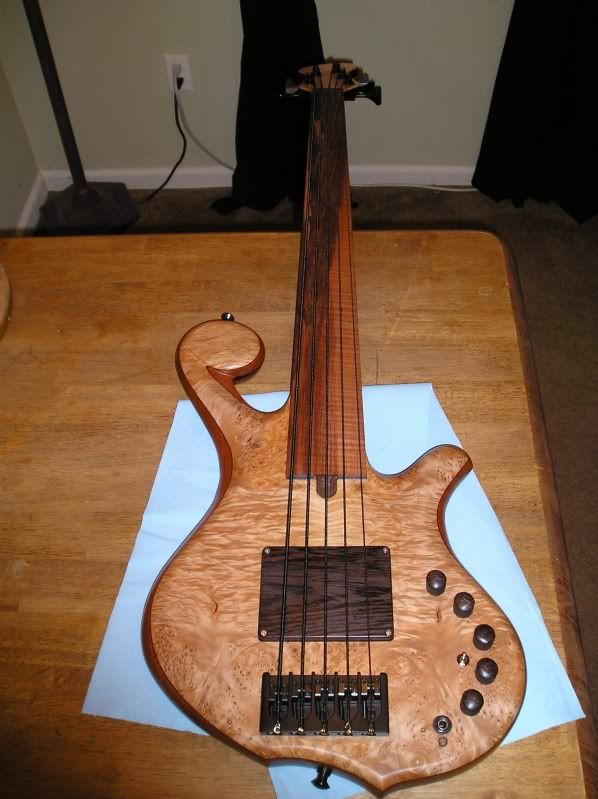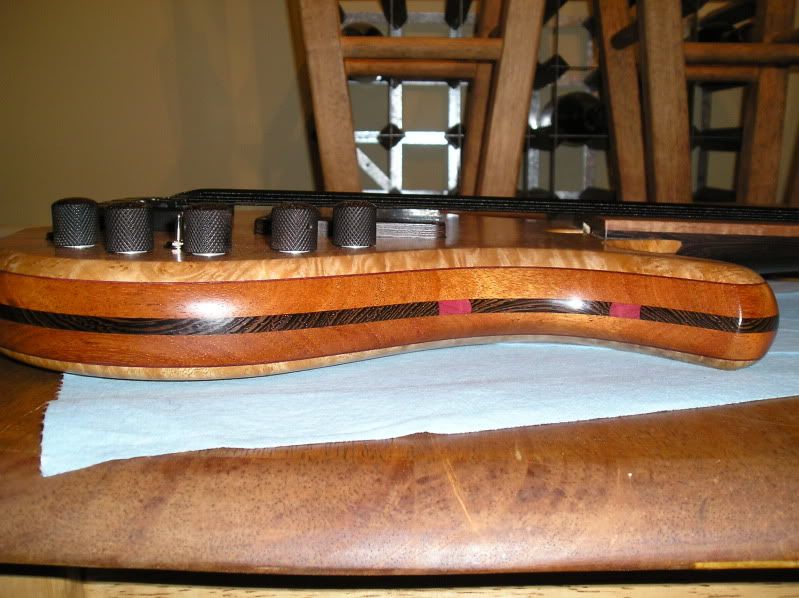 ______________
There is usually about a year wait to have a build start with Cliff Boardwell, so save some money and time and enjoy this amazing instrument!
Feel free to message me with any questions. I only deal with payments through Paypal. This bass will sell quick because it is the first Big McNeely, so hurry and message me now.
-ScottM