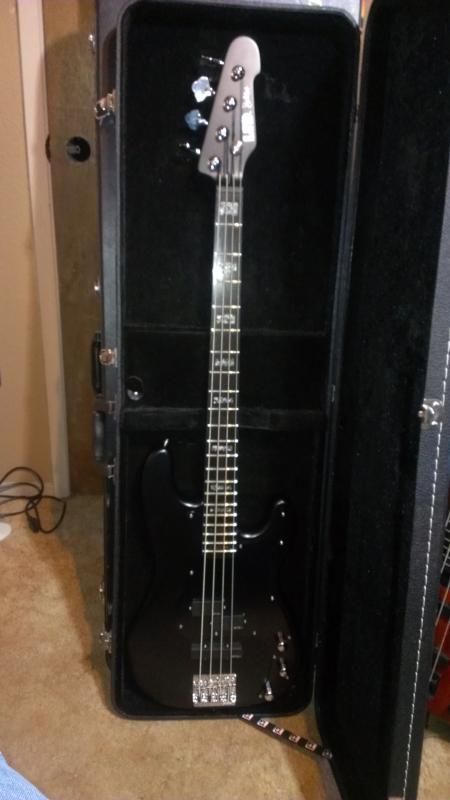 Alder Body, Ebony Fret board, Black Pearloid inlay and binding, EMG Active-X Pick-ups, Gotoh Bridge
Bolt-On Construction
34" Scale
Alder Body
Anodized Aluminum Pick-guard
Maple Neck
Ebony Fingerboard
42mm Standard Nut
Original U Neck Contour
21 XJ Frets
Chrome Hardware
ESP Tuners
Gotoh 201B4 Bridge
EMG Active X Pick-ups
Finish: Black Satin
Controls: Master Volume, Balance, Master Tone
http://www.gearhounds.com/esp-ltd-fr...FWQ6QgodkFwA_A
Korean Made...Build quality is excellent...this thing is near mint
Problem is i own three other P/J basses and I'm afraid to take this one out in public...so it only gets played at home or in the studio.....I would like to see it go where somebody will actually use it the way it was intended!!
retail is $950.00 this thing is as close to mint ans it gets...no dings, no scratches, no swirl marks
asking $550.00 Shipped Conus (Double Boxed in a nice padded cordura gig bag) for a little extra i could send it in a Hardshell case!!
or I'm willing to swap it for a Mesa 4x10 Powerhouse cab or a Hartke 4x10 Hydrive Cab (if your local...say within a two to four hour drive of me...L.A, Bay Area, Sacramento)
or I am willing to swap for a nice (can't believe I'm typing this...but i want to give them another try) Jazz bass of equal value (as long as it isn't RED)
or a Fender P (NO RED...especially if it's a Black and Maple combo)
or a Lakland Skyline Glaub with some $$ from my end!