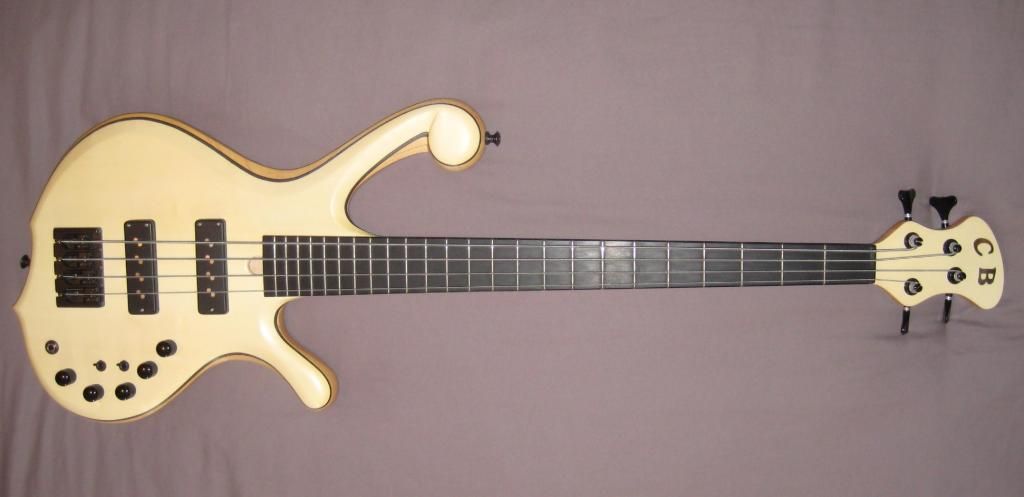 $1250 Shipped; PayPal or Money Order only.
Continental US only; No international.
Will consider trade offers of:
4 and 5 string basses, 34", must be under 8 lbs.
Martin acoustic guitar, MIA.
32" Scale
1.5625" nut (1 9/16")
Nordstrand Fat Stacks
Aguilar OPB-3 preamp w/ coil splits for each pickup
Quartersawn Flame Maple set neck with Ebony accents
Ebony fretboard
Holly top with Ebony accent line
Swamp Ash body
Thin, satin finish on neck and body
7 pounds 12 ounces
Slim, modern "C" profile neck, around .850" deep at the first fret and .900" at the twelfth. Neck profile is very comfortable to me. Slightly thinner than what I would call average, but not too thin at all. Feels very appropriate for this bass.
Bass is in excellent shape with negligible dings and minor player wear. Condition is 90-95%. Super light at 7.75 lbs. The pictures don't show it, but the Holly top does have some visible grain. The wood is so smooth and creamy though, it looks like an Olympic White finish that has aged to a beautiful satin Cream.
I'm the third owner and have never taken it outside my home. I've had it for a couple of years, but its been in the case for 99% of that time. I just don't get along with 32" scale necks as much as I'd hoped. The original owner claimed to have played it out less than a dozen times.
Includes a fully functional TKL hard case, but the case has seen a fair share of use. In the interest of full disclosure, there is a very mild cigarette smell, so the bass has either been played out or was previously owned by a smoker. It isn't very noticeable, but I wanted to be up front about it.
More pics...