| | |
| --- | --- |
| moonshinegtrs | 01-13-2014 11:21 AM |
---
FS: Early 70's Fender Telecaster Bass Project.

SOLD!
I bought this about 5 years ago. It had a Darkstar pickup in it when I got it, which is primarily why I bought it. I was going to find an original neck & pickup and restore it, but I ended up buying a 72 Tele Bass, so this one needs to go.
This bass consists a 1974 Fender Telecaster Bass body (originally Blonde, now natural: not perfect, but not a bad refin job.), neck plate (F'd up... see description), output jack cup, possibly knobs & strap buttons and a Warmoth neck. The Warmoth neck was new when it was installed (only screw holes in heel). The pickguard is not original (I have the original, broken pickguard and will include it if you want it), not sure if the controls/wiring are original or not. The tuning keys are Fender, but I am not sure that they are original. The bridge is not original either. The case it came in is included.
Basically, it's a complete bass minus the pickup. The neck feels good; it appears to be fairly old itself (doesn't look new to me), it is straight and the truss rod turns freely. The frets have little , if any wear. The body has not been modified in anyway, except for the refin. The other parts are in good shape. The only thing that really sucks in my book is the way that whoever did this decided to mount the neck... They drilled two holes in the neck plate to make it a four bolt neck (sigh...). It works perfectly and the neck doesn't budge, but still...:rollno:
I am trying to raise money for some equipment for my shop; I am open to offers.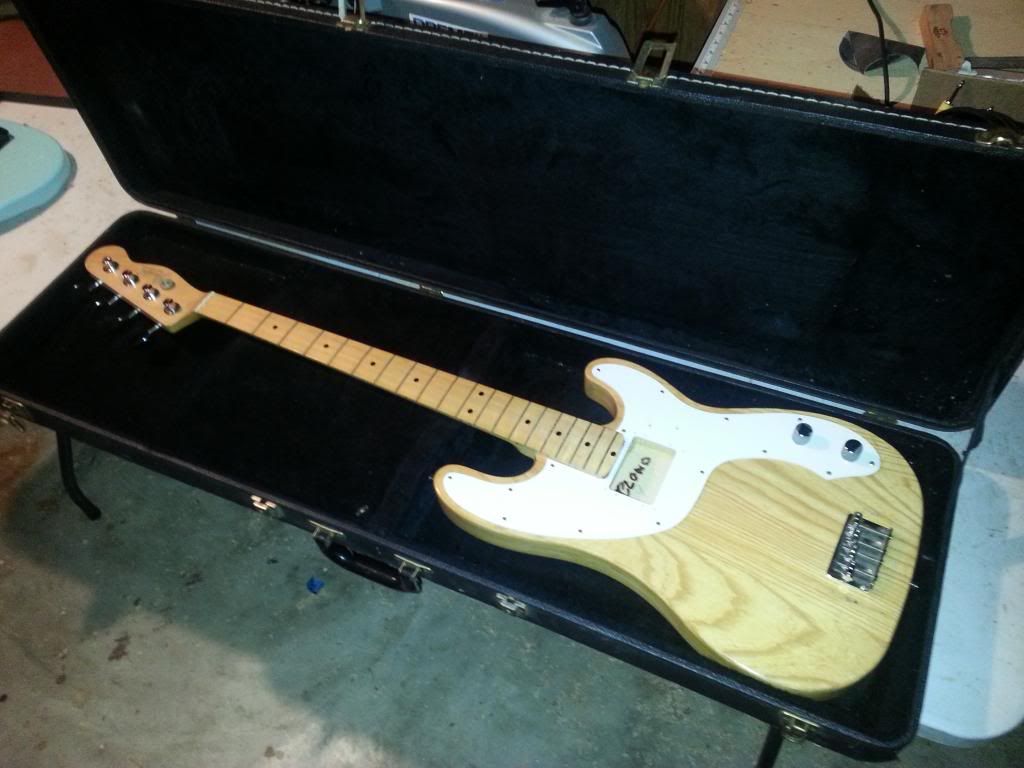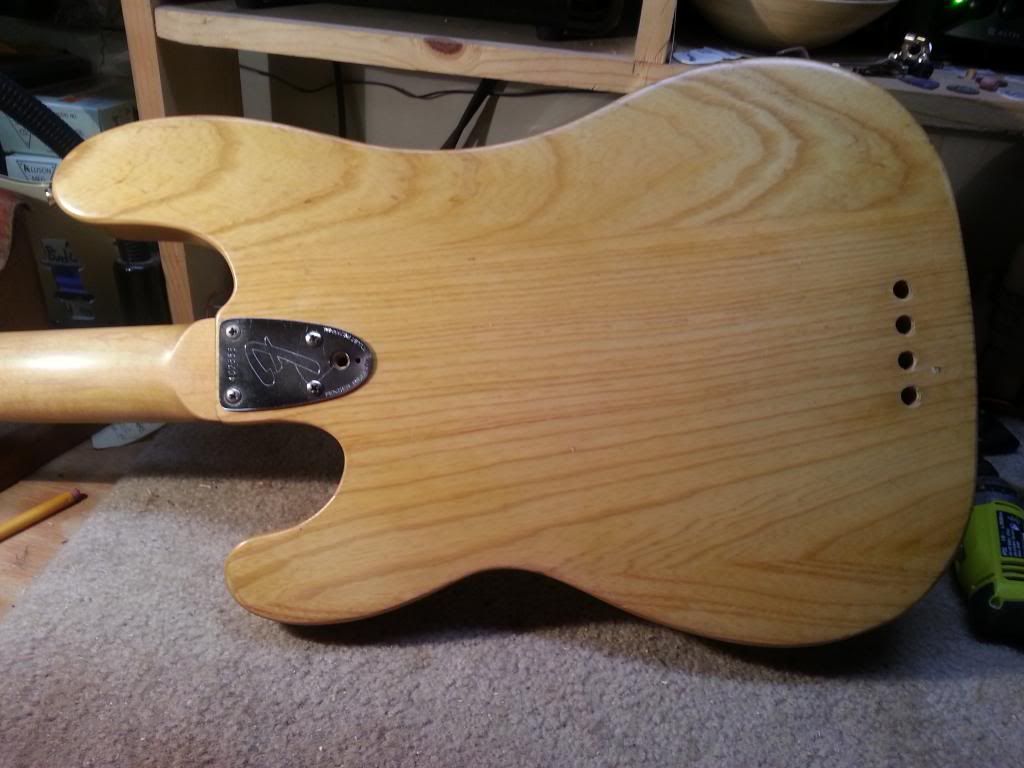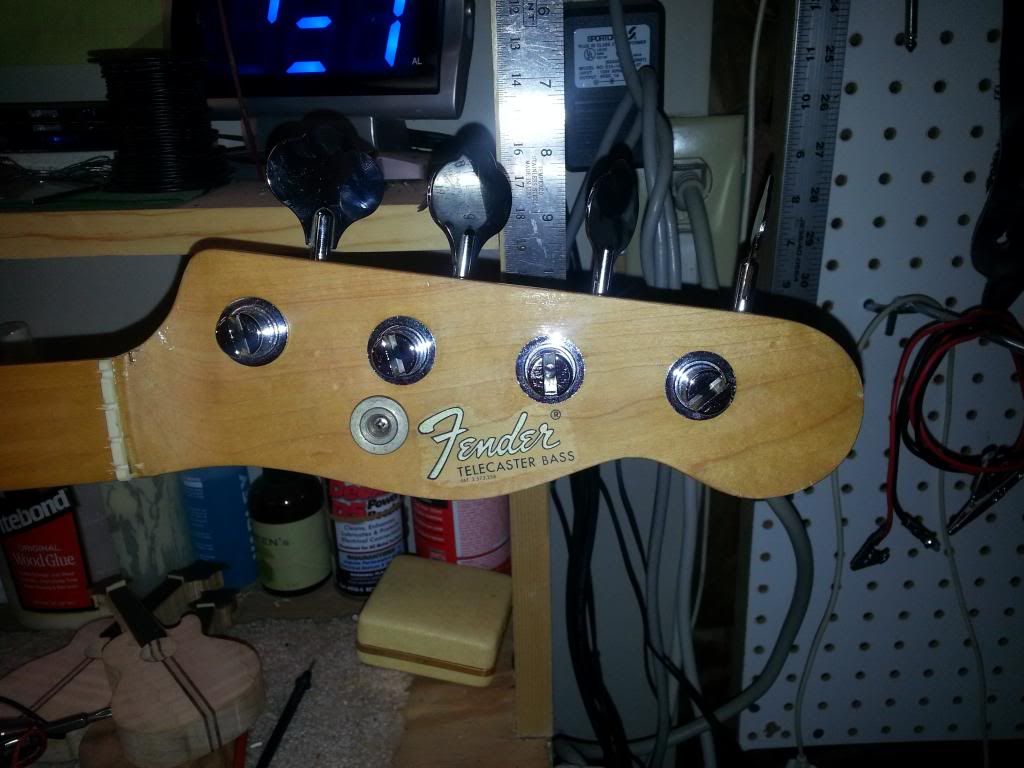 Moonshine :bassist:
| | |
| --- | --- |
| moonshinegtrs | 01-14-2014 11:11 AM |
---
Price drop Bump!

If it doesn't go here, I'm going to have to part it out on the 'bay... This would so much easier!

Moonshine :bassist:
| | |
| --- | --- |
| ivlucas | 01-14-2014 02:18 PM |
---
Bump so someone else can buy it before I do.
| | |
| --- | --- |
| moonshinegtrs | 01-15-2014 05:11 AM |
---
All PMs answered.

Moonshine :bassist:
| | |
| --- | --- |
| jsr914 | 01-15-2014 09:08 AM |
---
This looks like a sweet project with a bunch of upside...hmmm...hard to resist...
| | |
| --- | --- |
| fritzk9 | 01-15-2014 06:43 PM |
---
What's the weight of the bass, as it is today?
| | |
| --- | --- |
| moonshinegtrs | 01-16-2014 08:40 AM |
---
I will get it weighed today.

Obviously still here Bump...

I have a reissue Fender (Squier, I think... The damn thing looks amazingly close to the real ones) TB Bass pickup and I will throw that in for $500 shipped.

It's fixing to be either assembled/set up or disassembled and auctioned off... I would much rather sell it here.

Moonshine :bassist:
---
sub'd for weight, thx

also: what's nut width?

thx
---
hey, have you seen my PM or mail?
| | |
| --- | --- |
| moonshinegtrs | 01-17-2014 11:23 AM |
---
All PM's answered.

Bass is just under 9lbs. (without pickup).

Frets are in great shape.

The more I look at this, The more I'm tempted to keep it. to keep it... May sell the loaded body & keep the neck.

Moonshine :bassist:
| | |
| --- | --- |
| Piggyloot18 | 01-17-2014 06:40 PM |
---
First time user

I think I just sent you a PM, but I'm not too sure! (never posted on a forum like this before)

I just registered so that I could send you a PM about this bass --- I am interested!

If you don't get a PM from me, could you please PM me, so that I can respond and give you my phone number?

As a first time user, I don't have any feedback rating here, but I can give you my ebay id (with 800+feedback at 100%), so you can check me out --- I'm legit!

thanks,
Elise
| | |
| --- | --- |
| moonshinegtrs | 01-18-2014 01:17 PM |
---
Bass is sold.

Moonshine :bassist:
All times are GMT -6. The time now is

11:43 PM

.
Powered by vBulletin® Version 3.6.12
Copyright ©2000 - 2014, Jelsoft Enterprises Ltd.