For Sale is my KBP5 Classic Supreme. It is game-ending KBP5 for those in the market for 5-string P's.
Finished in "Plum Crazy" a car color from the 60's/70's. Finest quality Dalbergia Negra (Brazilian Rosewood) fretboard over maple neck and alder body. The FB spec is really getting expensive from Jimmy and to build from new would cost in the $6K range. This supply of old-growth DN is running out from Jimmy's wood cache, hence the significant upcharge when ordered from him.
This bass is a spec build that I bought new from Jimmy directly a couple of months ago (it is a 2011 build), I'm in for mid-$5K range. I can sell for
Now $4495 shipped in CONUSA - Price is Firm -Trade Pending as of 8/26/13 - will close thread when complete
Trades:
Only trades would be for Fodera or Spector USA 4 or 5 strings with 19mm spacing, Tecamp Puma 900 or Glockenklang Blue Soul amplifiers, Mike Pope Rackmount Preamp, or Baer + Bergantino Neo cabs. Can try me on other stuff, but really do not want for much.
Specs:
Weight is 8lbs. 8oz. This one is light and comfortable to wear, balances well on a strap - Quite comfortable seated or standing...
Nut size: 1 7/8" - 34" scale length - Ships in Ritter gig bag - Strung with flatwounds - handcut pickguard.
Condition: Essentially unplayed and in great condition. This is one of the very good ones - I have had many AC's and this is at the top of the list for build quality.
Mentioned for full disclosure: Jimmy's Nitro finishes are thin and vintage-like and will eventually tend to display vintage attributes even when relatively new - this is normal - most AC fans know about these things, but I wanted to add for those who may not. Given that, this bass has no issues as far as the nitro finish - no dings, no chips, etc. There is a tiny scratch on the back of the neck that Jimmy filled and refinished - you cannot feel it to the touch and it is has no impact to structural integrity - cosmetic only. One tiny pinhead ding on the headstock - tiny is the keyword here - will not photograph. Overall: A very fine instrument!
EDIT: Wanted to add given the recent press clippings - this is an example of Jimmy's finest work and I offer to buyer full satisfaction and 24 hour inspection period (buyer pays shipping both ways) should it not be exactly as I say in the listing. A true gem of a bass guitar...
Pix (more photos to come when I get back to my camera this weekend - these top two are from Jimmy's shop):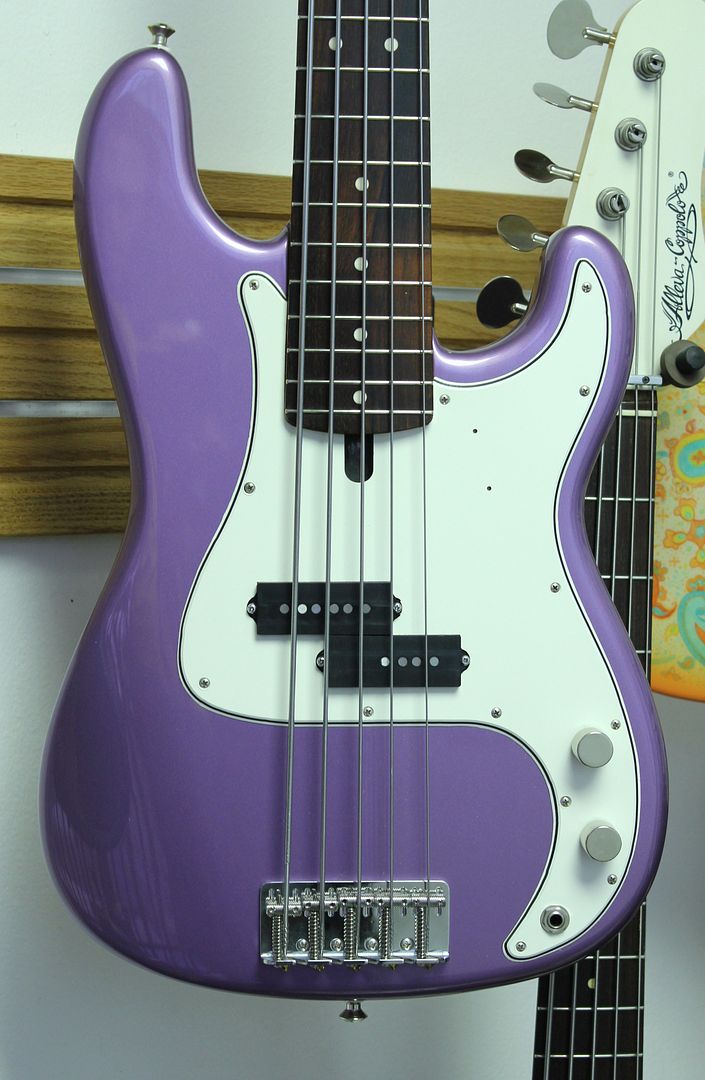 Took these today. Please note: It is very bright and sunny here in FL (#shocker), so the color is photographing lighter than it actually is. Any lines/marks/shading is a reflection and not an issue on the lacquer - I'm not able to get rid of the glare. No, it is not sitting on the concrete!;)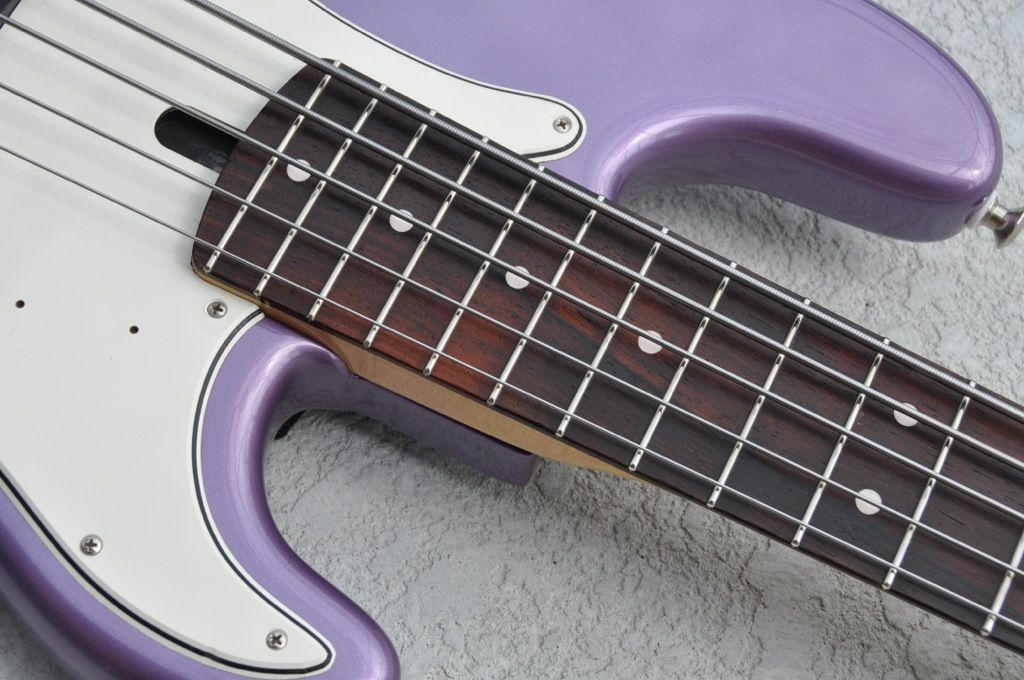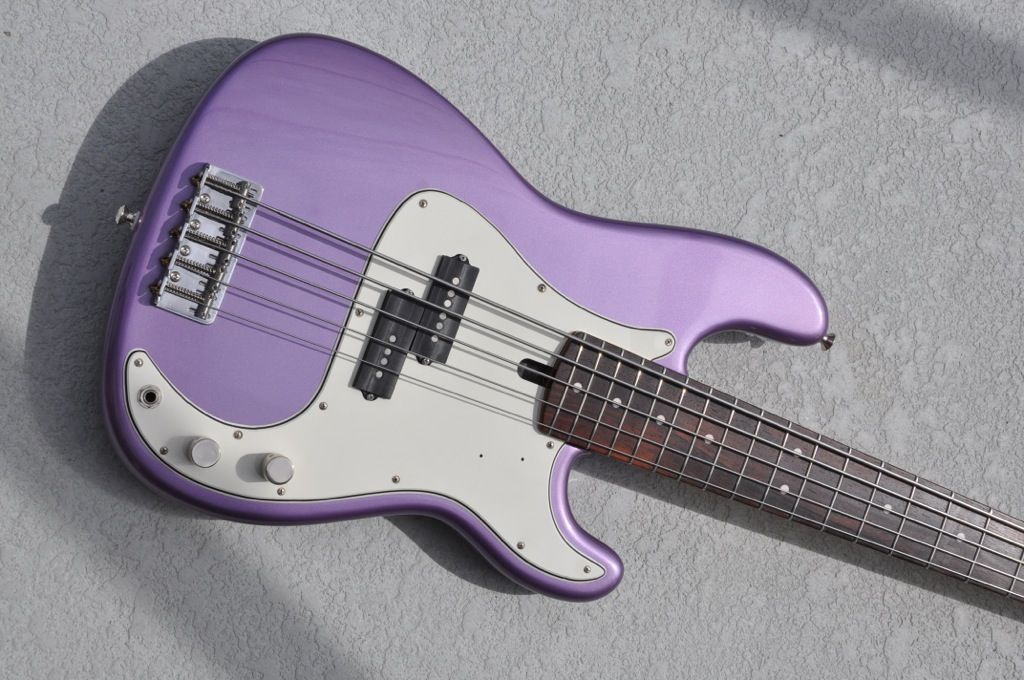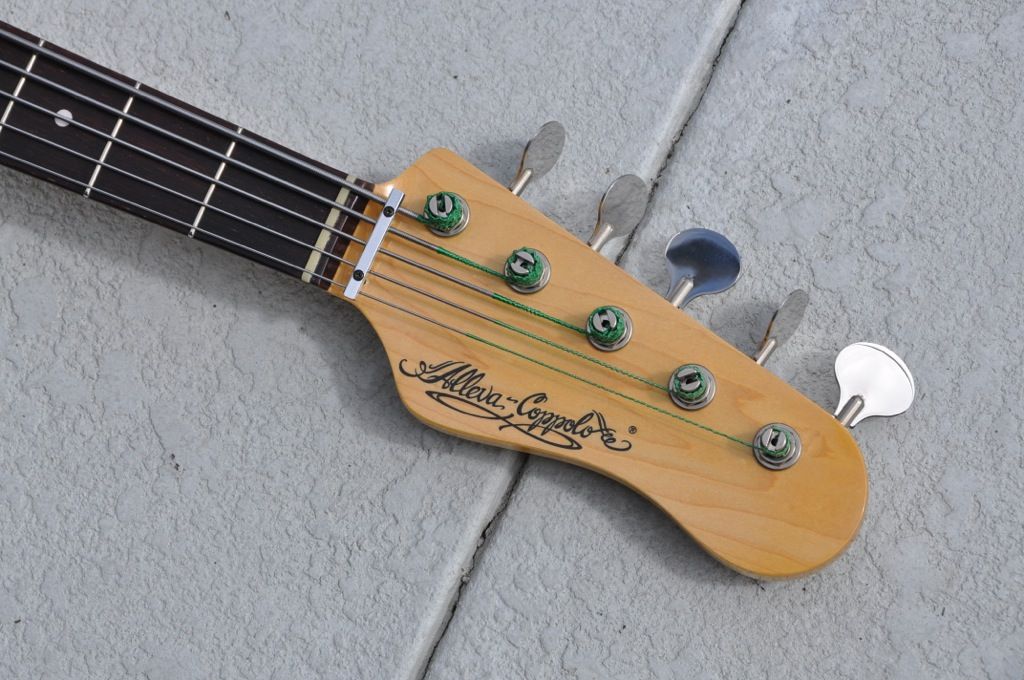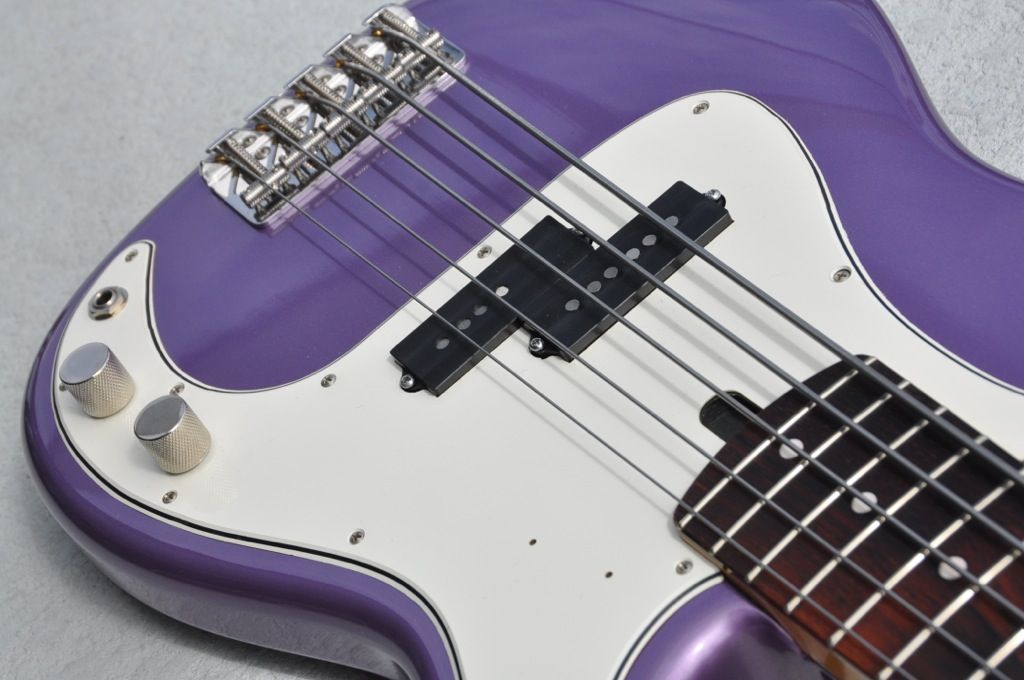 More photos here, if you are interested:
http://s9.photobucket.com/user/mgrie...Alleva-Coppolo
My Best,
Mike