Hey folks. I have a couple of basses for sale or trade. Have to recoup some funds from a bass I purchased.
First is a
Spector Euro 4LX
.
$950
KEEPING
Next is a
Warwick Corvette Standard 5 (MIG)
.
$675
(pending)
The Scoop:
Euro LX:
The pricing on this one reflects some finish cracks described and shown below. The story with this bass is when I bought it, something happened during shipping and the finish checked (see pics). I was happy with how it played, so I didn't make a fuss about it. It just didn't dethrone my good old faithful NS2000. Has maybe 2 or 3 frets that could use leveling. Low action with a fresh set of low riders (as currently set up) hides it well, but putting lower tension strings would require medium action.
Here are some specs:
NECK: 3-Piece USA Rock Maple
Neck-Thru Body Construction
FINGERBOARD: Rosewood
NUMBER OF FRETS: 24
SCALE LENGTH: 34"
RADIUS: 16"
STRING SPACING AT BRIDGE: 19mm
NUT WIDTH: 1.65"
NUT MATERIAL: Brass
BODY: Alder back, Burled Poplar top, Walnut slice
WEIGHT: +/- 8.5 lbs...I can get exact though it's definitely under 9.
PICKUPS: EMG TW
PREAMP: Spector Tone Pump
CASE: Spector OHSC
Schaller straplocks. Will include gold strap side components as well.
More on the Spector (ish, they didn't have the exact model):
http://www.spectorbass.com/Euro-NS-NT/Euro4LX-TW.html
Warwick Corvette
Bought this gal locally and love 'er, but she doesn't get the play time my Pedulla does. I wasn't crazy about the passive MEC setup, so I swapped them for a set of EMG LJCS5's with the 2-band BTS preamp. Still have the originals that I may sell, but if you're interested in having them with the bass, we can work something out.
Love the neck on this one...super chunky and fat and very comfortable. Superb fretwork across the ovangkol board and the ovangkol neck is the ultimate in stability. Very easy to change tunings on the fly without adjustments. The 16.5 mm spacing makes it very fast and has killer low action. Includes a fresh set of Marcus Millers. Like all corvettes, she's a bit of a neck diver, but I always play standing so it's not an issue for me. 2006 bolt on, transparent black. Schaller straplocks. Will include black strap side components as well. The only thing this bass needs is a battery clip. I have the battery just sitting in there (laziness at its best). No case, but will be properly packed. Fairly light for a 5, maybe 9 lbs ish.
Nut: 1 3/4" just a nut
Neck: Ovangkol/Ovangkol
Pickups: EMG LJCS5
Preamp: EMG BTS
Spacing: 16.5 mm
Pics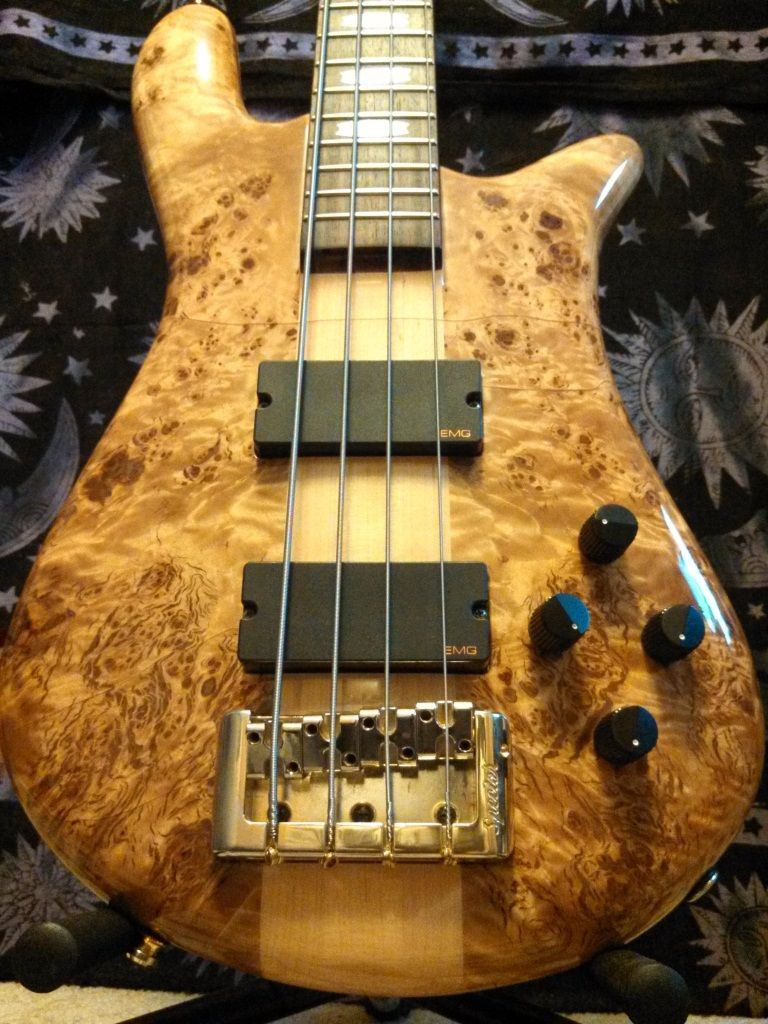 find my pedals for sale listing here:
http://www.talkbass.com/forum/f213/f...essor-1051579/
and my parts/electronics/pickups listing here:
http://www.talkbass.com/forum/f129/l...s-mec-1051555/