Let me start by saying that I love playing this bass, and the
only
reason I'm selling it is because I recently acquired the 5-string version (CR5M), so it's time to move this one on. It's in excellent condition, with the exception of a chip next to the hole where the stand connects to the back (which you can't even see when it's on the stand), and a very small black mark at the bottom under the D string, both pictured. I'm not a schooled upright player by any stretch, so I think this is set up more for an electric player, and I find it quite easy to play (and the markers on the fingerboard certainly come in handy sometimes!).
Because this model has both the piezo in the bridge and the EMG magnetic pickups, you can get quite a variety of tones. I believe I'm the second owner, and as far as I know, these are still the original stings, and they still sound great. Includes heavy-duty stand and original gig-bag. On to the pics...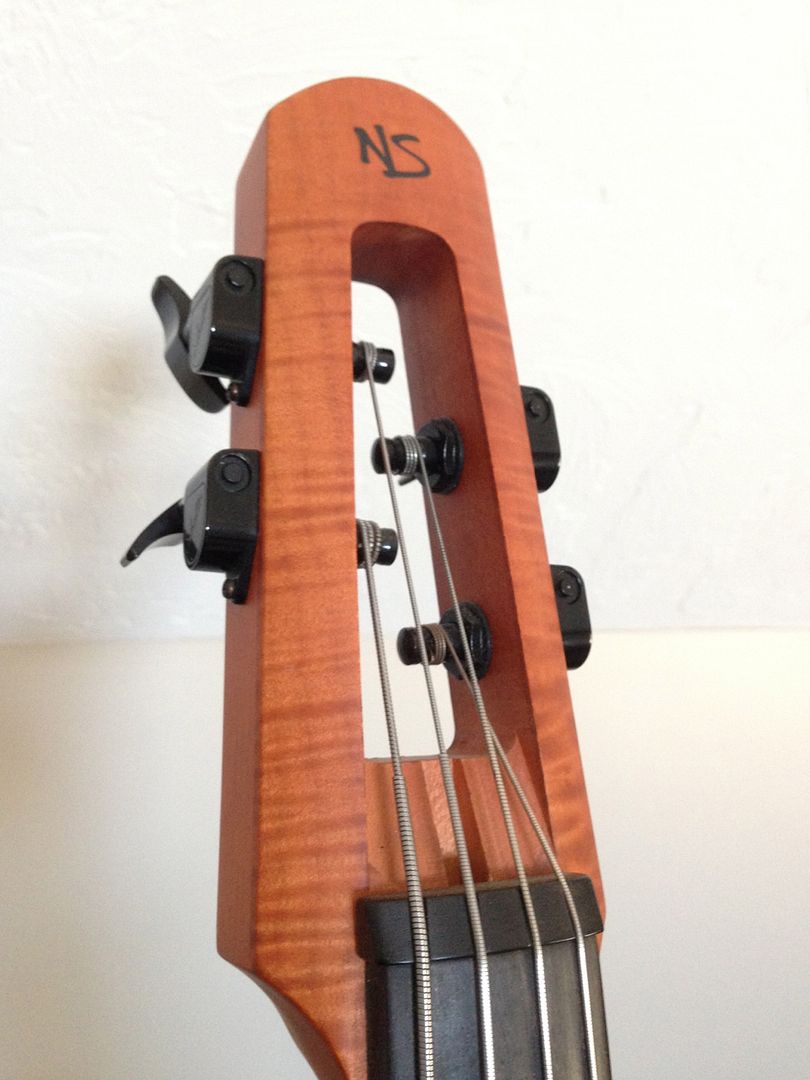 Specifications:
LENGTH: 132 cm (52")
WEIGHT: 4.8 kg (10.5 lbs.)
SCALE LENGTH: 106 cm (41.73")
STRINGS: 4
CONSTRUCTION: Solid rock maple neck and body, flame maple face
FINISH: Traditional amber stain with clear semi-gloss polymer coating.
FINGERBOARD: Macassar Ebony; 43.1mm (1.7") wide at nut; 89.0mm (3.5") max. width.
BRIDGE: Black phenolic; radius 7.9cm (3.1") string spacing 81mm (3.19").
NUT: Macassar Ebony; radius 7.9cm (3.1"); string spacing 30mm (1.19").
PICKUPS
BRIDGE: The Polar™ directional piezo pick-up system responds selectively to either vertical vibration (for the sustained plucked sound, like an electric bass guitar), or lateral vibration (for dynamic bowing, and a percussive plucked sound).
MAGNETIC (for CR4M and CR5M only): Low impedance EMG™ magnetic pick-up system, with individually adjustable coils, and low-noise, hum-canceling pre-amp.
ELECTRONICS: 18 volt active circuit by HAZ Laboratories. Mono output.
$1650 shipped CONUS
only, PayPal ok. I have an original shipping box that I got with the CR5M, so it will be packed very well.
Not overly interested in trades, but if you have something 5-string fretted in the same ballpark value-wise, I may be tempted...