SOLD!
I just received the Warmoth parts yesterday! Only selling to fund a '78 P bass I just found. Everything is brand new and untouched. I wanted to build a 5 string to match my '76 Walnut Jazz. It even has the 70's position bridge pickup rout.
Included with the Warmoth body and neck are:
Fender American Deluxe 5 bridge (Paid extra to send Warmoth the bridge and they routed for it)
Fender logo neck plate
Fender thumbrest
Hipshot String trees (3 and 2)
** Black Pickguard on the way from Warmoth as well.
Only $800 shipped within the continental U.S. Much less than what I just paid. The picture doesn't do the neck and body justice. They are beautiful and very light weight.
* I also had SGD Lutherie custom build a 5 string set of pickups to my '76 Jazz specs. If you want them as well, add $100.
Specs from the build following the picture: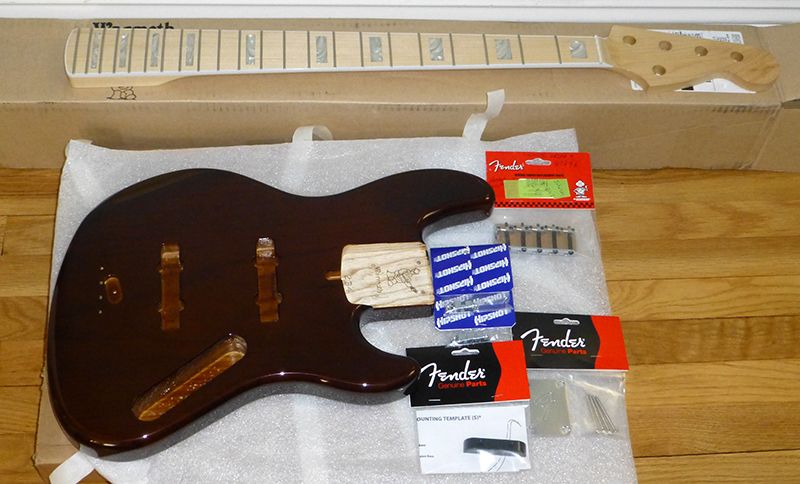 BODY:
Model Deluxe 5 J BassŪ
Orientation Right handed
Core Wood Swamp Ash
Top/Rear Rout Top Rout
D5 Pickups J-Bass (5 String Neck , 4")
D5 Pickups J-Bass (5 string Bridge, 4 1/8")
D5 Bridges Ground Wire Only, No Bridge
Output Jack None
Mounting Holes Standard 4 Bolt
Tummy Cut Tummy Cut
Forearm Contour Forearm Contour
Finish Transparent Brown
Finish Transparent Brown
Scale 34"
Neck Pocket Standard Bass Pocket
Bridge Pickup Reposition 70s Bridge Pickup Reposistion
NECK:
Headstock Deluxe 5 4+1
Construction Super Bass
Orientation Right Handed
Shaft Wood Maple
Fingerboard Wood Maple
Nut Width 1-3/4"
Bass Contours Asymmetric
Fretwire 6130
Tuner ream BML Lite (17mm)
Mounting Options Standard 4 Bolt
Fret Number 22
Radius Straight 10"
Inlays Pearloid Blocks
Binding White
Nut Install GraphTech White TUSQ
Neck Finish Clear Gloss
Scale 34"
Stiffening Rods Standard Steel Rods
Side Dots Black Side Dots