For trade my beloved 1971 Fender Fretless PBass. I have read that Fender started producing fretless Precisions at about this time, so this must be one of the oldest. It is VERY light, just 4 kg on my bathroom scales.
To my knowledge, all is original in this bass except the PU and the truss rod adjustment screw. When I got it, it had an active PU set installed, and an extra jack connector. I sent it to the technician, who removed the connector, repaired the hole in the pickguard and installed a brandnew set of handmade PBass Lollars that sound amazingly similar to a good set of late 60s Fenders. The original Truss rod screw was a bit skanky, so I had a new one installed. I sitill have the old one though.
This bass has been played, and it looks it. The fingerboard is in great shape. The finish is original and in good condition, with dings and scratches. The paint at bottom of the body is more worn, please look at the pictures. I like the mojo, though.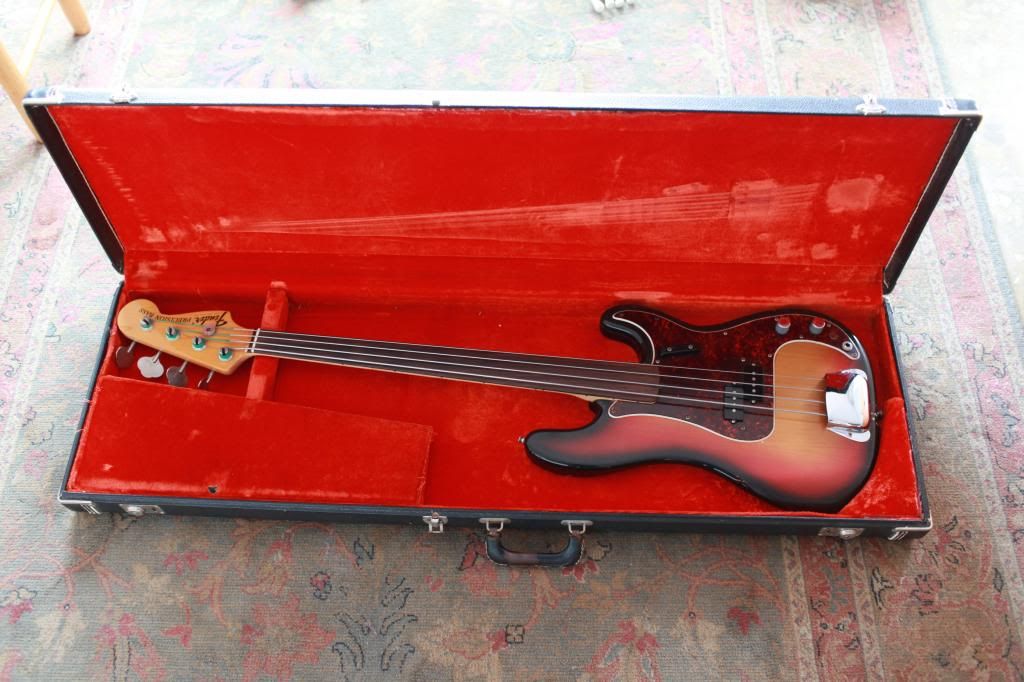 The bass plays and sounds great. I have detected a slight buzzing spot at the C position on the A string, that's all.
A lot of pictures here:
http://s1314.photobucket.com/user/ro...?sort=3&page=1
It comes in its OHC, and with the original PU cover, bridge cover and thumbrest.
For the trade, I am interested in FRETTED Fenders, P or J, vintage or CS. I am doing this because I am rubbish playing fretless. I actually love this bass :atoz:
Would be happy to trade for a more expensive bass adding some cash.
PMed your proposals. Cheers!!