Firstly, I absolutely love this bass and I would never normally consider getting rid of this thing, however, I recently have been diagnosed with a little bit of rheumatoid arthritis in my left index finger knuckle (first joint). One of the great features of this bass, the awesome fat P-Bass neck, is putting some strain on me (i have big palms and short fingers).
So I'm looking for something with a jazz-profile neck...4-stringer, preferably a p-bass style lakland skyline or a Decade.
Sell price = $800 plus shipping... (Its what I have in it after the Stellartone Tonestyler)
The build quality on these is really great. Cannot drive that home enough (bone nut!). Specs are as follows:
Bolt-On Construction
34" Scale
Alder Body
1 Pc. Maple Neck
42mm Bone Nut
Thin U Neck Contour
21 XJ Frets
Chrome Hardware
Gotoh Tuners
Gotoh Bridge
Basslines SJB-2 (B) / SPB-2 (N) p.u.
Finish: Distressed Vintage White
comes with ESP original HSC
I had a Tonstyler Bass-10 tone pot professionally installed and changed the controls to V B T from VVT. All CTS stuff and I'll throw in all the original parts.
THIS IS NOT A cheaper LTD Model.... Pure Japanese craftsmanship that has already put several American Fenders to shame...IMO. Strung with Chromes....
So, Trade Interests:
Lakland Skyline Decade
slimer profiled(neck) P-bass style, ie. Duck Dunn
Run it by me...... Worst I can say is no thank you.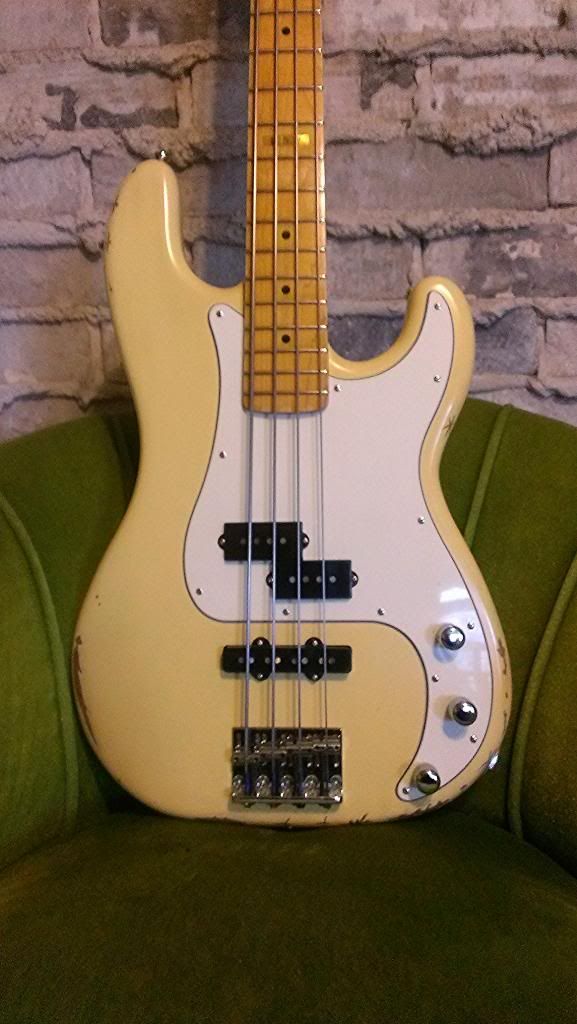 Please excuse the cellphone pics, any questions please feel free to ask.
Now for sale....$800 plus shipping