- -
Tobias Signature
(
http://www.talkbass.com/forum/f126/tobias-signature-1021289/
)
| | |
| --- | --- |
| One Bass Short | 10-08-2013 06:59 PM |
---
Tobias Signature

Here is a rare one. The top is actually lace wood. Gibson was setting the list price on these form $7500 - $8000 I am told. They retailed for about $5200 and down. This is an excellent example in mint condition. I am unable to put a date on it but I am told no more than 5 years old. There are more exotic woods on this then I can list. It even has a purple heart control cavity cover! Plays like a dream. I am thinking it should sell for somewhere in the $4K range but I would like to move it so we will make it sub $3K. $2950 is the number.
I only have one trade interest and that is a Fodera Matt Garrison Standard. Cash on my end of course.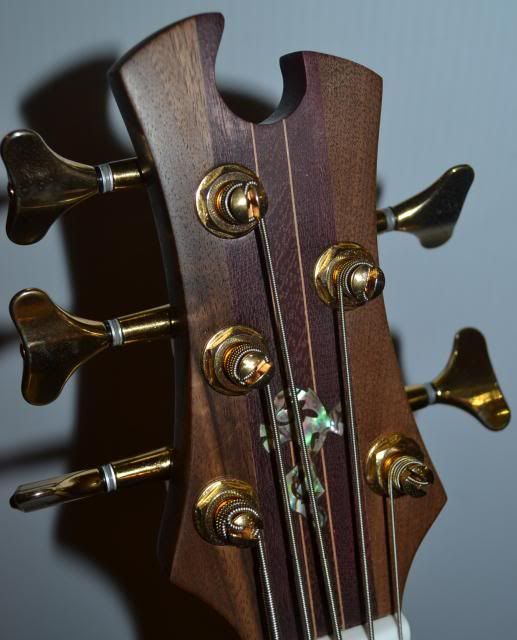 | | |
| --- | --- |
| One Bass Short | 10-09-2013 12:15 PM |
---
Wow! I thought I would have been abused with offers on this. Send me your thoughts and questions.
| | |
| --- | --- |
| One Bass Short | 10-10-2013 01:28 PM |
---
OK, I will take some advice on moving this if anyone has something constructive to offer.
| | |
| --- | --- |
| west*coast*bass | 10-10-2013 01:59 PM |
---
I think you really need to track it...find out when it was made and get some specifics on the preamp. Gibson has used a few different pre's with these...some better than others. My bass dates back to '96 and has the original preamp that the Tobias basses made in Los Angeles had. This feature makes the bass more desirable, because lots of folks know how special that preamp is.

Do a bit more research on yours...it's a gorgeous bass! In my opinion you have too little info to justify the price you are asking. Remember, it's a buyers market out here...more info and a more attractive price may do the trick!

Good luck!
| | |
| --- | --- |
| skb5string | 10-10-2013 02:05 PM |
---
PM sent.
| | |
| --- | --- |
| perfektspace6 | 10-11-2013 06:33 AM |
---
Quote:
---
Originally Posted by One Bass Short (Post 14976172)
OK, I will take some advice on moving this if anyone has something constructive to offer.
---
there is a long-standing bias against post Michael, Tobias basses. Some of it deserved and some of it not. I owned a mid-90's Basic 6 (?) and it was a nice instrument. Even if these were on par with the original people won't pay as much simply for the fact that Mike's hands do not touch them or direct their production any longer.
| | |
| --- | --- |
| One Bass Short | 10-11-2013 07:19 AM |
---
Well as you can see by the list of basses I own I have a great basis for comparison. I have to say that the build quality on this one is on par with just about anything I have played. It is truly a high quality, fun to play bass that has a unique look. I don't think I have ever seen a lace wood top on any bass before. It is tight and crisp sounding. In speaking to the rep, this was built in AK in 2007 and is as close to a one off being so few were made in this wood combination. This would be a unique addition to any high end player/collector's portfolio.

Make me a reasonable offer and I will consider it.
| | |
| --- | --- |
| One Bass Short | 10-14-2013 12:22 PM |
---
Ok, just verified, this was built in Conway, Arkansas.
| | |
| --- | --- |
| One Bass Short | 10-21-2013 04:55 PM |
---
Sold locally.
All times are GMT -6. The time now is

10:48 AM

.
Powered by vBulletin® Version 3.6.12
Copyright ©2000 - 2013, Jelsoft Enterprises Ltd.