The bass I am potentially putting on the market is a 2001 55-76.
As you all may know, the 44/55-76 series bass is no longer made by Lakland...As far as I know, they were US made only...they are pretty rare.
I went after this bass 3 times before I got it....problem is I got several GREAT Lakies in the meantime and this bass sits more than it gets played.
The bass has the EXACT SAME pickup as the MM Sterling 5and it is in the exact same spot....a previous owner upgraded the pre-amp to an LH3...the bass really sounds GREAT - if you want a super high quality great sounding bass...this is it.
I wanted this bass to be different SO.....I ordered a neck with an ebony fretboard Lakland and had the master Carl Pedigo replace the existing neck....
I wanted this to be "as black as black can be"....thus, ebony neck, no dots, matching headstock and Carl even stained the neck black....he said painting it or "over-staining it" would negate the great feel Lakland necks are known for...thus he put on "just the right amount of stain"....
The side dots actually glow under a black light.
I really LOVE the look of the bass and it sounds great (if you like MM sound)....the ebony neck gives it a slightly crisper sound....
I do not find myself grabbing this bass very often....not really sure why....but I do not.
here are a few pictures: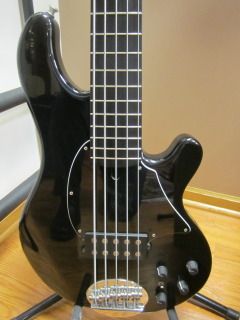 I have quite a bit of money into the bass and the neck replacement...and I KNOW I will not get it out of the bass....
For sale price (shipped CONUS with Lakland case): $2450
Trades considered:
Unique 5 string Laklands
Unique 5 string Wilkins basses
Thanks for looking!
Peace:
Doug