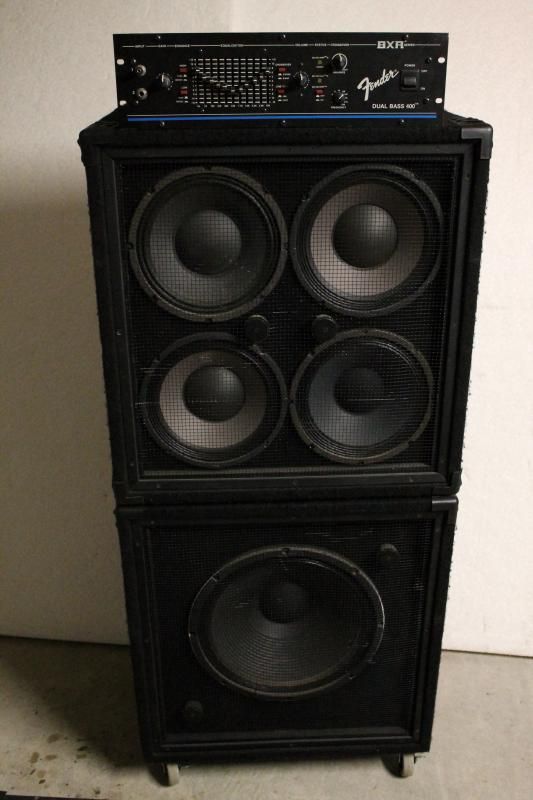 FENDER BXR DUAL BASS 400 bass guitar amplifier head. Rack mountable. This amp has two separate 200 watt @ four ohm power amplifiers driven through a mono preamp with 11-band crossover...It CANNOT be matrixed into a single 400 watt single-cabinet load (Fender made it was made that way). With only 1 cabinet connected it is rated 200 watts @ four Ohms.] This amp has Bi-Amping capability (Means you can run highs to one cab and lows to the other cab) The amp works great and has lots of power. The bass and treble circuits have both knobs AND boost switches. There are preamp and main amp knobs, as well as graphic 11-band EQ. It has inputs for passive and active pickups. It has left-right, hi-low 1/4 phone jack outputs, as well as hi-low effects out and effects loop.
4 x 10 is 600 watts @4ohm
1x15 is 300 watts @4ohm
the were custom made by me, but I'm older and have downsized...
$350.00
cash
with Fender Head
(drivers alone are worth more than that...if you were to try and build these yourself you would spend roughly $500.00 on these drivers alone, that's not counting the wood, jacks, wiring, paint, carpet, handles, corners, casters, etc.) ..... will trade for a Hartke HA3500 or LH500 bass head...
ALSO WILLING TO TRADE FOR A NICE SINGLE CUT STYLE GUITAR
or some decent/good Cymbals in the following sizes 20" to 22" ride 18" crash, 16" crash 14" hats...18" china
currently loaded with Eminence Drivers!!!!
4x10 is a sealed cab
1x15 is rear ported
construction is a combination of Birch Plywood...and
MDF
(
NO NOT
particle or chipboard...but
MDF
)
Not willing to ship as these are heavy as hell
Local Deal only will drive to meet the right person for the right price