OOPS! Wrong category. Actually here:
http://www.talkbass.com/forum/f126/f.../#post15307976
Going to post this here as it's not really an "accessory".
This is kind of an unusual item to run across.
It's an unfinished, undrilled body that would have been for a (discontinued 2002-2009, $3000-$4500)
USA Spector NS-2J-FM:
http://www.spectorguitars.com/models/woodstock.html
(3rd bass down, after the 2 Codas).
Spector still makes a "NS-2J" model, but the bodies are more flat and have laminated tops.
Their USA bolt-ons are no longer
fully
rounded like an NS2, as this body is.
I don't know if the neck pocket has changed, but if you already have a USA bolt-on 4 string and want to have a customized,
fully
rounded, USA NS body for your USA neck...this might be the ticket.
The reason this is an NS-2J-FM (FM=Flame/Figured Maple) is it's bridge route dimensions match the Hipshot B bridge (Fender 5 hole style).
This is the only bolt-on JJ configuration by Spector to use this particular bridge.
It's the only model it can be.
FWIW, I checked it with a Carvin model of the Hipshot B, and although a hair narrower than the 5 hole Hipshot B,
it would work just fine (very small credit card gap on either side).
This means the 3 hole Hipshot B will work also.
I play Spectors exclusively and bought this to build a project with a Spector fretless neck I ended up using for something else.
Not going to have time for this in the forseable future.
The USA and Euro neck pockets seem to differ slightly.
A ReBop neck could work with some slight shimming.
The pocket is about 1/16" to 1/32" wider and a little less than 1/8" deeper (front to back)
than the standard Euro/Czech bolt-on (ReBop, NS-2JAR, etc.).
$210 PayPal shipped in the continental US is what I have into it.
Trade possibilities (possibly + or - $$$):
One of those little Markbass practice cubes. Would prefer the 8" version, but wouldn't turn down the 6 1/2" version.
Line 6 G-30 wireless.
Run anything by me.
Thanks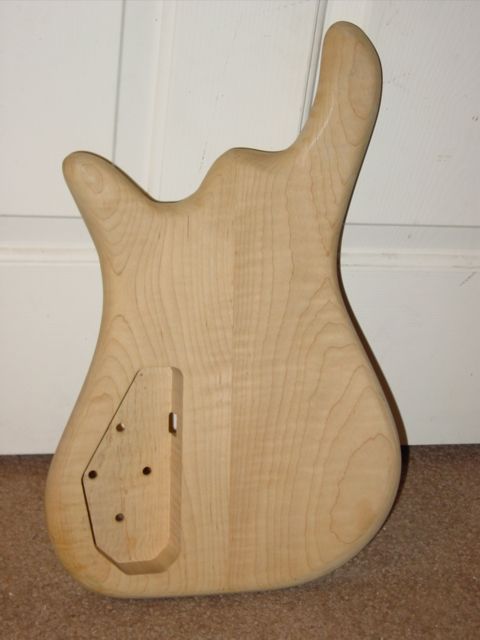 This is a pic of the actual model owned by another TalkBasser.
I believe crown inlays could be added as an option: