Got a few items I'm not using, am not going to use, and would love to pass on to you.
1. Rockfield 5-string MM-style pickups -
$50 for the pair
SOLD!
Bought these right here on the TB Classifieds a couple of years ago for a build, but wound up going with soapbars instead. These come stock on Trabens these days, but there's not a lot of other info about them. Since I never installed them I never heard them, so I can't comment on their sound, but they do appear to be well made. Beveled polepieces, all the same height. Alnico magnets if I recall. Foam and springs both still attached. Shielding tape underneath. Four-conductor wiring for all those cool coil combinations. Bridge polepieces measure 2 7/8" across; neck ones are 2 3/4 (which is wider than I like anyway….). Not counting the mounting ears, they measure 4 1/8" long by 1 15/16" wide. Good cosmetic condition, with just a very few surface scratches only visible under the right light. Oh, and I can supply screws if you need 'em.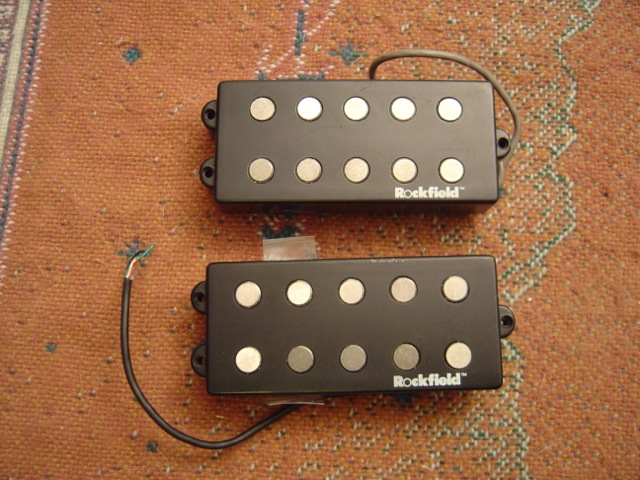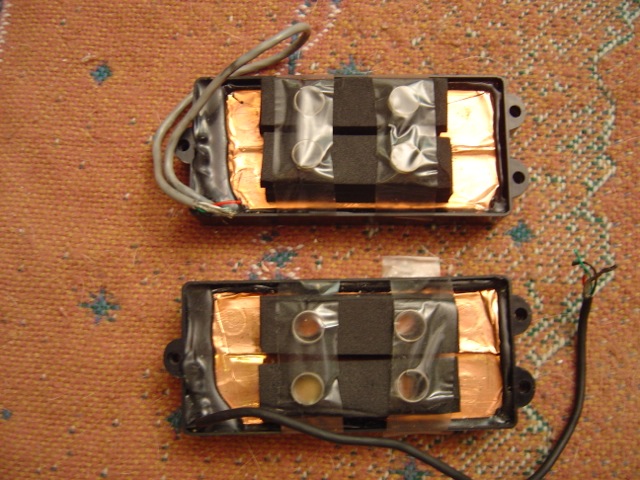 2. Kahler 7450 bridge -
$50
SOLD!
This is a brilliant, beautiful, rock-solid, weird little 5-string bridge. You don't see them very often, and that may be due to their otherworldly appearance (bassists can tend to be myopically traditionalist at times…), but there's no denying the performance and configurability of this little beastie. Infinitely accommodates string spacing between 2 3/16" and 3 3/4" (!), and you can buy another bridgelet and add it to the baseplate for a six-stringer if you want. Obviously not a retrofit for anything but another of its kind, but if you are not afraid to color outside the lines, well, then this can make an awesome instrument even awesomer. Excellent condition, excepting some unfortunate scratches on the baseplate that were there when I got it, though these are hidden in use.
3. Five genuine Gotoh GB7 tuners -
$60
SOLD!!
Purchased brand new from StewMac and very lightly used on my five-string custom (I'm converting it to headless!). 3 x 2 configuration. There are a lot of imitators out there, but these are the real deal. Curiously, they have a straight 11mm post, and not the usual smaller waisted post that most of them have. That's just the flavor that StewMac sells, but you know what, they're still beautiful, and a little kinder to larger gauge strings as a result. Intact and flawless, including the fixing screws for the back. Just like all of the GB7s in use around the world, these require a 14mm hole in the headstock. Honestly, if I didn't need a bit of cash for the headless hardware, I'd keep these, so I won't be heartbroken if they don't sell…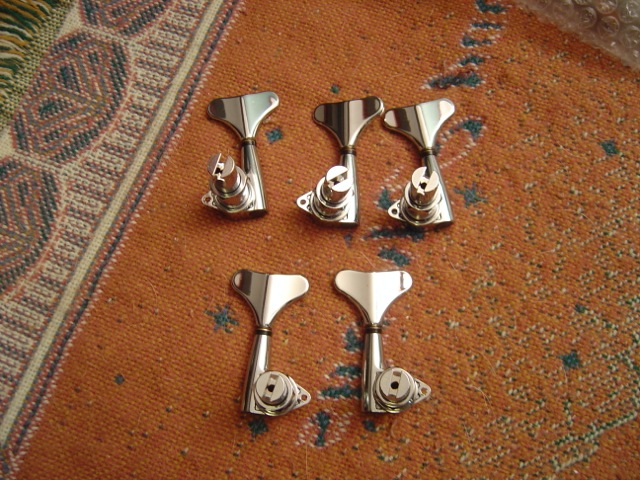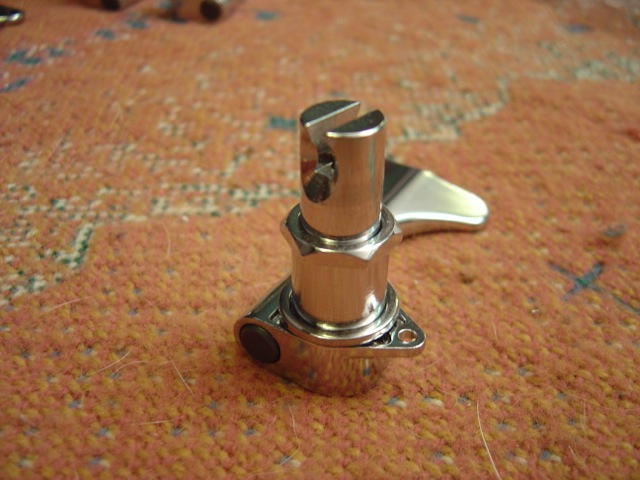 4. No-name black klunky tuners -
$5, or free with purchase
SOLD!
If you need these, well then bless your soul, because I'm sure there aren't many people who do! These came on a lefty StingRay copy neck, but I replaced them with chrome Schaller/Fender lightweights to cut down on the neck dive. Lefty StingRay, so for righties that translates to one tuner for the bass side and three for the treble side. And no, they're not reversible - I already thought of that. :scowl: Tuners, bushings, and a whole bunch of screws. Posts are 14mm; bushings require an 18mm hole, according to my calipers, but maybe a little smaller for a snug fit…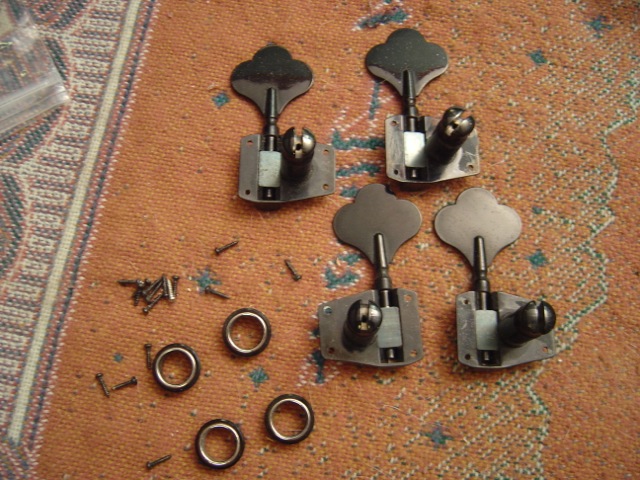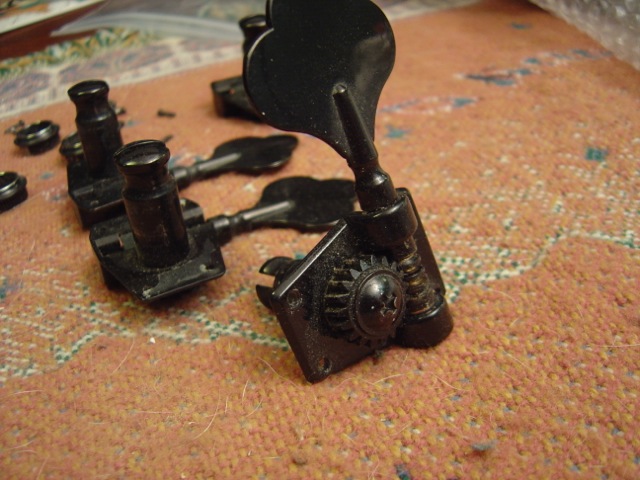 5. Single tuners - $5 for the Asian, $10 for the German
This is what happens when you install Hipshot D-Tuners on everything… The Asian one is a GB7 clone, marked "Korea Jin Ho R-2". Works just fine. The German one is a Schaller M4, marked "Made in W. Germany" - does that make it more valuable? Both bass side, both in really good shape, with everything except the fixing screws (although if you really need them, I can scrounge some up). In case you don't already know, the GB7-alike requires a 14mm hole, while the M4 uses a 12mm one.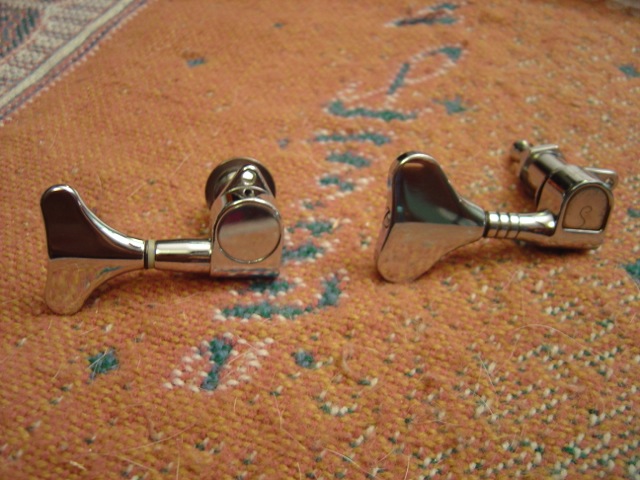 So that's it. Prices include ground shipping in the US. Paypal is fine. I'm an upstanding fella. Any questions, PM me.
Thanks!