| | |
| --- | --- |
| Bottoms_Up! | 02-14-2014 06:40 AM |
---
Shop Cleanout Continues: Body Edition (P's, J, SG)

Various bodies. I've had these laying around my shop for a while now and haven't gotten around to doing anything with them. The Metallic-Copper and Olympic-White P-bods are completely shielded and bridge-to-ground soldered. I know for a fact that the Olympic White P is a Vintage Modified and other than the SG, not sure what the others are.
Purple PJ:
$90
$80 shipped ConUS!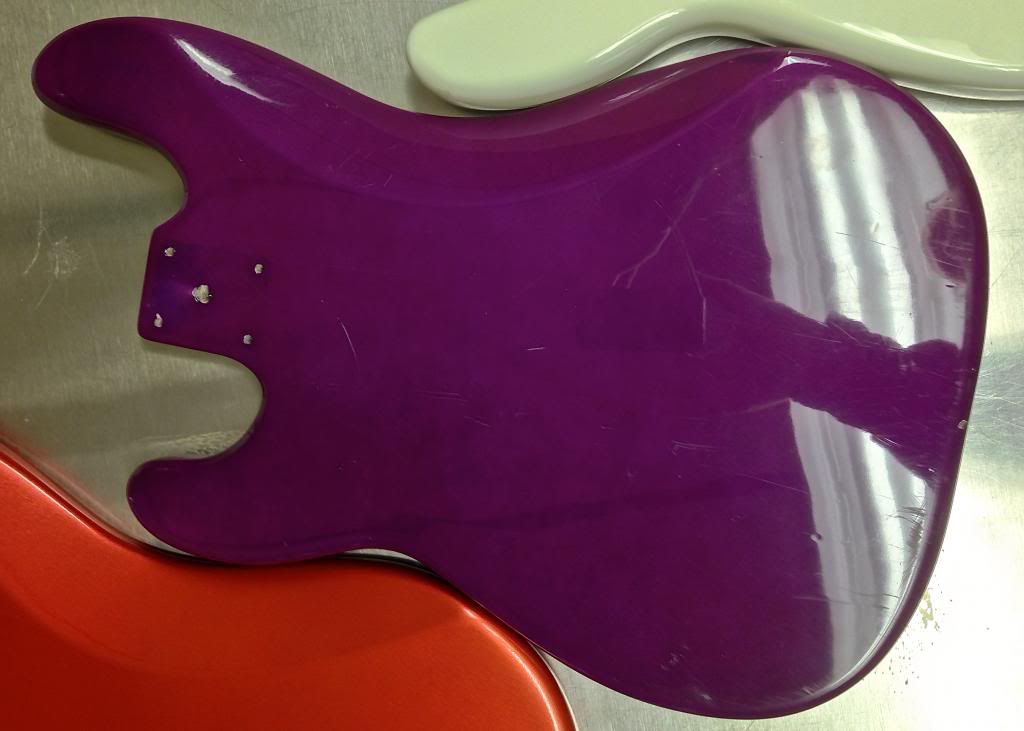 Very stylish trans-cobalt blue Jazz-style body with cream binding and rear electronic rout (PLENTY of room to get real creative here). Neck pocket accepts a Fender or Fender lic. neck PERFECTLY. I placed one of my Warmoth J necks on it last night and it is snug as a bug in a rug. No slop, and not over-tight either. No major dings to report other than a few very light scratches on the back of the upper horn which were nearly impossible to capture (and most certainly can be buffed away), and a messy output jack area which can be covered by a football jack-plate. Protective plastic film still on the electronics cover.

My weakness for binding had me immediately jumping on this and I've had it in my shop for ages. Just never got around to ordering parts for it. In the meantime, my aesthetics have shifted to P-basses pretty much exclusively. No idea of the wood (the top almost looks like Korina, but what do I know?) or make. 5.45 lbs.

$80 shipped ConUS!
SOLD!
Ibanez SG P-body. I bought this strictly for the neck (for a friend's daughter's SG which popped a truss rod). Looks like the previous owner wanted to install a couple J PUPs judging from the marks above and below the split-P cavity. Its got some bruises, but it's good for someone that likes to keep busy tinkering around with various projects. 4.65 lbs.

Anyway, not looking for anything but freight. $15 shipped ConUS.

SOLD!
Olly White P-body. $95 shipped ConUS
!
SOLD!
Copper Metallic P-body. $95 shipped ConUS
!
SOLD!
Thanks for looking!
| | |
| --- | --- |
| Isotonic | 02-16-2014 05:28 PM |
---
Does a standard pick guard fit on these? What is the width of the neck pocket. Any idea about the body wood?
| | |
| --- | --- |
| camardelle | 02-16-2014 05:42 PM |
---
Dibs on the white p body. PM incoming...
| | |
| --- | --- |
| Isotonic | 02-16-2014 08:06 PM |
---
Okay, I'll take the copper/orange one. PM incoming.
| | |
| --- | --- |
| Bottoms_Up! | 02-17-2014 12:53 PM |
---
J-bod SOLD!
SG bod SOLD!
Olly White Peabody SOLD!
Copper Metallic Peabody SOLD!

Purple PJ bod left with a price drop!
| | |
| --- | --- |
| Bottoms_Up! | 02-17-2014 01:48 PM |
---
All gone!
All times are GMT -6. The time now is

09:46 AM

.
Powered by vBulletin® Version 3.6.12
Copyright ©2000 - 2014, Jelsoft Enterprises Ltd.