Selling a couple of guitars that don't get much use. Both of these are set-neck Les Paul style single-cutaway guitars in black.
First up, an Agile AL-2000 with gold hardware. These were a special run of their mid-grade model but with the nicer gold metal parts. I have installed a pair of Seymour Duncan Seth Lover pickups (with gold covers,) hence the slightly higher price.
For those who don't know, the Agile AL series are Korean-made Les Paul copies with some design tweaks just to make them look a little less Gibson. The headstocks are re-shaped and the cutaway horn is a little more rounded. Whether you like the look is a matter of taste, I think it looks pretty neat. These are better guitars for the money than current Chinese Epiphones, and I think equal to or better than the older Korean Epis as well. I have three Agiles (two AL's and a Harm) and they are all solid players and great sounding to boot. My Harm in particular is very sweet. This guitar plays and sounds great as well but I'm just not a humbucker guy for the most part.
Specs:
Single cutaway solid Mahogany arch top body
Full body and neck binding
Set-in Mahogany neck with Rosewood fretboard and trapezodial inlays
22 Jumbo 2.7mm frets and a 13.7" (350mm) radius neck
Grover Die Cast tuners
Two volume & two tone controls and a 3-way pickup selector switch
Made in Korea
Width of the neck at the nut: 1 5/8"; at the 22st fret: 2 3/16"
Neck Taper is 21.5 mm at the 1st fret and 23.5 mm at the 12th fret
Thickness of neck at the first fret approx 11/16"
Overall length, including the strap button: 40"; Scale length: 24.7"
Bridge pole spacing is 3", and the Tail piece pole spacing is 3 1/4"
Width at the widest point: 13"
Body thickness 2" at edge
The Rondo site claims these are 10 lbs. I'll weigh it tomorrow and post here.
Pics: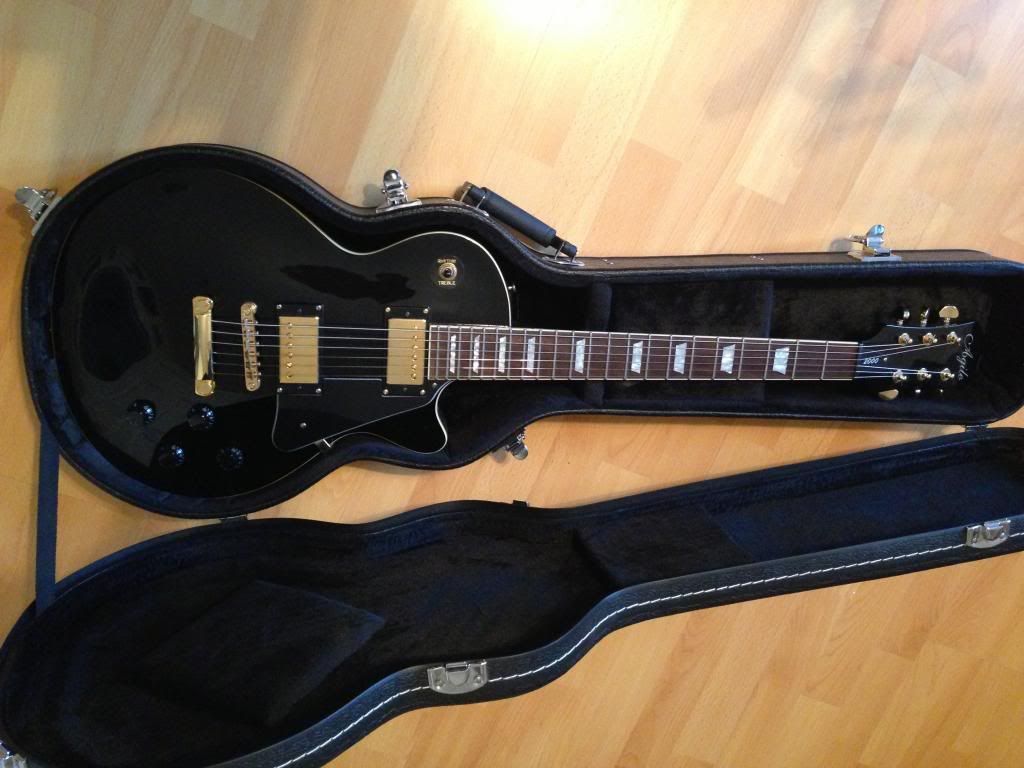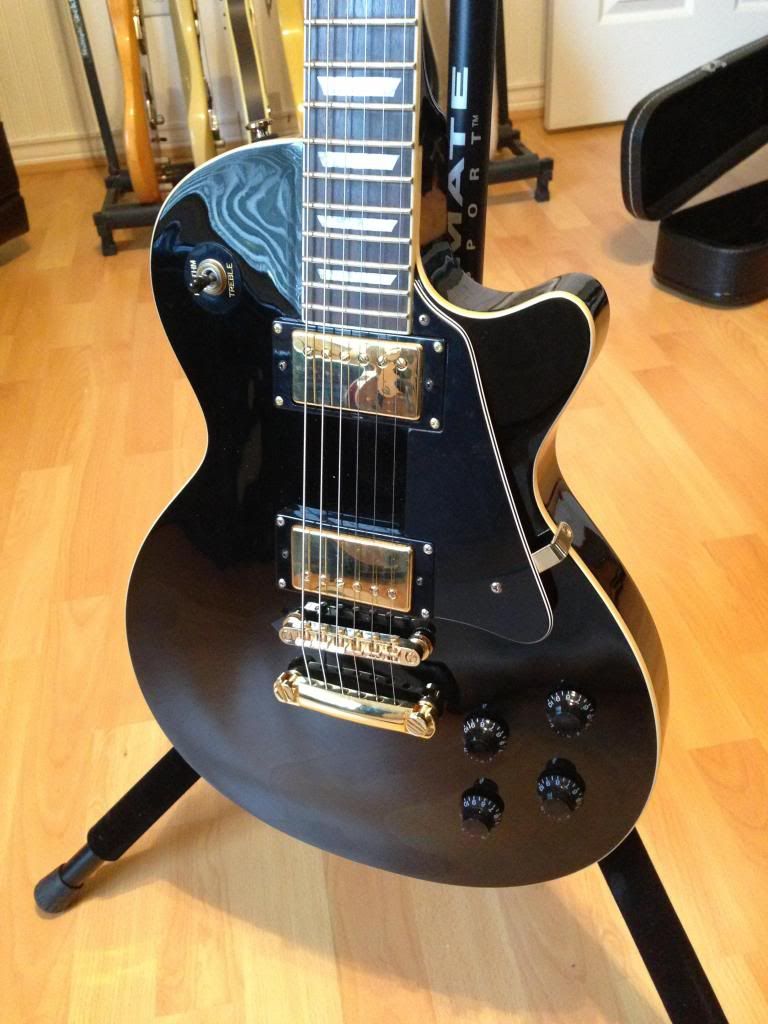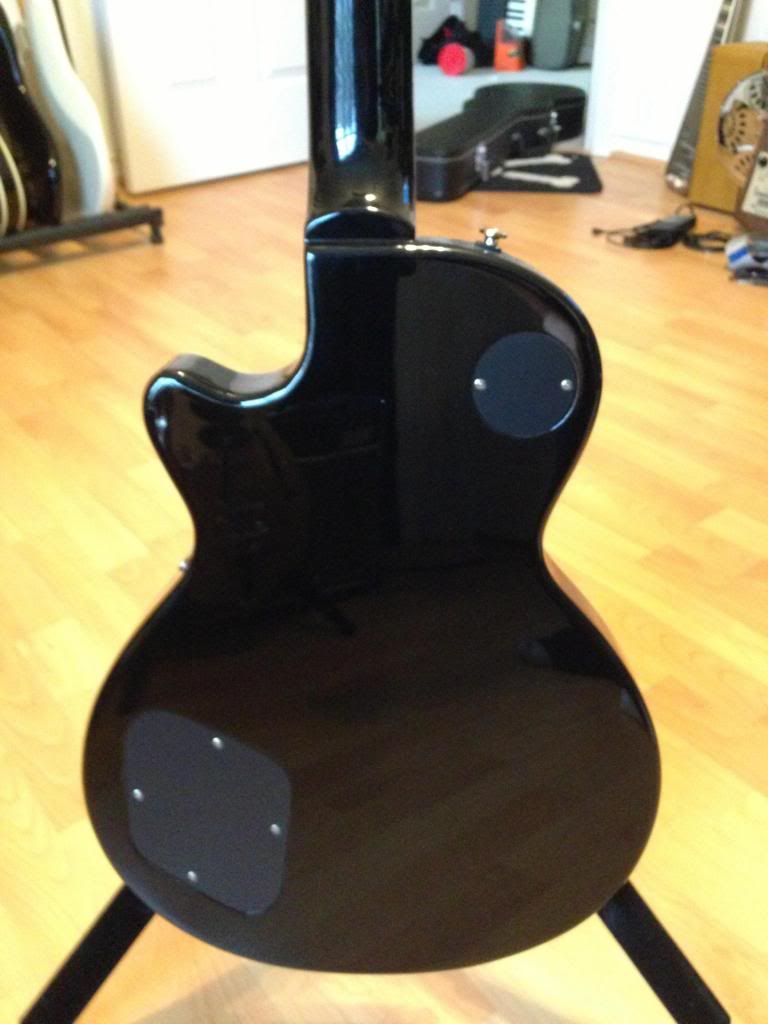 Asking $350 shipped in the case with the Duncans installed, and I'll include the stock pickups.
I'll sell it for $250 shipped with them removed and the original pickups re-installed.
No trades, please! PayPal OK, international OK but the shipping charges are your responsibility.
Next up - Xaviere XV-585 in black. This is definitely more my style - I dig the sharp Florentine cutaway, and the headstock reminds me of old lap steel headstocks. P-90 in the neck, humbucker in the bridge, with just a single volume / tone and a 3-way switch.
Body- Chambered Solid Mahogany
Top- Carved Solid Mahogany
Neck- Solid Mahogany with Rosewood Fingerboard
Fingerboard Radius- 12"
Frets- 22 Medium Jumbo Nickel Silver
Bridge Pickup- GFS Alnico VEH Zebra
Neck Pickup- GFS Alnico Soapbar P90
Tuners- Upgraded Die Cast 14:1
Scale Length- 24 3/4"
Width at Nut- 1 21/32"
Depth at 1st Fret- 0.75"
Depth at Heel- .95"
Average Weight- 6.2 lbs.
This one is INSANELY light. It really does weigh in the 6-7 lb. region, as it's mostly hollow inside like an old Gretsch Jet. I replaced the stock electronics with some pulls from an old Ibanez S-series. The guitar plays OK, but the neck has a weird set to it. It's fine in the lower registers but the end of the fretboard has a rise and the upper end has a pretty low action. I have it strung with 11's now with very low action, it's just not an even action across the fretboard. When I got it, it was strung with 9's or 10's with standard / medium action and the problem was not noticeable at all. It will probably set up really well with lighter strings and a higher action, but I wanted to be up front about it.
It sounds fabulous. The pickups are the same as the popular aftermarket GFS models that get so many rave reviews.
Pics: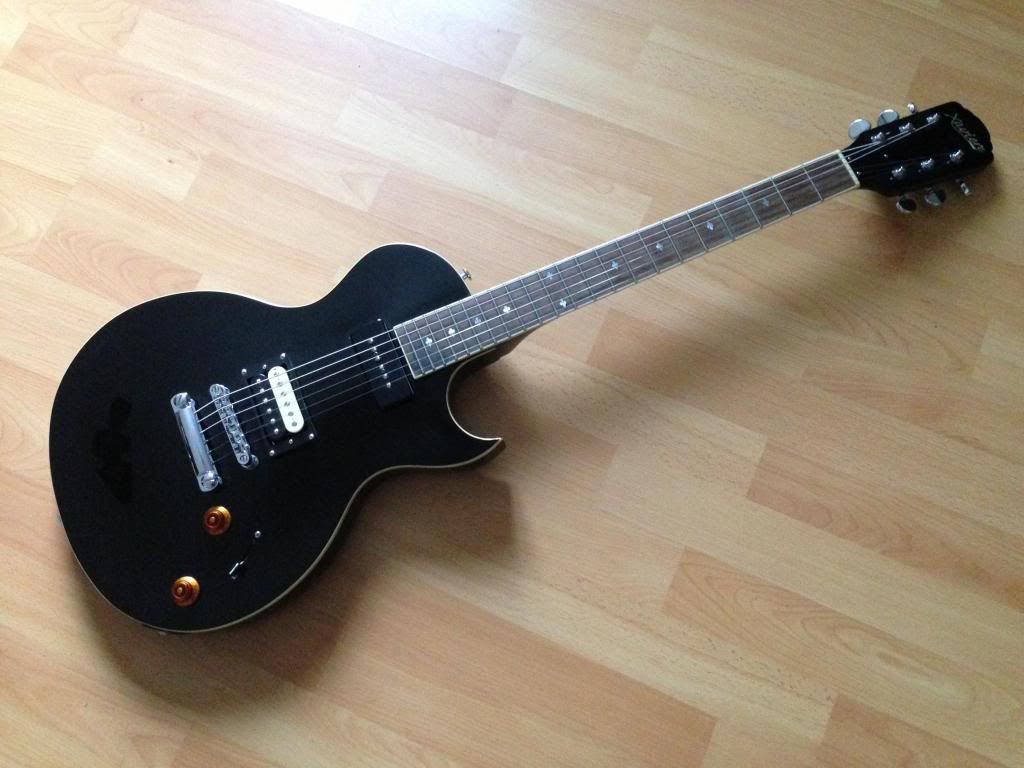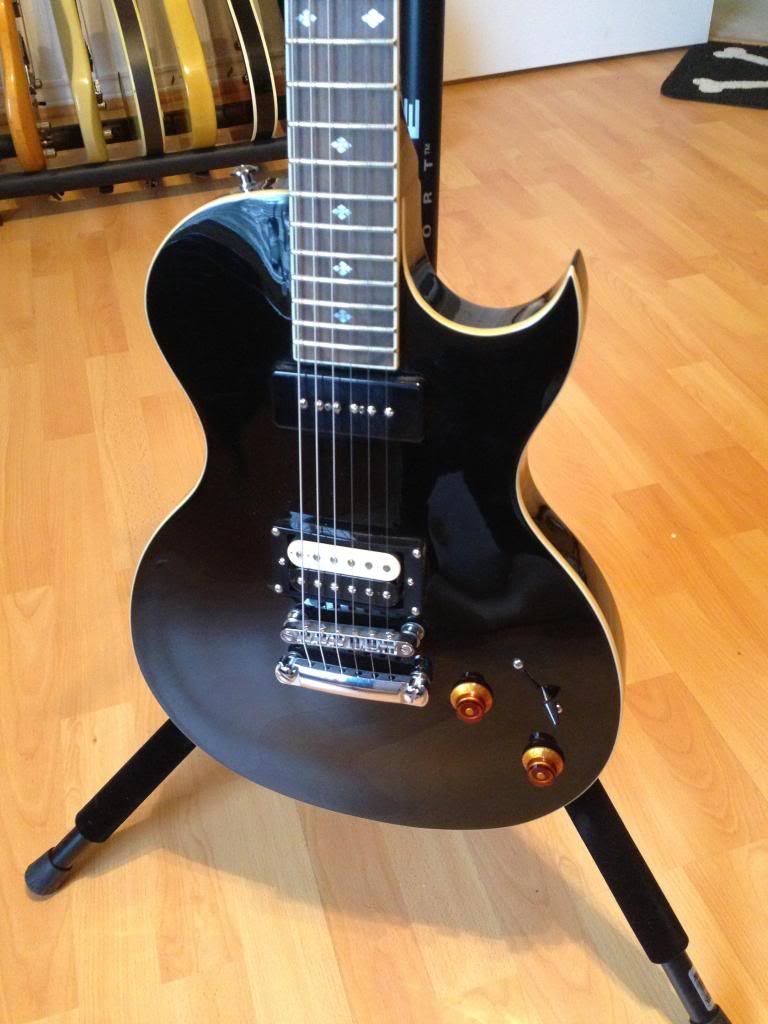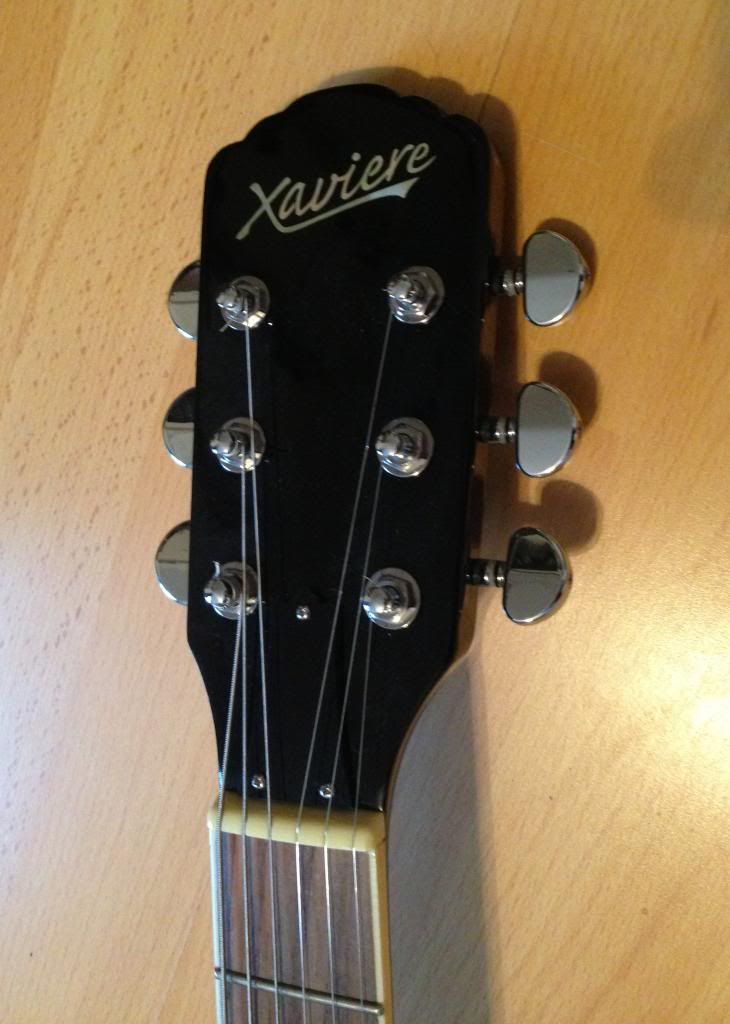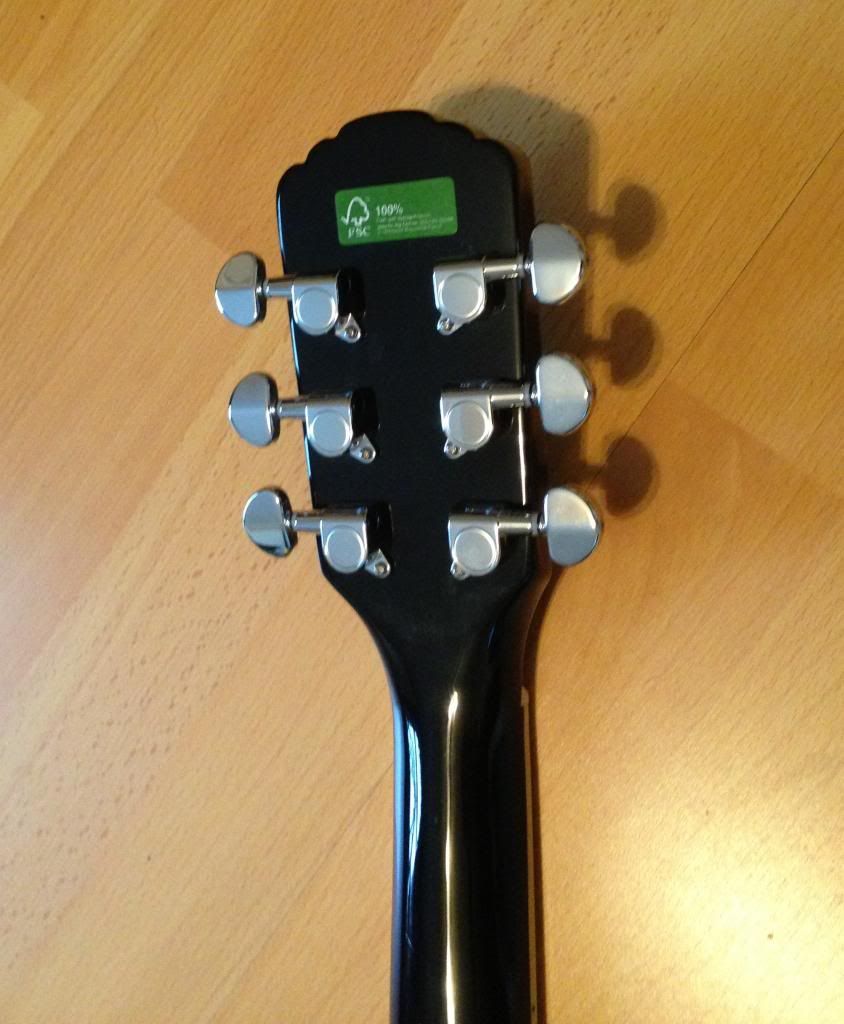 Asking $175 shipped CONUS. I will ship international, but the buyer pays shipping. No trades, please. PayPal OK.