SOLD
Bought it in December, used it 2 times in practice and I won't be using it any more. Comes with box, manual, power supply (with its own cute little box), full package.
$150
$140 paypal'ed and shipped.
http://www.tc-helicon.com/products/voicetone-create-xt/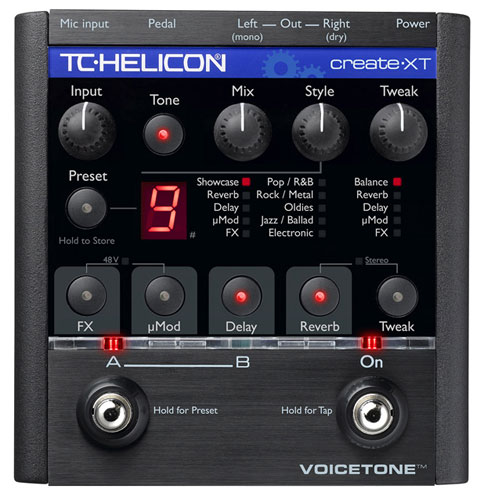 Hit Producer-in-a-pedal
Now you can get those "ear candy" vocal effects that producers call on every day to create hit tracks. VoiceTone Create XT improves on the original Create by incorporating HardTune (used by artists such as Tpain and Kanye West) and the rich, front-of-house quality reverb from its famous big brother, VoiceLive® 2. We've also made Create XT easier to use with individual on/off buttons for the effects blocks, new tweak controls, an input for an optional Switch3 footswitch and more.
Standard Features
All the features that made the original Create such a success.
Complete pre-programmed effect chains
100 factory styles are available to customize presets
Edit and store up to 10 presets, each with an A or B option
Lush reverb effects include halls, rooms, plates, spring, ambience
Various tempo-controlled delay effects including slap, echo, ping pong, multitap
Modulation effects include detune, chorus, flange, doubling, rotor and more
Transducer effects include popular megaphone, distortion and effect filters
Flexible effects switching methods
XLR mic input and XLR output in stereo or mono
Clean, low noise, studio quality mic preamp with phantom power
New Features in Create XT
A wealth of new features makes Create XT a better-sounding and easier-to-use vocal effect foot pedal.
Front-of-house-quality reverb algorithm from VoiceLive 2
HardTune for live, auto-tuned vocal effects
The Tone button that polishes and smoothes vocals with adaptive Live Engineer Effects
Dedicated effect block on/off buttons for easy preset customizing
Selectable Tweak parameters give you access to the important elements in the current sound
USB connection for easy software updates, tips, and preset backup using the included VoiceSupport application
Easy selection of HardTune scale & key from a standing position
Pedal input that accepts TC Helicon three button footswitch for more creative performances