| | |
| --- | --- |
| slap2much | 10-08-2013 09:30 PM |
---
Little Guitar Amps

A few guitar amps for sale. I have gotten pretty used to using my Fender Mustang amp with it's Fuse software so need to move these out.
Marshall MG2FX Chassis - this is a completely operational 2 watt amp with battery holder and speaker leads attached. Digital modeling, simultaneous multi-effect capable, built-in tuner, tap-to-set delay time, headphone out, aux in. Pretty complete little package. Sounds great, can get huge if you attach a big speaker. A small amount of the gold plating has been scraped off the front, otherwise in excellent shape. I will include both the Marshall-brand ac adapter and my, uh, 'custom' cardboard enclosure (I was going to build a cigar box wood one, but the cardboard box worked so well I lost my motivation...).
$50 $45 + actual shipping
(USPS med flat rate box at $11 is probably the best bet).
Next up is a Vox AC30 Amplug with matching powered cabinet. Together they are a surprisingly accurate tonal rendition of the 'Vox Tone' given the tiny speaker (I saw a YouTube video of this setup with a mic and then running through some studio fx, it sounds really good and looks pretty goofy). You can use the amplug by itself directly into the jack of your guitar and then plug headphones into it.
***SOLD***
$45 $40 + actual shipping
, I will sell the cabinet part alone for
$25 $20 shipped.
If that goes first I'll consider selling the Amplug by itself.
Last is my Danelectro Honeytone, I'm not really sure it's even worth listing here since shipping will push this close to what it sells for new...but maybe you want to save at least a couple bucks, or you can meet me during my lunch hour on the N side of Chicago...
$12.50 + actual shipping.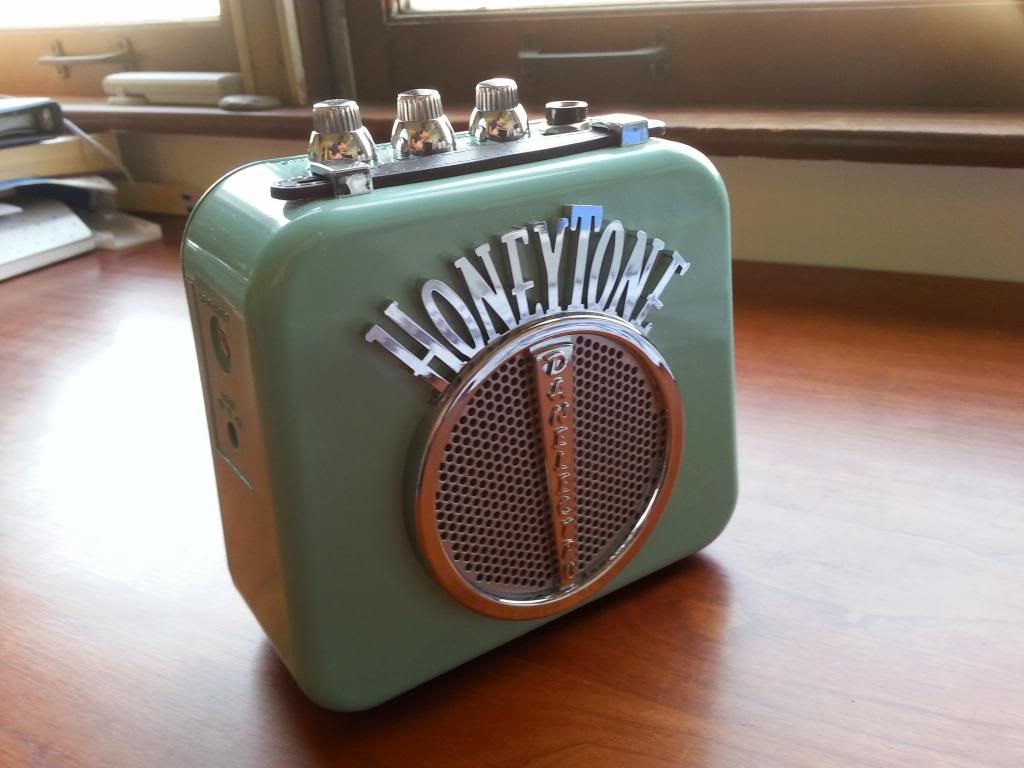 | | |
| --- | --- |
| slap2much | 10-12-2013 08:47 PM |
---
Price drops on the Marshall and Vox.
| | |
| --- | --- |
| slap2much | 10-18-2013 06:47 PM |
---
Bump.
| | |
| --- | --- |
| slap2much | 10-22-2013 09:34 PM |
---
I'll throw in this 8" instrument speaker (pull from a Fender amp) for free with the Marshall...
Maybe a couple bucks additional on shipping but otherwise it's on the house. Heck, you can have it for free with the purchase of anything here as long as you cover the extra freight.
| | |
| --- | --- |
| slap2much | 10-25-2013 08:37 PM |
---
Bump.
| | |
| --- | --- |
| slap2much | 11-01-2013 09:46 AM |
---
Vox amplug/cab is sold.
All times are GMT -6. The time now is

06:43 PM

.
Powered by vBulletin® Version 3.6.12
Copyright ©2000 - 2013, Jelsoft Enterprises Ltd.