| | |
| --- | --- |
| Memphis Hawk | 10-31-2013 05:01 AM |
---
Anyone read these?

Hi there, I'm Memphis, from Nashville, live in Japan currently. I just finally bought a bass this week and figured it was as good a time as any to join a bass forum. I landed a 1993 MIJ Fender Fretless Jazz Bass. It needs a new nut, but came with a set of Bartolinis installed (don't know which specific model, or if there is even more than one type for J Bass). Everything else is stock and it set up quite nice with a low action.
I've been playing many many instruments since I was 8 years old, eventually focusing on drums and guitar in that order. I would play some root note type stuff on a bass for recording my own songs and that but I never really cared about the bass. Perhaps because after 22 years of playing I am not quite the lead guitarist I thought I was, I decided to give a bass a more serious effort. With 20 years of drumming and competent guitar skills I am finding it to be quite a joy actually and have jumped right into the mix.
I'll post up some pictures as time permits and I am also working on my first youtube bass video. I don't know why, but the first song I thought of was "For Once In My Life" when I got home with the bass, so I have that over half down by heart in this first week. I can read through the whole thing, but working on my memory and these fast lines. Love Jamerson, always did.
I'd say my favorite Bassist is Pino Palladino. Slightly biased as his sister is my godmother and my mom used to date him when they were in high school and college. She left Wales for the States and he didn't want to go stateside so they parted ways. The rest is history, they say.
Here's a pic of my wife playing my bass for me the first day I got it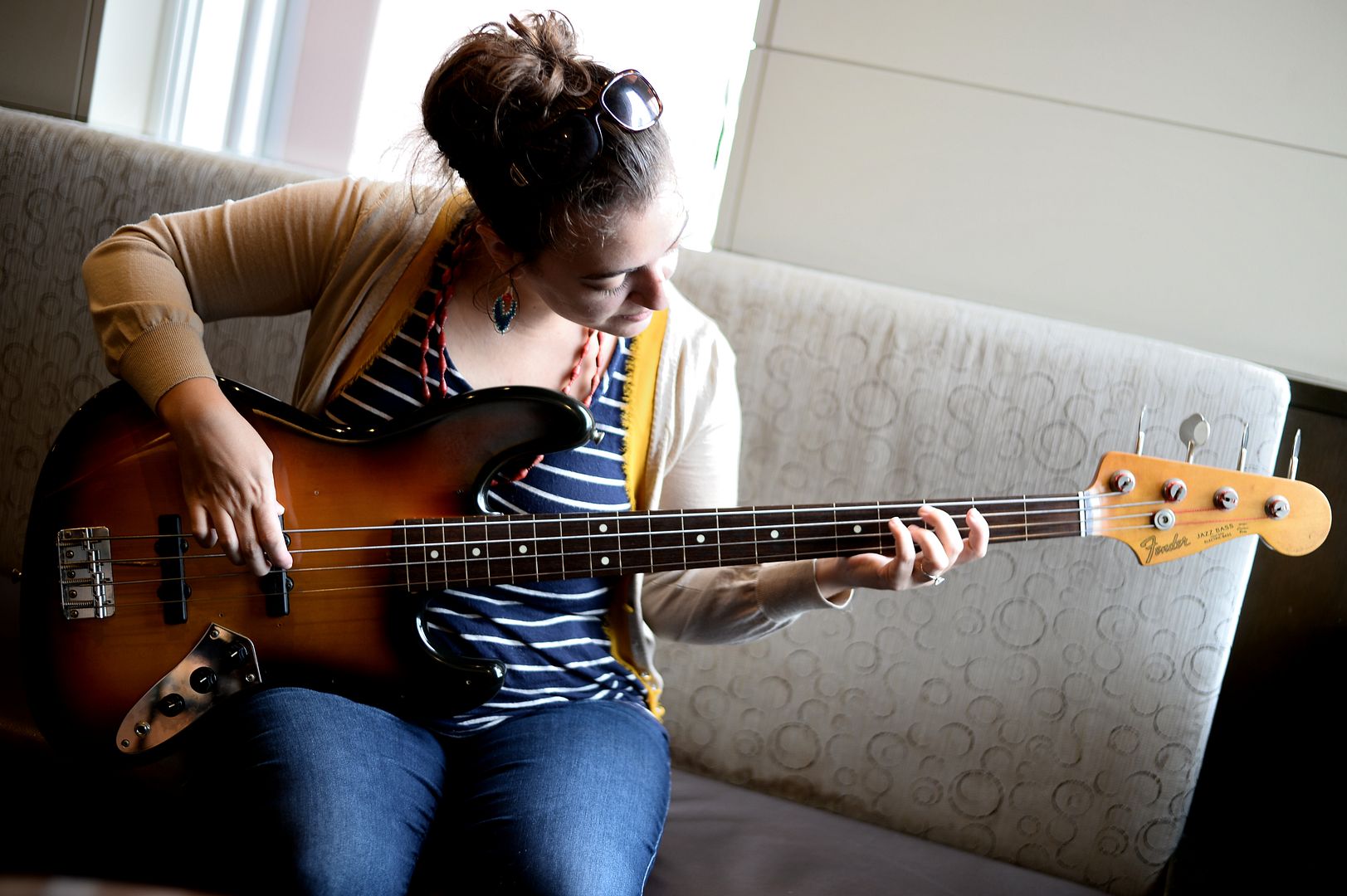 And here is my mom meeting up with Pino last week at the Nine Inch Nails concert in Nashville, TN last week (he is on tour with NIN right now)
| | |
| --- | --- |
| phangtonpower | 10-31-2013 05:07 AM |
---
Where are you at in Japan?

I live in Fukui. Most Japanese don't even know where that is, even people who live in the next prefecture over ><

I got half way through "Once in my life" last year, but got a few gigs and forgot about it. Maybe this winter :)

Welcome to TB!
| | |
| --- | --- |
| Memphis Hawk | 10-31-2013 05:11 AM |
---
Yeah I know Fukui, I never went, or did I blink and miss it!? haha. I lived in Aomori Prefecture for several years, for now I live Okinawa, but I plan on buying a house somewhere in the mountains of Aomori and snowboarding 8 months out of the year when I am lucky enough to quit working!
| | |
| --- | --- |
| phangtonpower | 10-31-2013 05:28 AM |
---
Lifer huh?!

You may have blinked. There is nothing out here.
All times are GMT -6. The time now is

04:46 PM

.
Powered by vBulletin® Version 3.6.12
Copyright ©2000 - 2013, Jelsoft Enterprises Ltd.