-
Amps [BG]
(
http://www.talkbass.com/forum/f15/
)
| | |
| --- | --- |
| Josh Thatguy | 02-17-2014 03:20 PM |
---
Anyone Familiar With Baldwin Piano&Organ Co Speakers? 12"+6x9 in same cabs

I was out hitting some thrift stores earlier and ran a cross a pair of somewhat large (roughly 24"x24"square, a little more volume than my Klipsch Forte') speakers from Baldwin Piano & Organ Company. The only identifier was "Model MC" and a three-digit serial number on each. They definitely had a "vintage" vibe going on. There was no way to open the grilles, as the brown fabric mesh covering the speakers was stapled to all the corners and tops. There were labels missing from the back of both of them, but there were information labels by the inputs showing the crossover suggestions ("Low 12 inch" "High 6X9"). I have no clue how much power they can handle, or if the drivers or speakers are still intact. Looked like there were ports not only one side, but on another side at the bottom as well. I know, I know, pictures would help, but my phone screen is cracked and the cam is dead.
I looked them up as soon as I got home, only to find.... nothing at all on Google or Yahoo. Just wondering if anyone has experience with organ speakers as home theater speakers, which is what I'm thinking I might do with them if I get them. The pair is $50, which is great if they work, or is a complete waste of money if the drivers are blown and I have to replace or recone everything.

Any thoughts?

edit--- the model is "M2", not MC
| | |
| --- | --- |
| DeathFromBelow | 02-17-2014 03:30 PM |
---
Uhm, if you already have a fully functional pair of Forte's (which makes me a bit jealous btw ;)), I don't really see the point unless you're just looking for something vintage to tinker with. I strongly doubt they'll outclass your Forte's in a modern system.
| | |
| --- | --- |
| Josh Thatguy | 02-17-2014 03:37 PM |
---
Actually, I'm thinking of another system in the other end of the house. And, I'm thinking I don't want to miss a bargain... the Baldwins are at the same thrift store where I found the Forte's two years ago for (Don't hate me for this, life is all about timing) $50. That's why I had this "ohcraplookatthesizeofthose" feeling as soon as I saw the Baldwin speakers today; and, thinking back, they're actually about the size of 115 cabs, which is what I thought they were from across the room. Sort of like the day I found the Forte's, when I looked across the room and said to myself, "damn, those almost look like Klipsch..." and nearly wet the floor when I got close to them and realized that they were. I bought them assuming the crossovers were fried, or the drivers were baked, or any other problem. I figured for $50 it was worth it for the cabinets alone. Got them home, plugged them in to the old Denon power section of my system... and found that they needed nothing. Absolutely perfect.
(Again, don't hate me. It's just one of those moments in time when the planets aligned...)

Debating whether or not to chance $50 again on organ speakers... it sure worked out last time!
| | |
| --- | --- |
| DeathFromBelow | 02-17-2014 03:45 PM |
---
Looking at your OP again, I'm getting the impression there are no tweeters in these things? Just a 12" woofer and a 6x9" mid? If that's the case, i'd say they're not really worth even trying in a HT, unfortunately.

And I'm sorry, but yes, I do hate you just ever so slightly for the whole 50$ Forte thing... :D
| | |
| --- | --- |
| Richland123 | 02-17-2014 04:08 PM |
---
Baldwin used to make guitar and bass amps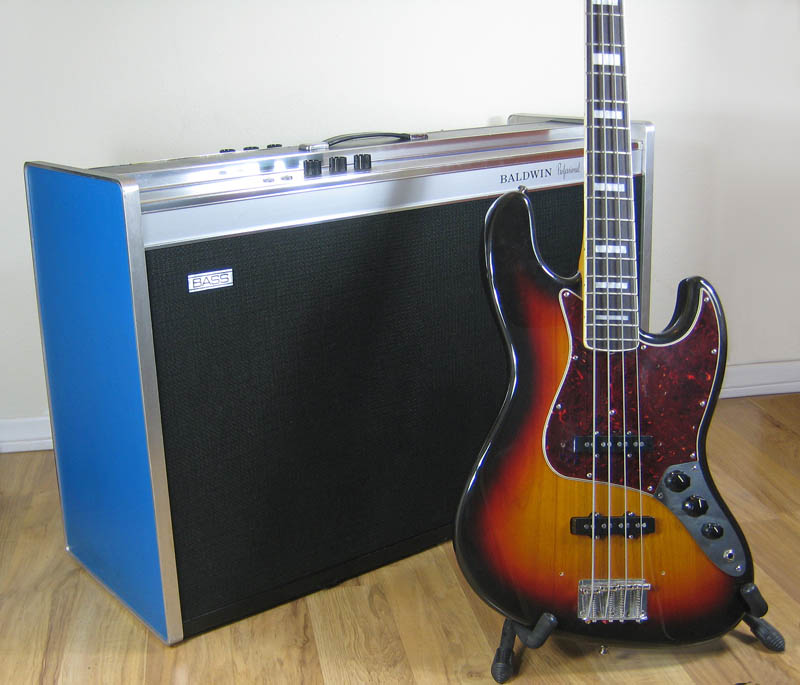 | | |
| --- | --- |
| Josh Thatguy | 02-17-2014 04:47 PM |
---
Curiosity is killing me... I'm heading back to the store to see if they're still there, and if I can figure out more about them. I'm taking a camera, too, on the offhand chance I don't just go ahead and buy them....
| | |
| --- | --- |
| hbarcat | 02-17-2014 08:55 PM |
---
Chances are these speakers were powered by a low wattage amp that had relatively little low frequency output.

If you want to use them as modern drivers for the sake of getting that vintage "mojo", I'd suggest using the same arrangement. Use a low watt amp to power them with a low frequency roll-off so you don't blow them. Use a separate subwoofer system for the lows.

The fun part comes in when trying to find the passive crossover that works with the combination of 12" and 6x9. Start by measuring the impedance of each driver and assume the lower frequencies will be with the 12"'s. If you have the capability to bi-amp, this would be ideal. If you can, measure the dimensions of the ports (both total area and depth) as this will tell you what frequency the cabinets are tuned to. Also measure the internal dimensions of the cabs (LxWxH).
| | |
| --- | --- |
| Josh Thatguy | 02-17-2014 09:01 PM |
---
2 Attachment(s)
Pics.... and when I went back just before closing, they're down to $30 for the pair.
The first photo is of the TOP of the cab. There's a rectangular port on the front side of the cab at the bottom.
Probably going to go back and grab them in the morning... just because.
| | |
| --- | --- |
| Josh Thatguy | 02-17-2014 09:02 PM |
---
more photos

2 Attachment(s)
mo'pix
| | |
| --- | --- |
| hbarcat | 02-17-2014 09:11 PM |
---
Okay, thanks for the pics.

The terminal connection picture shows that the speakers are meant to be biamped. You won't need a passive crossover, but you will need to have an active crossover and two stereo amps - one for the low mids (12's) and one for the high mids (6x9's).

Still, I would be very careful about letting too much low end into the 12's. Vintage speakers like this are easily blown if you try to pump them full of modern boom. Better off to go tri-amp with a separate subwoofer.

You aren't going to get sound that will impress the "hi-fidelity" crowd out of these, but they will sound "unique". They might even sound good. And if you can possibly quad-amp them with additional tweeters then you'd be even better. These cabs would just be for low mids and high mids. Could sound awesome.


On the other hand, keeping it simple might be the way to go. Just split the signal into low and high and then biamp. Again, keep the wattage and volume down to prevent blowing the low end and just put up with the fact that it won't be all that hi-fi, but might still sound vintage cool.





These things are SO COOL! :bassist::cool:
All times are GMT -6. The time now is

12:53 PM

.
Powered by vBulletin® Version 3.6.12
Copyright ©2000 - 2014, Jelsoft Enterprises Ltd.