a few tb members asked that i start a thread on a cab that i'm currently building so here it is. it's not quite finished yet, so it's still a work in progress................
the goal:
1-a cab that will be capable of playing just about any gig (i.e handle alot of power and put out alot of volume)
2-it has to be fairly lightweight for its size (50lbs, or hopefully less)
3- i want it to appear like it's made out of 3/4" thick wood
4- i want the 'covering' to be somewhat soft and 'rubbery' and look like vinyl/tolex, but it shas to be lightweight to keep the cab light.
4-it has to fit in my car's (bmw 3 series) trunk
the materials:
1- 1/2" lightweight birch plywood (sides and back)
2- 3/4" lightweight birch plywood (baffle)
3- 3/4"X3/4" pine strip edging for the grill stand off
4- 1/4" pine strips (around the front edge)
5- two flared 4" ports
6- two Eminence Kappalite 3015's (non LF's)
7- 16 stainless steel 10-24 threaded inserts with 16 10-24 SS screws (speaker mounting)
8- one Neutrik speakon connector
9- eight small black metal corners (early Sunn type)
10- 4 large rubber feet (bottom) and 4 Fender sphinx glides 9side)
11- one Fender strap handle
12- 3/16" hole perforated aluminum grill
13- 8 grill rubber standoff supports w/screws and washers
14- herculiner rubberized truck bed liner (rolled on)
15- 1 can of SEM satin black vinyl spray paint
16- can of Krylon flat black spray paint (for the baffle
17- one mattress topper (for dampening)
18- Titebond II glue
19- PL premium glue
20- Black Felt (for the 3/4" grill standoff strips
the build:
i started by building the baffle. it measures 23.5" wide x 35" high x 3/4" thick: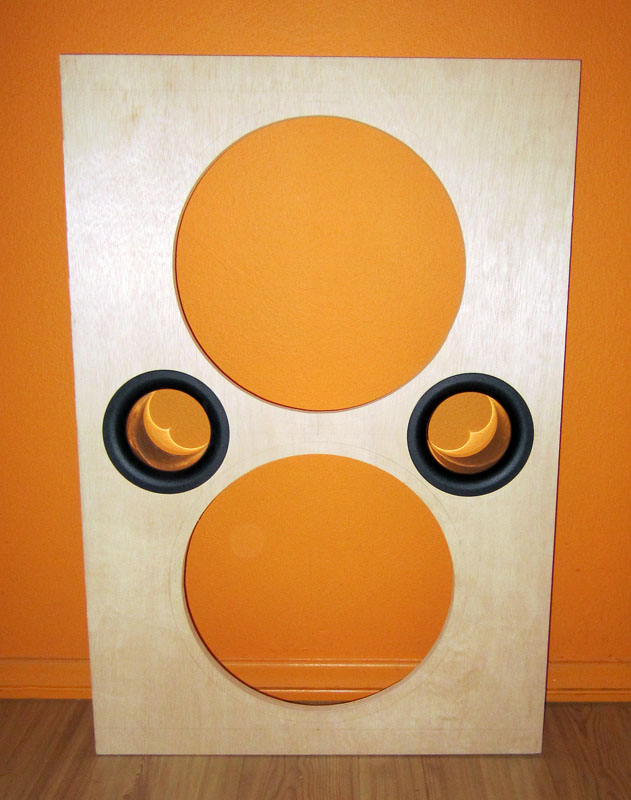 i routed four areas on the back of the baffle to save a little weight, and made a rear panel the exact same size, only out of 1/2" ply. then i added bracing to it to keep it stiff. i also added a 1/2" piece for the speakon jack so i could inlay it flush on the back of the cab: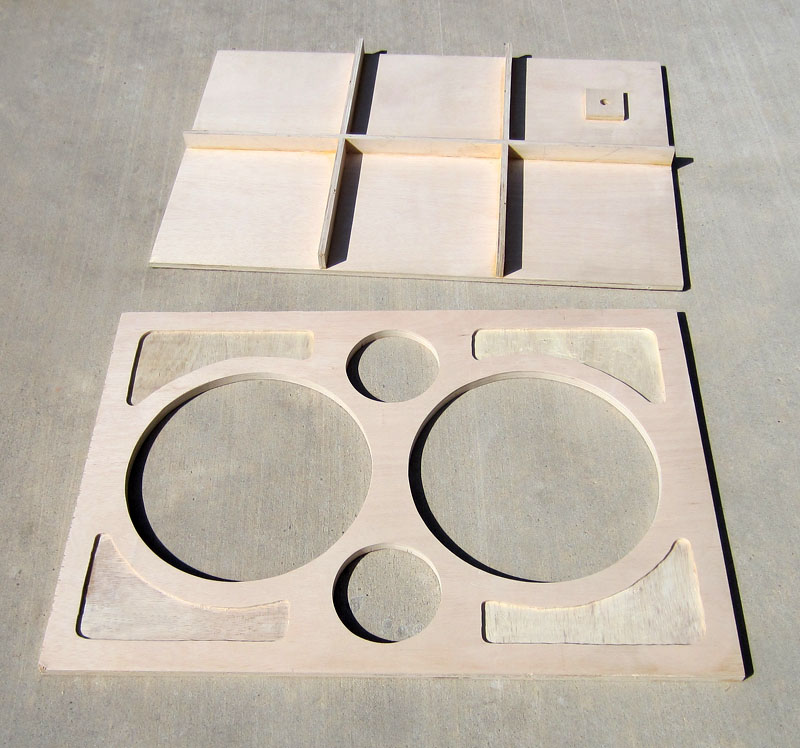 here's a pic of the cab with side sides and back all glued up, and the front baffle layed in place to check the fit. at this point the cab weighed 23 lbs: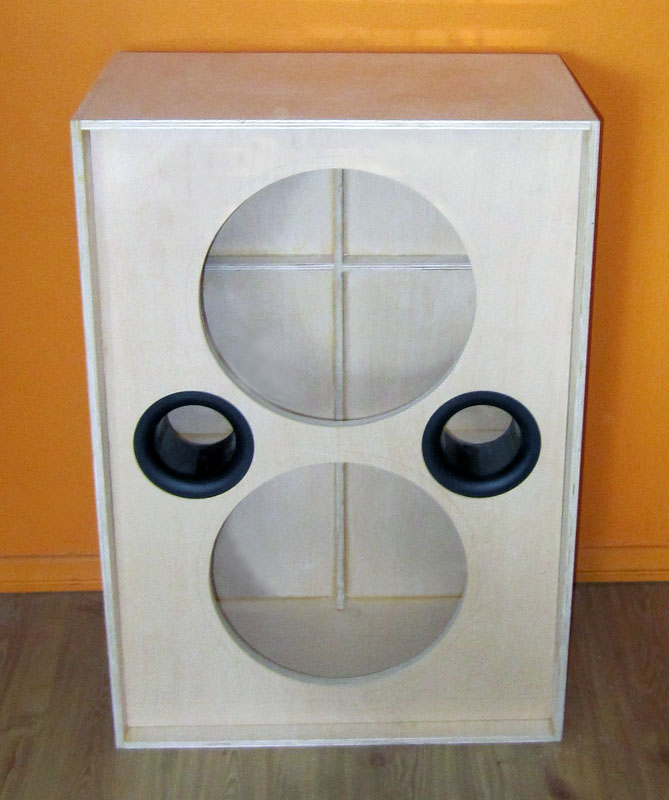 the back panel showing the inlaid speakon connector layed in place: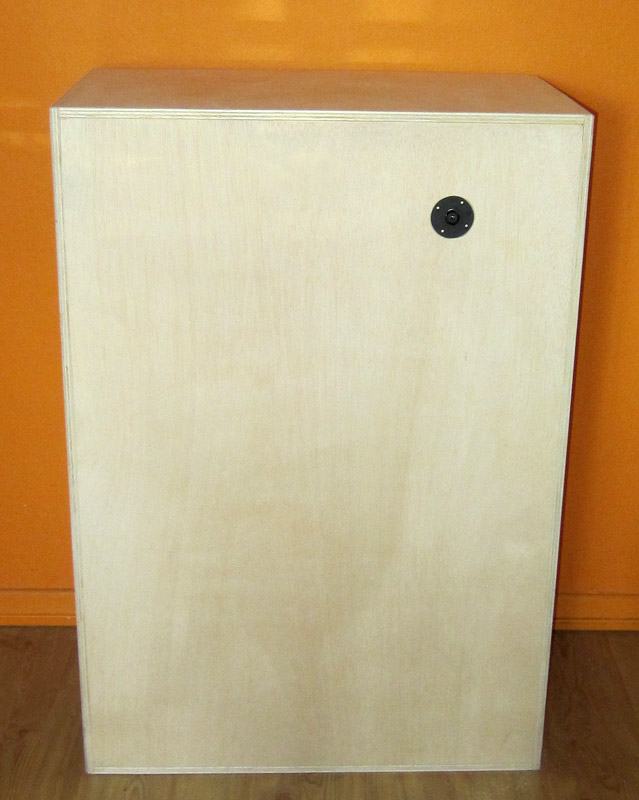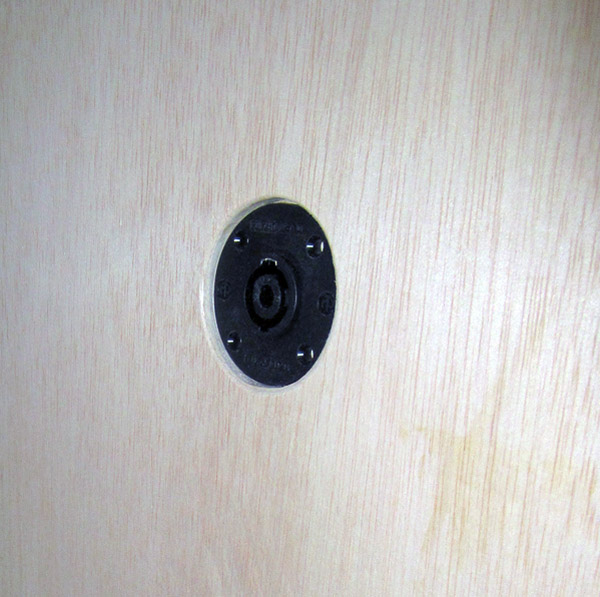 this pic shows the front baffle glued in with the 1/4" trim pieces and 3/4" grill standoff pieces installed. i also made a twin brace out of some 1 1/4"x 3/4" pine to connect the baffle to the back panel. after that i layed the speakers in their 14" cutouts and installed the 16 stainless steel threaded inserts. the cab weighed 25 lbs at this point
being somewhat impatient i really wanted to hear this cab so i mounted the speakers and tested it. even without the dampening material is sounds really good and can go extremely loud without farting out. at this point the cab weighed 42 lbs.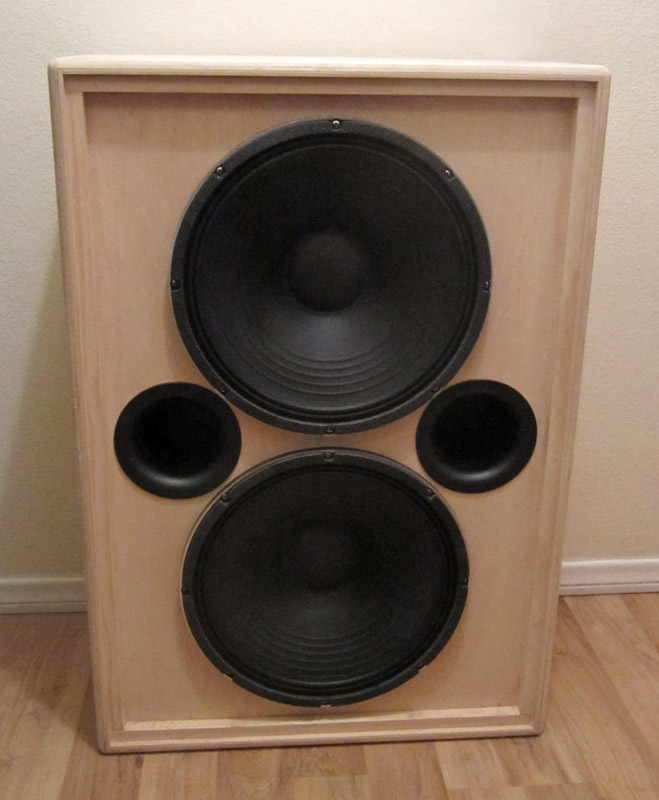 i took it apart, sanded and prepped it for the herculiner. i found out that herculiner has some pretty large rubber chunks in it (that was way too bumpy for me), so after the first coat dried, i sanded them down quite a bit with my makita orbital sander. for the second coat, i strained the herculiner thru some wide gap cheesecloth to let only the small rubber particles thru, then i rolled the second coat on. it takes a good 24 hours to dry until it's no longer tacky, but it's starting to look like a tolexed cab, only more glossy: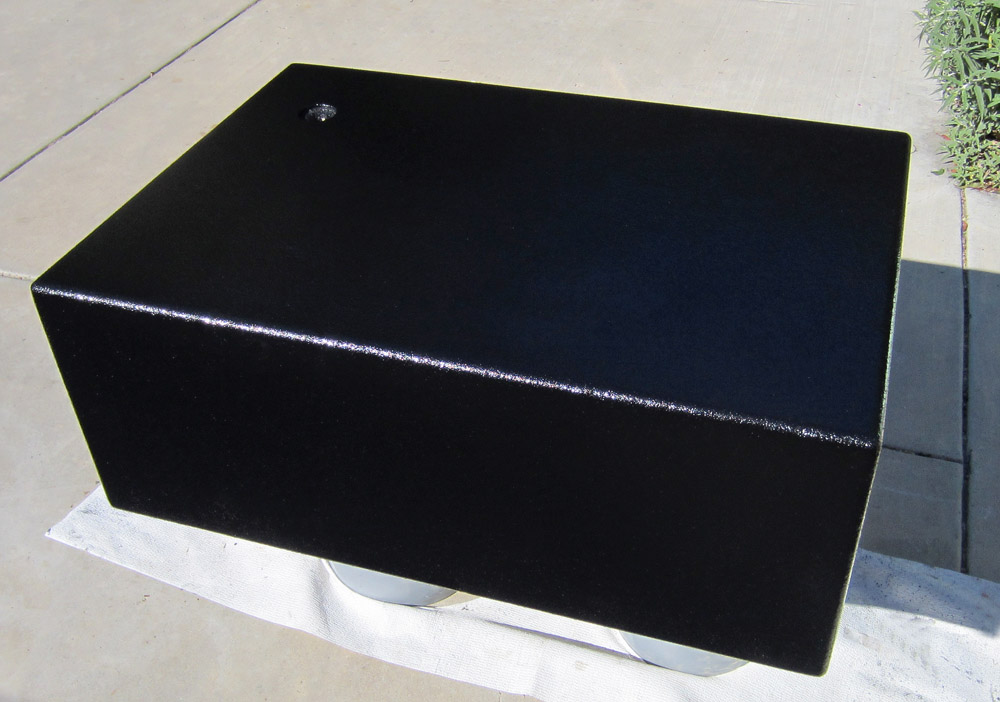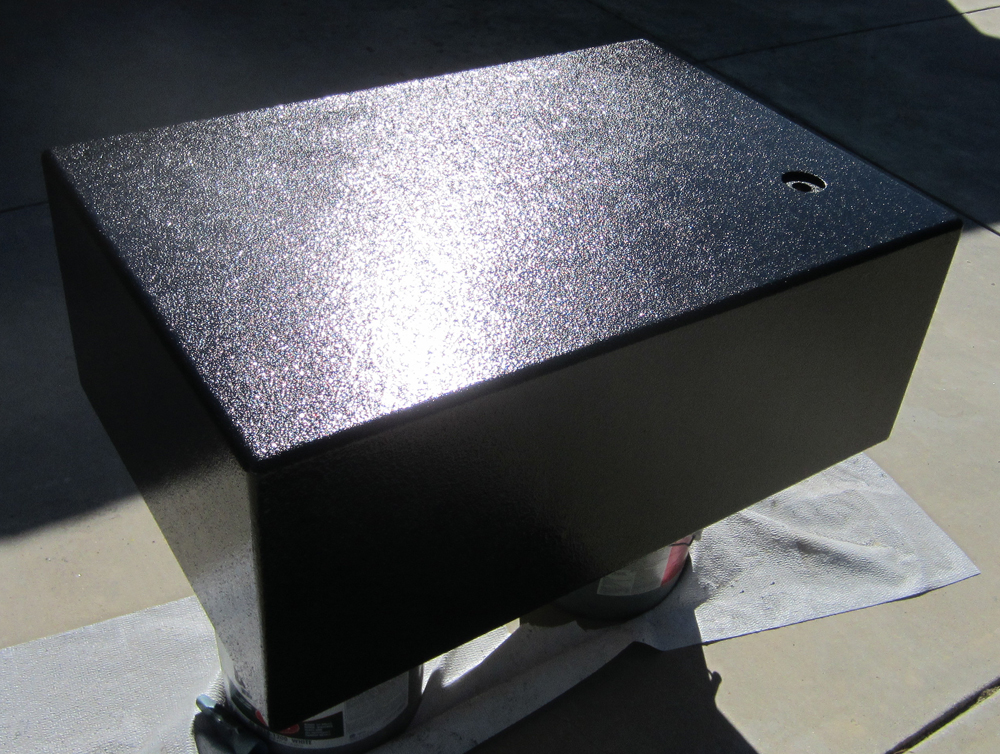 tomorrow, i'm going to slightly scuff it and shoot it with some SEM satin black vinyl paint to get it's sheen the same as a tolexeded cab would be. the SEM stuff is super nice and it will etch and bond to the herculiner and can't scratch or peel off, so by thursday or friday i should be able to paint the baffle flat black, make the aluminum perf grill and paint and install it, along with the other hardware, the ports, the dampening and the speakers..........