-
Amps [BG]
(
http://www.talkbass.com/forum/f15/
)
---
Fender or Laney?

I need to replace my practice amp (Ashdown 5-Fifteen combo) with something more powerful, as it's being totally drowned by the drums. Have checked out what's available locally on my tiny budget, and have narrowed it down to a choice between a Fender Rumble 150 head/410 cab and a Laney RB9 stack. The Laney head has twice as much watts as the Fender (300 vs. 150), but the Fenders are 4 ohms while the Laneys are 8. I have no idea how those figures effect the real power of the amps. And if equal, which sounds best, or are of better quality? I've never brought my own amp to a gig, so this is for rehersals only. I use no effects or pedals at all, and almost always one of my Precision basses. I wish I could go to a store and try them out myself, but none of the local shops have them (or anything similar), so I'll have to buy online. So I'll let you guys decide.
| | |
| --- | --- |
| HeavyRockBasser | 12-28-2013 03:46 PM |
---
Have you looked at these?
http://www.carvinguitars.com/products/MB15
Same price range. More compact. 250W. Haven't tried one, but I've got some other Carvin, and they make good stuff. Might be worth checking out some reviews?
| | |
| --- | --- |
| DannyBob | 12-28-2013 03:56 PM |
---
Laney all the way. They make some brilliant amps, but don't get as much recognition as they deserve
---
Fender or Laney?

The Laney stack costs £490 here on sale (reduced from £640), the Fender is £440, so I'm leaning towards the Laney for now. Have googled and read all rewievs I've found, but haven't seen a direct comparison anywhere. As far as I could see, they're both OK for the price.
---
The first real amp I got was a used Laney RB9. At the time I was trying to convince myself that I really liked it but in truth it just seemed a bit bland.

It was only after a couple more years of experience in bass playing that I realised it's potential, which in my case was learning how to EQ properly. The amp is very sterile sounding and will definitely reproduce the sound of what's put in front of it, in my opinion. So if you're a pedal kinda guy or, if like me, you like to put an effect which will add a bit of dirt (not fuzz/distortion) before going into the amp then this amp will be great for the money.

Since then I've become a bit of a Laney fanboy and I love their gear, especially the preamps in their products. That's just me though and I know for a fact that a lot of people hate Laney because of their tonal characteristics (flat, no distinct sound and perhaps sterile sounding?).

I've not had any experience with the matching cabs so can't tell you anything about them. All I've heard is that they have quite a vintage sound to em, but again those are people's opinions! Only thing I can recommend is that if you're going to go for the Laney stack then try to get either 2 4x10's or 2 1x15's. You'll get a more consistent sounding rig (IMO) and you'll be able to get the most out of the speakers and power without doing damage. It's not the end of the world, nor will you have a bad rig if you get a 1x15 and 4x10 but you're better off with two of the same cabs.

Check the local market and see if you can find anything used. These things are built to be thrown about so they'll last a long time and they're relatively easy to find second hand (as I mentioned before people don't really like Laney).

Lemme know if there's anything I can answer for you by messaging me!

Peace.
---
Thanks for the replies :)
I'd like a neutral sounding amp, so the Laney seems like an obvious choice. I can't afford an additional cab right now, but the Laney seems capable of handling it if I choose to add one in the future. The Fender R150 might be a bit too weak for more than one cab. The RB9 stack comes with a RB410, which should be sufficent for band rehersals.
---
Sounds like a set up which should work well for you which is nice to hear. Yeah anything with a 4x10 cab will be fine for rehearsals. Try tilting your cab back so the speakers point towards you head and you'll hear a world of difference. Mind you, this applies to all rigs.

Have fun with the rig mate!
---
It arrived today :hyper:
There were no speaker cable included, so I haven't been able to test it out yet, have to go buy one first.
But here it is: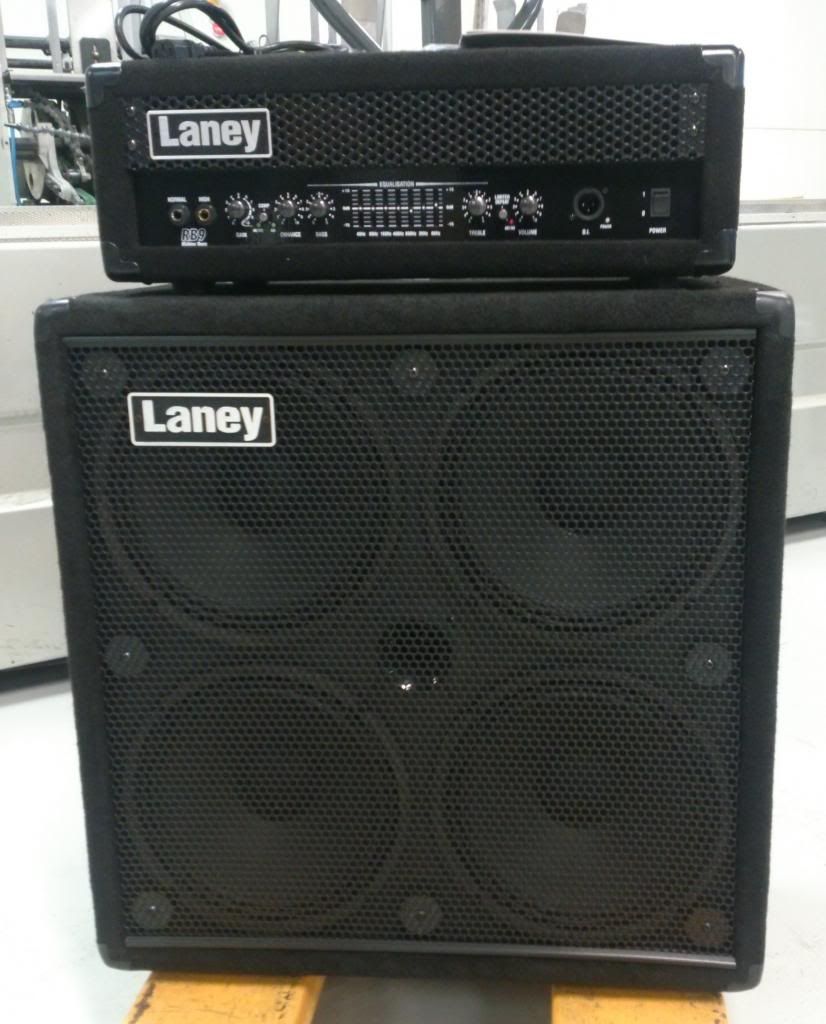 ---
I have been using the Laney for a couple of weeks now, and couldn't be happier. It's obviously no boutique or vintage-sounding setup, but it sounds really good, and is more than powerful enough for band rehearsals (our drummer has been playing punk rock for 25 years, and has no concept of volume..) Where the little 15"/100W Ashdown combo I had would struggle or even drown, this one is more than loud (while good-sounding) enough with the gain at 5/10, and the volume at 2/10. I have postponed my plans to add a Laney RB115 cabinet, as it would be an overkill. Obviously a matter of taste, but I like how neutral sounding it is. I don't think there's anything else it's this price range that would do a better job. I even got a 25% discount since it's the old RB9 model, so it didn't cost me more than a decent little combo. Veeeery happy :bassist:
| | |
| --- | --- |
| 4StringsEnough | 02-01-2014 05:23 PM |
---
Quote:
---
Originally Posted by DannyBob (Post 15302727)
Laney all the way. They make some brilliant amps, but don't get as much recognition as they deserve
---
+1000
All times are GMT -6. The time now is

11:44 PM

.
Powered by vBulletin® Version 3.6.12
Copyright ©2000 - 2014, Jelsoft Enterprises Ltd.