I know next to nothing when it comes to bass guitar amplification.
My wife and I both play bass in Dirty Lixx.
She plays through this ridiculous refrigerator of a rig:
It's an old Sunn Cabinet, with long ago replaced speakers. It's sporting a pair of JBL 15's these days, and she's driving it with the Hartke HA2500. The tone is pretty darn good.
Here's what I play through:
Believe it or not, the Fender Rumble 60 has not seemed underpowered in this band. That's a testament to our stage volume being quite low.
At some smaller venues, I have talked her into leaving the fridge at home, and sharing the Fender. She HATES the tone of the Fender.
So here's what I want to do. I need to get a rig that has more balls; more tone than that Fender. I want it to be considerably smaller than the Sunn cabinet.
I am going to go out to Sweetwater, Guitar Center, etc, and try some rigs out; I am hoping to get her to go with me. But is there anything you all recommend?
For example:
This TC Electronics BG250 is a Combo Amp with 250 watts. It is only 35 pounds.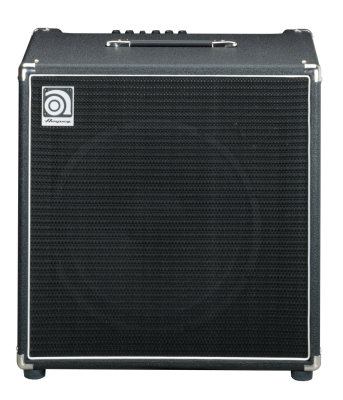 This Ampeg BA-115 is a little heavier at 65 pounds, but pushes 100 watts, and is a lot easier to deal with than that fridge.
Or can I even get away with a combo?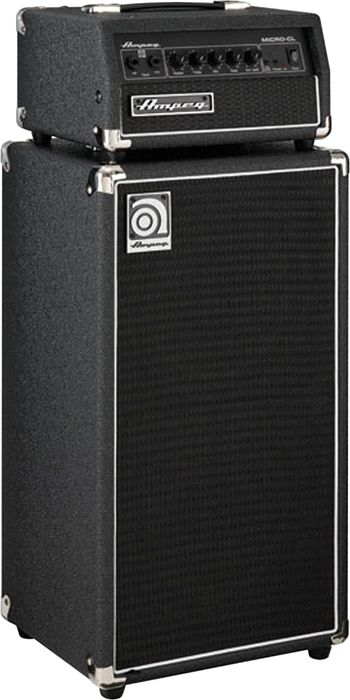 Ampeg makes this Mini Stack, which apparently only weighs about 33 pounds for just the cabinet.
I'm not set on any of these; just showing you examples of some ideas, to get you in the mindset of what I am trying to do. I really don't want to go a lot above $400.00
We could always drive a cabinet with her Hartke head, but that leaves me in a situation where I am sharing a head with a very fussy bass player to whom I am married. She might very well drive me nuts.
Finally, if I got a fairly decent cabinet; maybe 4x10 or 1x15, for example, is there a way to A/B two heads? I'm thinking it would have to be footswitch driven to make the change from one to the other.
I appreciate all the help I can get on this. I need to lug less heavy gear, and leaving her fridge at home would really help.