-
Amps [BG]
(
http://www.talkbass.com/forum/f15/
)
| | |
| --- | --- |
| D L Parish | 01-31-2014 04:16 PM |
---
I pluged my bass into my Stereo

Hi all
I was in a silly mood today and dected to make a cable to plug my bass guitar in to my stereo. well i was very surprised it sounded amazing.
first i half to say it is not a walmart stereo. i am running a magnavox 9302 tube amp with el84/6bq5's in push pull config and a Audiosource amp 4 very hard to find i have never seen another one on ebay or the web.
also ther is a Audiosource preamp 1 and a dod 2 way passive crossover.
this set up as a bi/amp the magnavox amp 15 watts p/c is running to a 12" Quam fullrang speaker and the audiosorce amp 4 are running 150 watt per channel to a pair of Alpha-15A by EMINENCE.
the signal from the preamp to amps are split by the DOD passive crossover sending bass to the 300 watt audiosource amp and all over 175 hz to the mganavox amp, all tunning is done with th DOD passive crossover.
now the speakers are Open baffle design.
to run my bass i did not fire up the magnavox at all just pluged in to the preamp and jumped to the audiosourse amp bypassing the DOD passive crossover.
the amp was running the 15" Alpha-15A in Open baffle only. it was so clean an shook my house like WOW.
h
thank for putting up with my silly mood.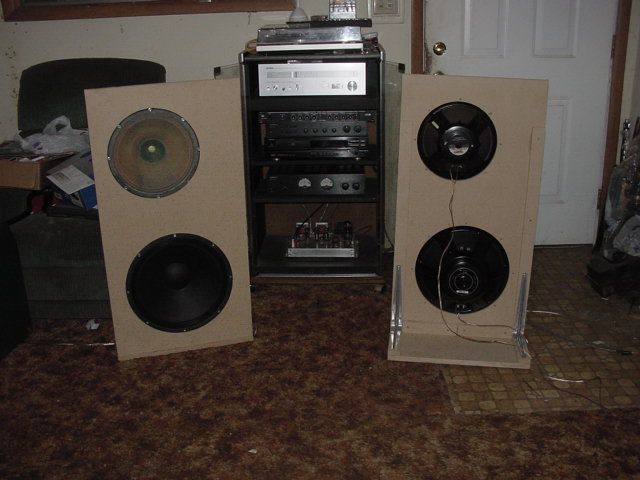 | | |
| --- | --- |
| will33 | 01-31-2014 04:37 PM |
---
Most of us have done that at some time....we'd be really boring and not very curious people if we didn't. Most of us also did it with stereos a lot cheaper than yours.

It'll play. Turn the volume down on the bass so it doesn't make farty noises and play.
| | |
| --- | --- |
| D L Parish | 01-31-2014 06:15 PM |
---
there i got the pic to upload.
| | |
| --- | --- |
| will33 | 01-31-2014 06:19 PM |
---
Ok, cool....ya. If it doesn't send the cones flying out the back of the box.....it's all good.
| | |
| --- | --- |
| will33 | 01-31-2014 06:21 PM |
---
By the way....that's not "infinite baffle"....that's almost "no baffle".....as in "no cabinet".

Doesn't matter though.....if it sounds good, it is good.
| | |
| --- | --- |
| will33 | 01-31-2014 06:23 PM |
---
It's about as close as you can get to free-air without having the speakers either rolling around on the floor or hanging on a string up in the sky.
All times are GMT -6. The time now is

02:24 PM

.
Powered by vBulletin® Version 3.6.12
Copyright ©2000 - 2014, Jelsoft Enterprises Ltd.