Coming my way via FEDEX today is my brand new, hand-wired, made-in-usa, all-tube
100-watt
BASS amplifer built for me by Mark Ashley of HammerTone Amps in NC: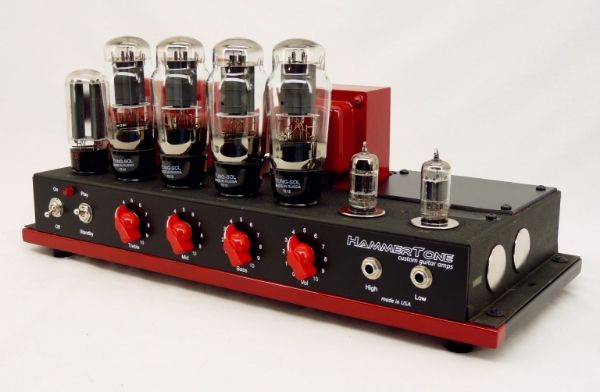 The HAMMERTONE B-100!
AFAIK, it's the first Bass Amp Mark has made. Mark is better known in six-string circles for his elegant 18-watt guitar amps made from Hammond Organ amp chassis'. This one utilized the chassis from an old Hammond DR20 Tone Cabinet I had laying around, along with the original wood base and four cups and springs underneath for "suspension". You can blame the cosmetics on ME, as I wanted the black-and-red color scheme!
The B-100 is outfitted with (4) new TUNG-SOL (Russian) 6L6GC Power Tubes, a vintage Hammond 5U4G Rectifier tube, a 5751 Phase Inverter tube, and a vintage GE 12AX7 Preamp tube.
According to Mark:
"The B-100 is basically a Fender Showman normal channel with a cathode biased power section. The cathode (self) biasing saves you the trouble of manually biasing plus the power tubes are biased in pairs which gives you the option of "pulling" 2 of them for reduced power practice."
So I have a 100/50 watt tube bass amp, that I can change as my needs dictate.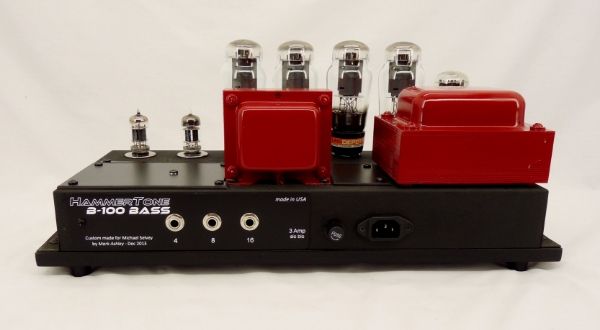 Mark utilized the massive power transformer from my old Hammond HR40 Tone Cabinet. Gotta love that "old iron"! I know that he used all modern components inside, but it was a nice touch to utilize some of the good old stuff.
I had always wanted an "open-design" tube amp with a "SteamPunk" vibe, and am very excited to be finally about to unpack and plug into this marvelous beast. Knowing that there isn't another one like it on the planet is just icing on the cake!
I did a lot of horse-trading with Mark on old Hammond components and vintage tubes, in addition to making changes to the original project over the course of several months, so before someone asks me "How much?", let me just say that I was happy, Mark was happy, and from what I've seen posted about other "boutique" amp builders, you could have Mark build you one without selling your firstborn!
If anyone is interested, you can see some of his other builds, check out soundclips from working musicians using his amps, and you can make inquiries HERE:
HAMMERTONE AMPS FACEBOOK PAGE
Happy NAD to ME!