-
Amps [BG]
(
http://www.talkbass.com/forum/f15/
)
| | |
| --- | --- |
| DanBass81 | 01-21-2014 03:01 PM |
---
NCD...........GK Content

My new Gallien Krueger Neo 112ii arrived today!! :hyper:
I haven't had the chance to test it in anger yet but I'll be using it for rehearsal tomorrow evening. I'm pairing it with a 700RBii utilising the bi-amp feature. I've only had the 700RBii for just over a week so hadn't really played around with it much either - I was waiting for the GK cab.......
From the short time I've spent with it today I'm
very
impressed!! I'm really loving the GK sound. :hyper: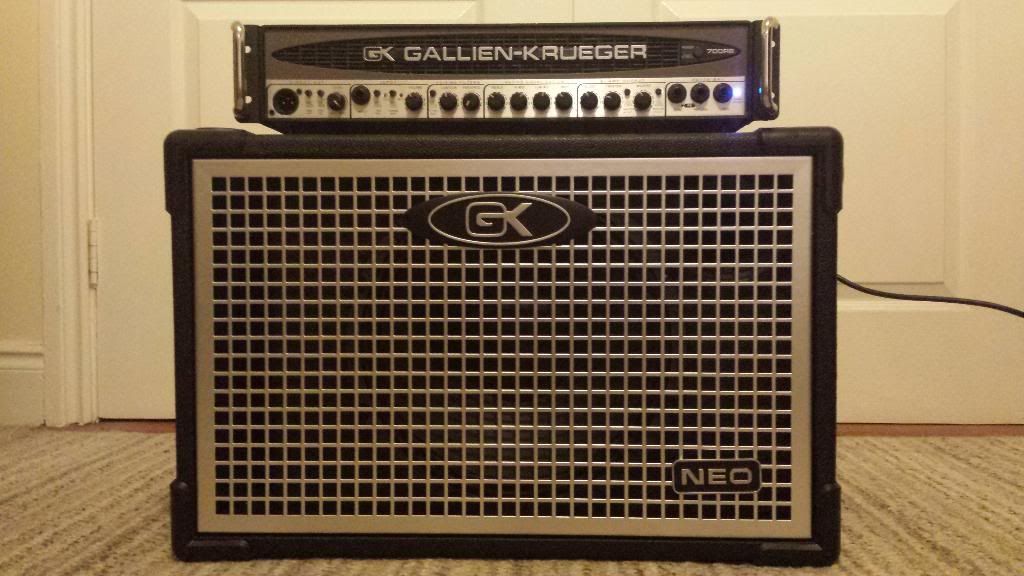 | | |
| --- | --- |
| jeff7bass | 01-21-2014 03:04 PM |
---
Nice compact rig!! 12" cabs are the way to go IMO.
| | |
| --- | --- |
| DanBass81 | 01-21-2014 05:39 PM |
---
Quote:
---
Originally Posted by jeff7bass (Post 15411124)
12" cabs are the way to go
---
This is the first 12" speaker I've played through. I love it! I'm used to 10s or 15s but I have to say the 12 sounds great.
I've straightened the crooked 'NEO' logo on the cab as it was bugging me! :)
Looking forward to using this little rig tomorrow in rehearsal :hyper:
All times are GMT -6. The time now is

01:20 AM

.
Powered by vBulletin® Version 3.6.12
Copyright ©2000 - 2014, Jelsoft Enterprises Ltd.