-
Amps [BG]
(
http://www.talkbass.com/forum/f15/
)
- -
Peavey Amps
(
http://www.talkbass.com/forum/f15/peavey-amps-1049719/
)
| | |
| --- | --- |
| deeptubes | 01-27-2014 06:48 AM |
---
Peavey Amps

Ok y'all, here's what I'm looking at. In the local CL, someone has an ad up for a Peavey rig. Here's the link:
http://norfolk.craigslist.org/msg/4304766348.html
GASing really hard right now. Scratchy pots, a torn woofer, and hum - whatever. Pots are inexpensive, woofers can be reconed, and I'm willing to bet the hum is a ground issue. For $75 I feel like I can't go wrong. Unfortunately, I am on vacation and won't be home for 5 days. Told him I'd give him $100 if he held it for me until then. Waiting to hear back. I have known plenty of guys who used Peavey setups, but I am unfamiliar with them. Thoughts?
I also have an eye on a Peavey Pro Series 2000 on the Bay.
http://www.ebay.com/itm/221361616554...84.m1438.l2649
I know they were blown out super cheap a couple of years ago, but I cannot find ANYTHING on them. I find them rather impressive. Anybody familiar with these?
My goal is to snag both of these. Space is getting tight. So, I'll probably have to reorganize the mancave or even sell something :eek:.
| | |
| --- | --- |
| Tractorr | 01-27-2014 06:53 AM |
---
It really depends which speakers are in there. If it is Black Widows then that is a great deal and fixing the woofer is easy. If they are the Scorpions, well then you could always put some other speakers in there. Is it the deep cab or the normal one?

I have no personal experience with the head but there are plenty of people who like them especially for heavier stuff, but that also comes with the penalty of actual heaviness as those heads are pretty burly.
| | |
| --- | --- |
| nashvillebill | 01-27-2014 07:07 AM |
---
That first amp isn't 700 watts! I have one.

It's 210 watts into 2 ohms, about 140 watts into 4 ohms....The manual is supposed to be available on the Peavey site but the PDF is not coming up. The name of the amp is "The Bass" (look under the "T" section of the Peavey manual site).

The amp has some unique channel switching capabilities but you've got to have the footswitch to use them. It does have built-in distortion if you like fuzz bass. It dates from the mid-70's.
| | |
| --- | --- |
| deeptubes | 01-27-2014 07:08 AM |
---
Don't know about the cab depth. Haven't laid eyes or hands on it. If the speakers aren't worthy of saving, I was contemplating converting the cab into a 1212/6/1 as I already have some completely badass 12s, just waiting to be used.

Thanks, Bill! Yeah, I'm guessing he was looking at power consumption and not audio output.
| | |
| --- | --- |
| Tractorr | 01-27-2014 08:42 AM |
---
Am I mistaken or is that a 2X15 not a 2X12?
| | |
| --- | --- |
| nashvillebill | 01-27-2014 08:45 AM |
---
I agree, looks like a 2x15.
| | |
| --- | --- |
| deeptubes | 01-27-2014 12:34 PM |
---
Yeah. I'd have to cut and mount a reducing ring if I went that route. Won't know exactly what I'm looking at until, well, I look at it :) But, I do think it's a 215. Still waiting to hear back. Worried it'll get sold before I have my opportunity to snag it. Damned family vacation.
| | |
| --- | --- |
| Tractorr | 01-27-2014 12:39 PM |
---
If it is the 2x15 D you will likely have to plug the ports as well because otherwise it will have a massive volume. The D is a very large cab.
| | |
| --- | --- |
| deeptubes | 01-27-2014 07:23 PM |
---
Super stoked! He's going to hold it for me. A couple of other people wanted to check it out. He was concerned that I might see it, or listen to it, and change my mind. I told him not to fret, that the cash is sitting in my wallet, and even offered to pre-pay using a Paypal account. Told him I am an experienced electrician with solid tech skills and will have it sounding new by spring. He's glad it's going to someone that will put a little time into it and fully appreciate it. Will open it up, take pics, and start a NAD thread when I get home. Screw this vacation. Now I'm ready to pack up get home! :hyper:

Time to start working on getting that Pro 2000!
| | |
| --- | --- |
| nashvillebill | 01-27-2014 07:36 PM |
---
If you are intrigued by unusual amp designs, check out the 6-band EQ when you open it up. It's done with inductors. I have the schematic, if you PM me with your email address I can send it to you. Outputs are 2N3772.
| | |
| --- | --- |
| deeptubes | 02-01-2014 06:59 PM |
---
Picked everything up today. No hum, just a little crackle when adjusting the distortion level. Some of the pots are a little stiff, but none feel gritty. Still don't know about the cab. The top layer of the serial plate is torn and missing the the right hand side containing the serial and model numbers. No idea what speakers these are. They are 15's. Have a raised dustcap. No markings on the back, just a Peavey sticker. Did find a stamp on the back of the cone. Looks like 4515741, with the ink missing from the horizontal of the 7. The remaining indention looks like a 7. Here's some pics.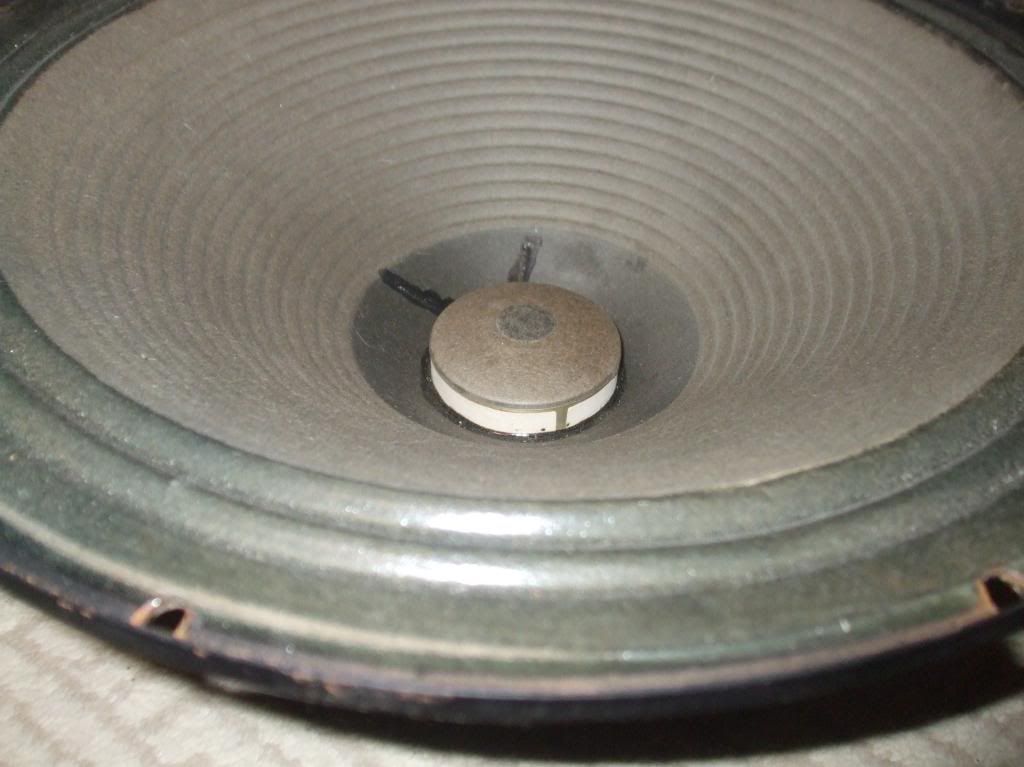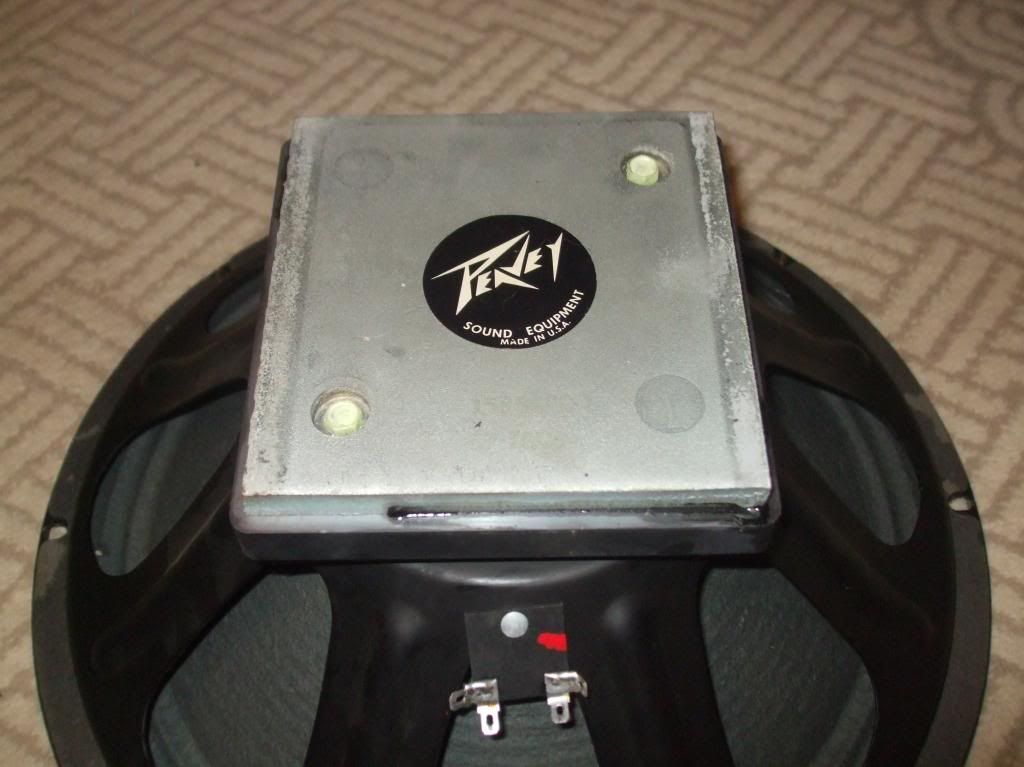 Woofer's not really torn. Has a piece of duct tape on the front and rear side, patching what looks like a screwdriver hole. There is another one, untaped, opposite the taped one. They are both right next to basket screw holes. Not peeling the tape...yet.
Getting ready to open the head and putz around.
| | |
| --- | --- |
| christw | 02-01-2014 07:00 PM |
---
If it sounds good it sounds good, and on a budget no less!
| | |
| --- | --- |
| nashvillebill | 02-01-2014 07:31 PM |
---
Schematic sent.
| | |
| --- | --- |
| wighat | 02-01-2014 07:58 PM |
---
Well, those are not Black Widows for sure. I had an old Peavey 215 that had those square-magnet drivers in them. They can't take a whole lot of power but prolly a good match for that amp.
| | |
| --- | --- |
| deeptubes | 02-01-2014 09:59 PM |
---
Thanks for digging that up, LowEZ!
| | |
| --- | --- |
| deeptubes | 02-08-2014 09:58 PM |
---
So, I fired that badboy up today. Has an odd smell. No smoke, no burn, just odd. Kind of a solder/resin smell to it. Haven't played through something from the 70s since the 80s. Inside the back panel is dated 12/5/77. Some of the pots are a little wonky/inconsistent. Going to hit them all with deox and see if that helps. Cranked it very briefly and vibrated a ballcap off of a shelf with the first note. Played with the various inputs. Very interesting amp. Think I'm going to have a lot of fun with this. I've read the manual. I toyed around. Time to toy around with the manual in front of me. More to come.
All times are GMT -6. The time now is

12:36 PM

.
Powered by vBulletin® Version 3.6.12
Copyright ©2000 - 2014, Jelsoft Enterprises Ltd.