| | |
| --- | --- |
| StuartV | 12-30-2013 09:42 AM |
---
Renewed love: SVT 2 Pro, and What does Drive do?

I moved across the country and my SVT 2 Pro has been in storage for the last 2 1/2 years. I finally got it out of storage and brought it home over Thanksgiving and I finally got to actually play it some over the weekend.
Yaay!!!:hyper:
I was running it through my Aguilar stack of a GS210 and a GS115 - because that's what I always ran it with before I moved and stored it. And it sounded glorious!! Man! I love the way that thing sounds. I had forgotten how much I like the Drive knob. It was set at noon, where I had left it, so I played with it like that for a bit, then turned it completely off. With Drive off, the sound gets very smooth and much more mellow. With Drive at noon, it seems like it gets more midrangey and more raspy.
Can anybody tell me what the Drive knob actually does?
Since my 2 Pro has been in storage, I have acquired a vintage SVT, and a vintage Traynor YBA-3. And a Bergantino NV610 and a Heritage 810 cab. The Ampeg stack is at my office at the moment, but I hope to get it loaded up and take it home this week.
I am really looking forward to comparing all 3 of my tube amps, all running through the Heritage 810 and the Berg 610. Especially comparing the SVT 2 Pro (with Master dimed, Drive off, and controlling volume with Gain) to the vintage SVT. The 2 Pro doesn't get as much love around here as the SVT/CL/VR/Heritage/2 non-Pro. But, I've noticed a definite change in attitude towards the CL (here on TB) since the "Dimed Master" trick has become more widely recognized. It will be interesting to see how the 2 Pro measures up when run the same way (which happens to be the way I've always run it).
In the meantime (and because I know the rules... ;)), here's a pic of my work-in-progress music room at my new house.
:bassist::bassist::bassist::bassist::bassist: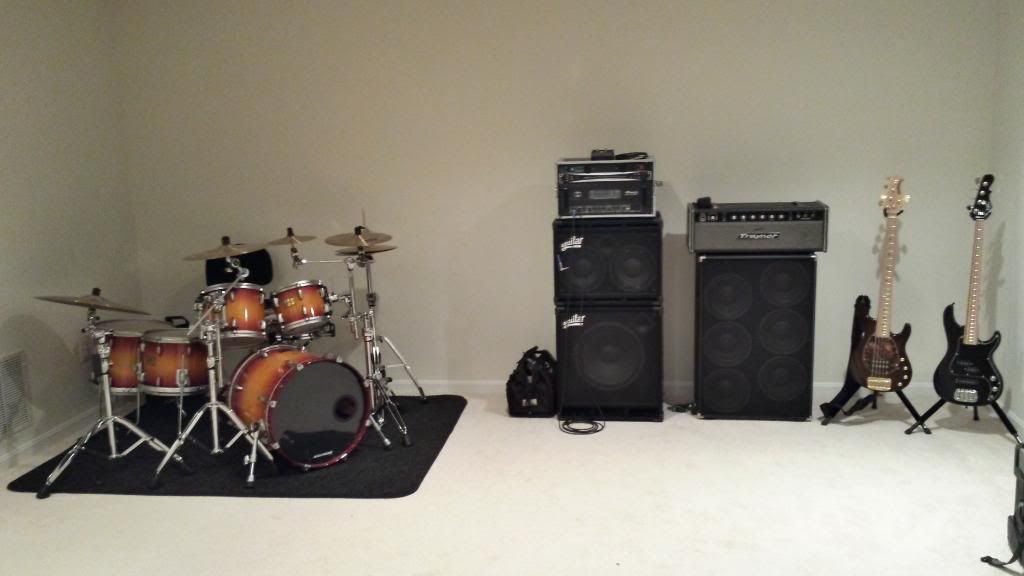 And my Ampeg stack at my office, waiting to be moved to the new music room. :D