-
Amps [BG]
(
http://www.talkbass.com/forum/f15/
)
| | |
| --- | --- |
| StingRay85 | 08-24-2013 07:02 AM |
---
Replacing a fan by a better one?

Hi guys, I'm thinking to replace the fan on my Sunn 1200s to a model with higher m³/h to improve the cooling.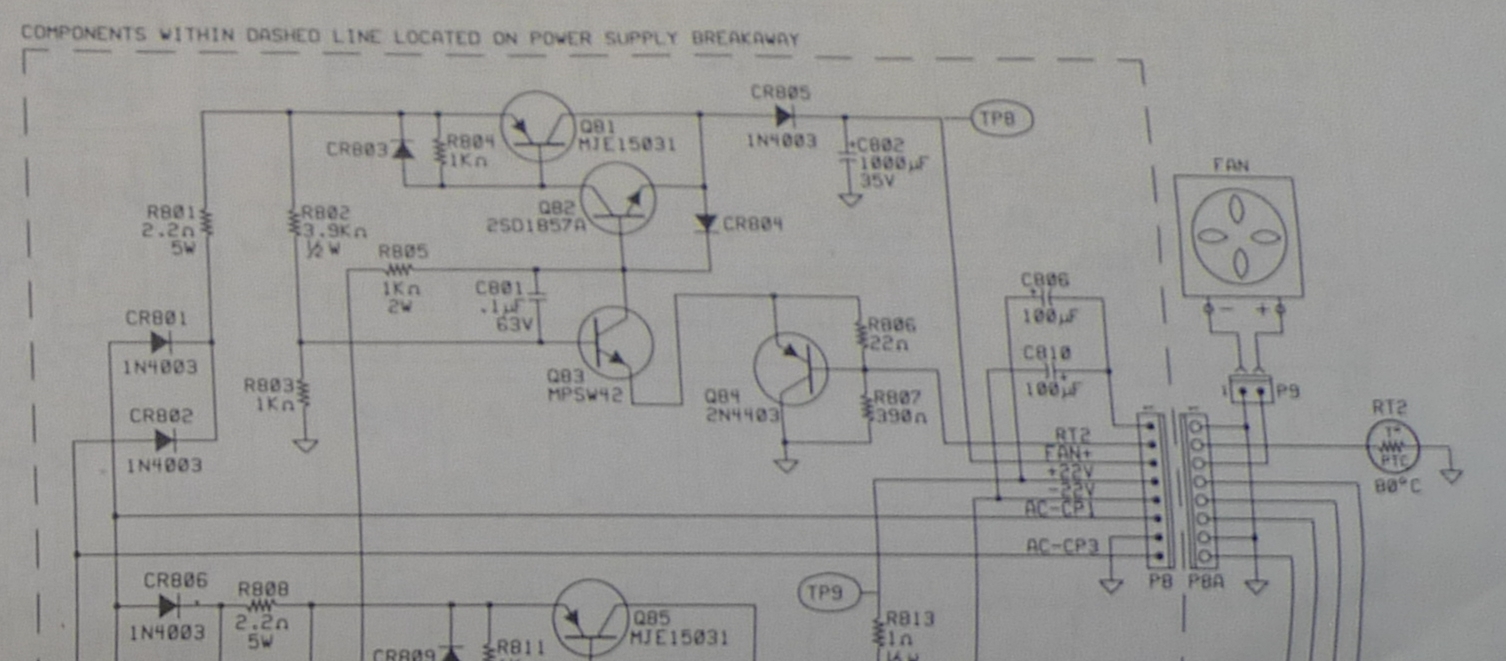 This is the circuit of the fan. What type should I use?
24V DC I guess, but I have no idea about the power consumption. I find same size fans but the power rating is roughly between 0,5W and 50W. Which one should I pick?
Thanks for helping
| | |
| --- | --- |
| runmikeyrun | 08-24-2013 08:30 AM |
---
First off, as a chronic tinkerer, I always try to upgrade fans in my amp, especially if you can barely feel any air moving. I think you are doing a great service to your amp and its lifespan.

Does your fan have the current draw/power consumption and CFM listed on it? Most fans list this info on a sticker in the center of the fan, or on the outside edge. You want to make sure you don't exceed the current draw or you could melt wires inside your amp and possibly cause a fire (no! lol). Also if you know the CFM then you can assure your new fan will move more air. Lastly, it helps to know if it's a brushless design, as some amps can have noise issues with a fan if it is not brushless. That's because motors with brushes have a small electric arc between the brush and commutator while the fan is running. Wires and components inside the amp can pick this up as EMF and can cause a whining noise through your speakers. If you have a brushless fan now I would definitely get another one that is brushless, otherwise you could have issues. In fact, just get a brushless one regardless, it's cheap insurance.

Don't forget that a higher CFM fan is usually going to make more noise. I believe you can find some that are designed for low noise. Not really a big deal playing live, but if/when you hit the studio you may have to put your amp in a separate room from the miced cab if you have this turbo fan making a bunch of noise.

Let us know how things go.
| | |
| --- | --- |
| MuthaFunk | 08-24-2013 09:21 AM |
---
According the the data sheet of the switching transistor of that circuit (MJE15031) it's rated to dissipate 2 watts when the ambient temp is above 25 deg C. I'd keep your replacement fan rated power consumption less than that and choose the highest flow rate you can find within that power rating.

Power = Voltage X Current

Conversely, Current = Power / Voltage

So

2W max /22 Volts = 0.091 Amps or 91 mA.

Most fans will be rated at 24V so 2/24 = 0.083 A or 83 mA.

So I'd look for a 24V fan that consumes less than 1 A or 2 Watts. These are very general calculations as there are more voltage drops in the circuit from the diodes and other resisters however it'll give you a quick idea to ensure the circuit will be o.k.
All times are GMT -6. The time now is

07:59 PM

.
Powered by vBulletin® Version 3.6.12
Copyright ©2000 - 2013, Jelsoft Enterprises Ltd.