I decided to come up with a single 4 ohm cab solution - something that could take the brunt of my QSC PLX3602 in bridged mono. There are some cool 18's out there - great sensitivity, massive power handling, huge X max (1400cc's of displacement!!! - that's big block torque!). I went with a 10 for the top end crunch this time because there is a wider selection of drivers to choose from, and it allowed me cross over a bit lower which gives me the lovely grind all down through the midrange.
Built with rabbet and dado, 1/2 shell, 3/4 baffle, lots of bracing and reinforcement around things like the wheels and handle attachment points.
Per the model, this cab is -3dB at ~ 43 Hz, max SPL of ~130dB from around 55Hz on up, and is excursion limited to 2500 watts at ~40 Hz. Plenty of thermal rating so I
shouldn't
smoke anything. It's a pretty powerful single cab solution, and I'm calling it
General Sherman
. :bassist:
I'm just breaking it in, but it handles everything without flinching, and can go louder than my comfort level which is pretty freakin' loud. Weighs around 75 lbs - I put a leather handle on top, and with the cab height/handle location, it's extremely easy to tilt and roll. Dimensions are 32x24x15.
The 18 isn't slow or muddy, and I can easily cop the same vibe/punch as my sealed 15/8's, but can produce way more low end if I want it. I need Fuzzbass to come up with his active 5'ers and really see what it can do. My passive 4 strings aren't going to really stress or push it, and both of my preamps hold the low end together even if you goose the bass.
Here's a quick demo - I popped the 15A breaker on my Monster Power 3500 at the end of the video - need to remember to plug into the 20A wall circuit when running bridged! There was a lot of stuff shaking in the room, but anything you might here is stuff in the room, not the cab or speakers.
http://youtu.be/-VR0QfLFU9g
Here's the impedance sweep (nice and flat, no real areas below 4 ohm which is a good thing when running bridged)
Front: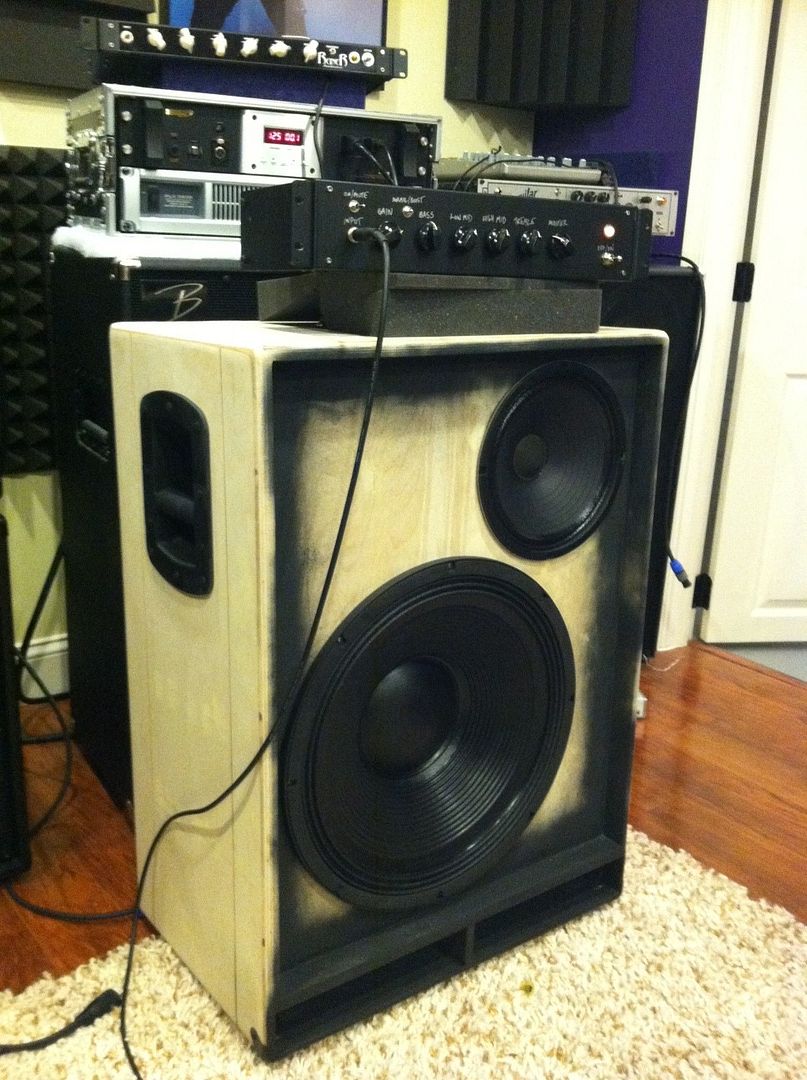 Rear: