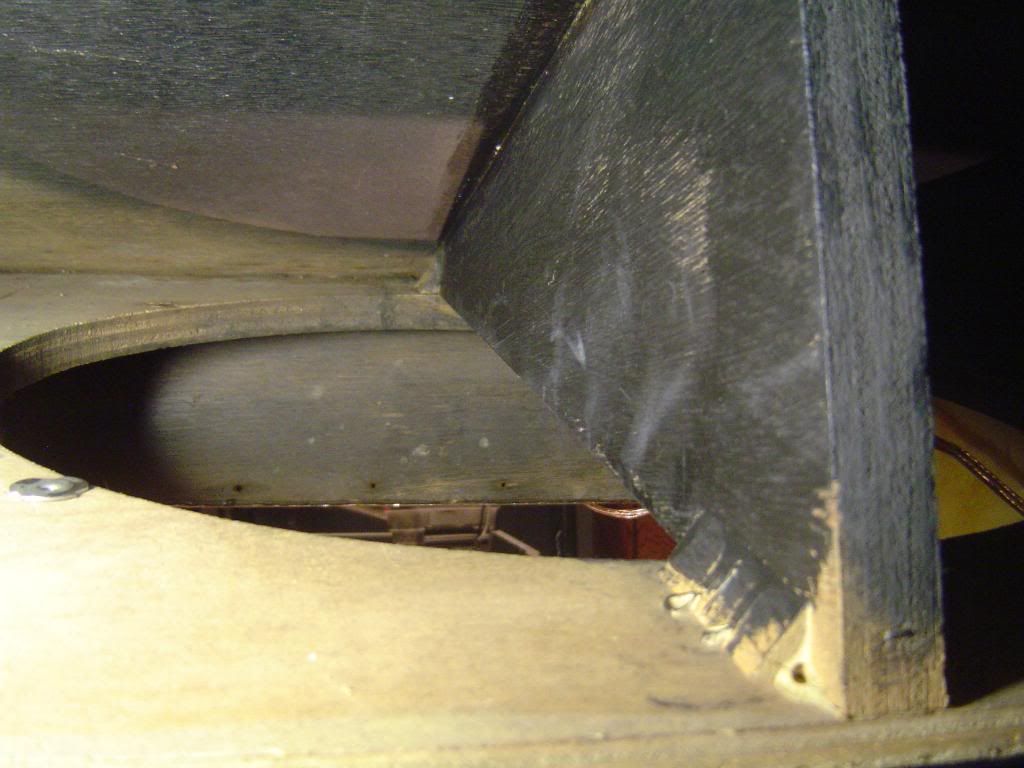 This is what you'd see if you stuck your head into the front opening of the cab, looking down. At the top of the pic is the inside of the rear panel, at the bottom is the speaker baffle, the driver of course mounts to the other side, and the vertical piece between them is the triangular brace. The baffle and rear panel form a "V" with the brace ties them together.
If you look close you can see a hairline crack in the joint of the baffle and brace, (foreground) there is also one at the far joint. Those failed joints I believe, are responsible for a horrendous vibration and I will show my attempt to fix that.
I decided to place 2 bolts from through rear panel into the baffle, one above and one below the speaker frame and use nuts and washers inside to hold it together. Yea, screws and glue might have worked as well, but there should be no doubt this is permanent.
Here I measure the location of the upper bolt hole, 20.5 inches from the bottom. The lower hole will be about 2 inches up. I intend to drill right through the center of that brace with some mad ninja skills and a foot long bit, and come in just over the driver.:ninja:
Here is the set up, the foot long bit is starting it's way in, the 2 squares are helping me keep it perpendicular. But let's back up a bit, first I checked to see if the brace was centered in the cab... it wasn't. It was off by 3/8" at the top and centered at the bottom, so I marked the exact locations before drilling. While I was at it, I marked pilot holes for 2 long wood screws to help secure the back to the brace, between the bolts.
I'm using 1/4 inch threaded rod for the bolts, (the top one is 9 inches) because you cant find 9 inch by 1/4 carriage bolts. And because I'm all about using what you have if possible, and I already had the 1/4" rod (brass) and a 1/4" foot long bit. I purposely mushroomed the threads a little on one end and tightened a nut in place with a drop of loctite for good measure. Then I drilled a shallow countersink for the nut with a 7/16 spade bit. The nut/head should pull in flush when tightened up from inside.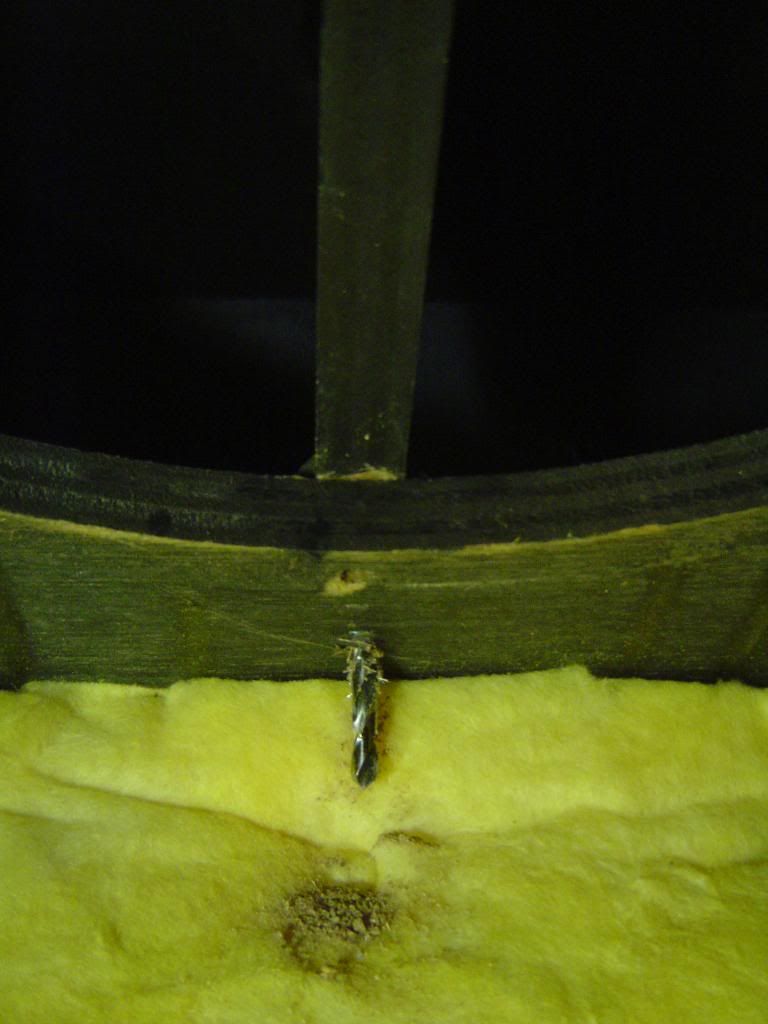 After white knuckling it through a staple, here we are about an inch from the driver mounting hole...Yes!
The screw hole is centered in the cab, so here you can see how the brace is slightly "off".