| | |
| --- | --- |
| Sparkdog | 09-17-2013 09:33 AM |
---
Swap out bridge on Fender American Standard?

I have a 2008 American Standard Jazz that is getting a makeover with a preamp and a few other goodies. I know I'm in the minority here (I see people rave about them all the time on TB) but I really don't like the high mass vintage bridge that Fender puts on these basses.

I find it too fiddly to work with...the ball end of the string on some brands jams up against the intonation screw making it hard to adjust, the slots on the saddle are rarely in the right place to position the string over the pickup correctly, and I don't like having to carry 2 different allen wrenches to adjust the intonation and saddle height...the whole thing is just more hassle than I want to deal with.

My favorite bridge is the old style threaded saddle model. I have one and was going to replace the HMV one, but when I took off the bridge I see that the holes don't line up with the old style bridge.

Has anyone ever done this mod and if so how did you do it? I'm guessing the holes on the body have to be filled and then new ones drilled, which is more trouble than I want to go to, but thought I would ask here.

Thanks for any help you can offer.
| | |
| --- | --- |
| Lownote38 | 09-18-2013 02:02 PM |
---
The old holes definitely need to be plugged and new ones drilled. I'm in total agreement about the American Standard bridges. We went decades without string through body bridges on Precision and Jazz basses. Why change a good thing? Does Fender have ANY bass players working for them these days???
| | |
| --- | --- |
| walterw | 09-19-2013 01:02 AM |
---
just get the best of both worlds and put a first-generation american standard bridge on there; simpler, low-mass, finer threads for better spacing, no exotic allen wrenches needed, and fits right on.
(here's mine)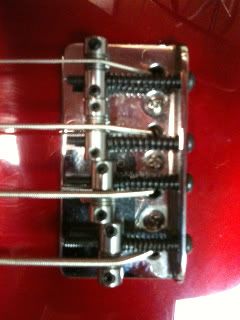 barring that, i think you can get the american deluxe version from a few years later, which is still low-mass and simple, just with brass saddles that have the wider thread spacing and a top-load option; i don't know, but i wonder if you could put the vintage threaded saddles on
that
bridge plate?
| | |
| --- | --- |
| Sparkdog | 09-19-2013 09:05 AM |
---
Hey guys, thanks for the input...it's much appreciated. I think I have this sorted out now.

I took the bass and bridge to the luthier yesterday, he says it will not be a problem to replace the HMV with the vintage style bridge. In fact, when we were looking at it and laid the vintage style over the existing bridge it looked as though the mounting holes for the vintage might actually fall BEHIND the ones in the HMV, which means he could simply drill 5 new holes and not even worry about filling the old ones.

That would be fine with me as the old holes would be covered by the plate.

I'm really excited about getting this new bridge on there, I just dread changing strings with that HMV. That thing is a solution to a problem that didn't exist as far as I'm concerned!

Not only will I have a far more practical bridge, I weighed both of them and the vintage is 3 oz as compared to 6 oz for the HMV. I have become like one of those crazy hot rod guys who takes the seats out of his car to make it as light as it can be. I even pulled out the metal string ferrules in the body for the string-through thing (another useless "enhancement")

I know...OCD...but those things and the difference in the bridge shaves a quarter of a pound from the weight. My aching old back can feel the difference!

:)
| | |
| --- | --- |
| timobee4 | 11-09-2013 05:09 PM |
---
Bought 2 of these bridges without realising that they were for body trough string arrangement. Extremely disappointed. They look nice on pictures but only 3 screw holes and they do not match so re drilling is a must. Extra holes if not used for the body trough system look like you have 4 missing screws it's looks crap. Putting them back on ebay or use them as a fishing sinker that's all they good for.
All times are GMT -6. The time now is

01:06 PM

.
Powered by vBulletin® Version 3.6.12
Copyright ©2000 - 2013, Jelsoft Enterprises Ltd.