| | |
| --- | --- |
| StoutFellow | 11-01-2013 03:43 PM |
---
FT Switzerland Fenders: USA Std Jazz, MIJ Aerodyne, Squier VM Fretless, Yamaha BB425

Hello,
THREAD CLOSED - I GOT A NICE TOKAI FRETLESS LOCALLY IN BERN, SWITZERLAND!! THANKS EVERYONE.
If you have a
fretless four or five string bass
and if any of the following four basses are of interest to you, get in touch! Can add cash with the Squier, but want to keep this affordable!
1. Fender USA Standard Jazz Bass. 2005. Black, rosewood fingerboard, tortoise shell pickguard. Through body stringing. Fender hard shell case. All the case candy. Bought at Rudy's in NYC. Recently set up, beautiful tone, switchable series/parallel.
2. Fender Jazz Aerodyne. Crafted in Japan. A tramp in a tuxuedo. PJ pickup configuration giving more tonal range than either a Precision or a Jazz bass. Basswood body, black, with cream binding, beautiful gentle curved body top. Mods include Semour Duncan Quarter Pounder pickups - SJB-3 and SPB-3 and a Babicz full contact bridge (in black - to comply with the Aerodyne dress code) and Schaller strap locks. Original bridge and pups available if you prefer it stock.
3. Squier by Fender VM Fretless with a Selby Cobra grey/silver paint job gone quite wrong. EMG pickups, ebonol fingerboard, strung with D'Addario Chrome flats - only a few hours play on those. Mwah and honk in spades, but bright thanks to the EMGs. Schaller strap locks included.
4. Yamaha BB425 in a lovely subtle metallic red colour. This is as new, PJ pups, vol/tone pots, pickup selector, beautiful action, very versatile tone-wise (the Tone pot really works throughout its range). Never gigged - never even rehearsed! Reluctant to let this go, but the right fretless fiver might convince me.
I'll post some more pics if anyone expresses interest. Will also do weights, measures, years etc if anyone replies or PM's with a request!
Please - fretless only!! And, again, I'm not selling, I'm trading.
Thanks!
:bassist:
Ronan
| | |
| --- | --- |
| StoutFellow | 11-18-2013 07:45 AM |
---
Hello,
I promised some pictures. First, the Fender Jazz USA Standard:
More shots of this bass on PhotoBucket:
http://s1216.photobucket.com/user/ro...%20Jazz%20Bass
Note, the bass currently has a black pickguard and black strings (put on for a video shoot!). But these can be replaced with the tortoiseshell pickguard in the photos. Your choice!
More to follow.
| | |
| --- | --- |
| StoutFellow | 11-18-2013 07:50 AM |
---
More photos - the Aerodyne.

There's a reason I may be reluctant to trade my Aerodyne - just look at it!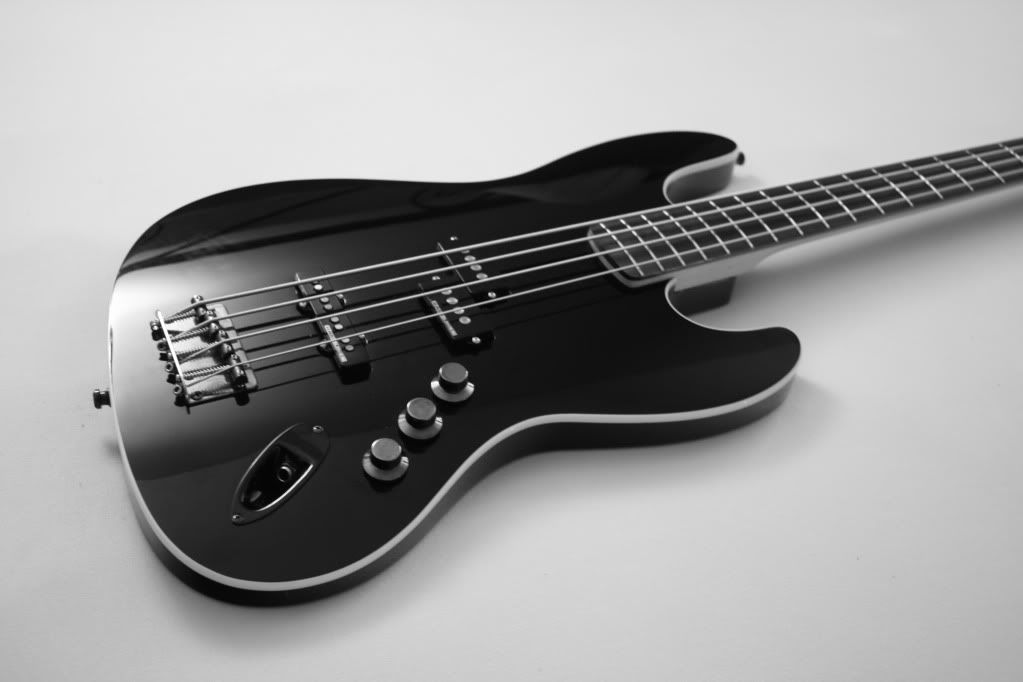 More photos here:
http://s1216.photobucket.com/user/ro...eshow/Aerodyne
Note: since these pictures were taken, I've replaced the stock bridge with a black Babicz bridge - drop-in, no mods necessary. If we trade, you can have the original or the Babicz or both!
More to follow!
| | |
| --- | --- |
| StoutFellow | 11-22-2013 05:41 AM |
---
It's Friday and I've widened the FT criteria to four as well as five string fretlesses.

Have a nice weekend bump!

Ronan
---
I just spotted this in France. If you struggle with French, this guy is looking to trade his fretless Precision. It has a 77 maple neck on it. The body is not original.
http://www.zikinf.com/annonces/dispa...annonce=966233
BTW....I will be checking in to the Inselspital on Monday for 7-10 days. You and I are about the same vintage.
Also, if you are not comfortable with French, happy to help you out.
Brian
| | |
| --- | --- |
| StoutFellow | 11-22-2013 10:03 AM |
---
Thanks Brian - will be in touch!

The search is over. Sometimes, you have to look underneath your nose. Picked up an early 80's Tokai Jazz Sound TJB-70F - fretless vintage - here in Bern.

Will be posting a FS on my old fretless bass (Squier VM Fretless with, erm, modifications...) soon.

Thanks one and all!
All times are GMT -6. The time now is

12:28 AM

.
Powered by vBulletin® Version 3.6.12
Copyright ©2000 - 2013, Jelsoft Enterprises Ltd.