It's been nagging at me that I have a fairly significant collection of basses that have been in the store for 2-3 years or more. The number of basses in that collection is too high, so I'm going to be making a concerted effort to find homes for them. I'm slashing prices, I'm taking fresh photos, and I'll provide detailed descriptions of the condition.
There are really two types of basses that you'll find in this thread. The first type are the "floor models" that actually hung on a wall in our Draper Rd store and saw some action during their time there. The second type are the "new in the box" ones that have spent all their time here in their case inside their shipping box. They might have been pulled out a few times for someone to try, but they were not within easy reach of day-to-day foot traffic at the store.
I'll describe the condition of the floor models in painstaking detail - I don't want anyone to be suprised by some small scratch that I neglected to mention. That said, please understand what these "floor model" basses are. They've been played, and they are not pristine (unless I say they are). If you're the kind of guy that is going to be bugged by a little pickguard scratch, then this thread is probably not for you.
At the prices I'm going to be offering on these basses, I will not be able to offer our usual 7-day return policy (which is no restocking fees, I eat the outbound shipping & you pay just the return shipping).
Any basses that ship as a result of being in this thread will incur a 5% restocking fee if they come back.
Also please note that any bass appearing in this thread is no longer a floor model. I want to be able to guarantee that whatever condition I describe here is the same condition you will receive.
So with all those happy thoughts out of the way, let's start with some basses! I've re-shot a couple of Gadow basses, and I've knocked their prices way down.
Model:
Gadow Custom 5-String (Spalted Quilted Maple)
Arrived: 6/3/2010
Original Price:
$3569
Blowout Price: $2750
Type: Floor Model
Terms: 5% Restocking Fee if returned
Condition: This bass was a floor model for the first year it was here, but it has been in the case & box since May 2011. The bass is pristine. No fretwear, no pitting on the chrome hardware, no scratches or dings. Oh, and it's GORGEOUS!!!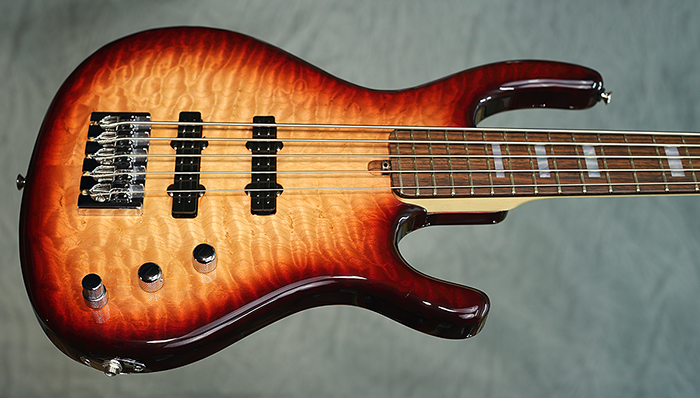 Model:
Gadow Classic 4-String (Black)
Arrived: 10/29/2009
Original Price:
$1719
Blowout Price: $1299
Type: Floor Model
Terms: 5% Restocking Fee if returned
Condition: This bass has been a floor model it's entire time here. It is in very good condition. No serious dings, scratches, or fretwear. There are some minor scratches on the pickguard, this one has been played quite a bit more than the first one.