| | |
| --- | --- |
| RocketMusic | 12-11-2012 02:20 PM |
---
New Arrival 12/11/2012 - Roscoe Century-3007!!!

A local friend of ours, Bernard from Bluefield WV, ordered this killer new Roscoe Century-3007. This is the first 7 string to pass through our store, so I was pretty excited about this one!
Bernard asked for a low F# below the low B, so this bass goes REALLY deep. I get the impression from Gard that most of their 7-strings add a higher string (an F over the usual C on a 6-string), but this low F# is certainly not uncommon.
Here's the bass with more pics and specs:
Roscoe Century-3007 (Cordovan)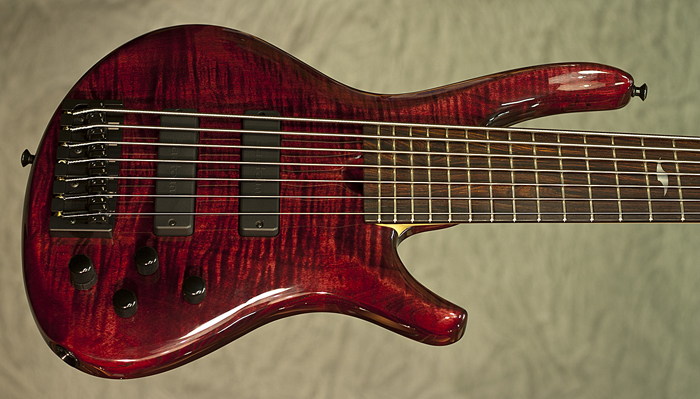 And here's a quick sound clip that I recorded direct through my A-Designs REDDI tube DI and my A-Designs P1 preamp. This bass goes stupidly low!! :D
"Roscoe #6412 Demo"
| | |
| --- | --- |
| VroomVroom | 12-11-2012 02:57 PM |
---
I am so glad you did a sound clip of that beast, and I'm even more glad Bernard went with the low F#. Sweet!
| | |
| --- | --- |
| JOME77 | 12-11-2012 03:58 PM |
---
+1

Man is that LOW! :eek:

Great looking bass too! That cordovan red really looks nice with that top!
| | |
| --- | --- |
| RocketMusic | 12-11-2012 04:20 PM |
---
And that wasn't the only 7-String to arrive today! Suhr sent us a 7-String guitar that was a special order for Tyler. That's a first, two 7-Strings showing up in one day!
Suhr Modern 7-String (Faded Trans Whale Blue)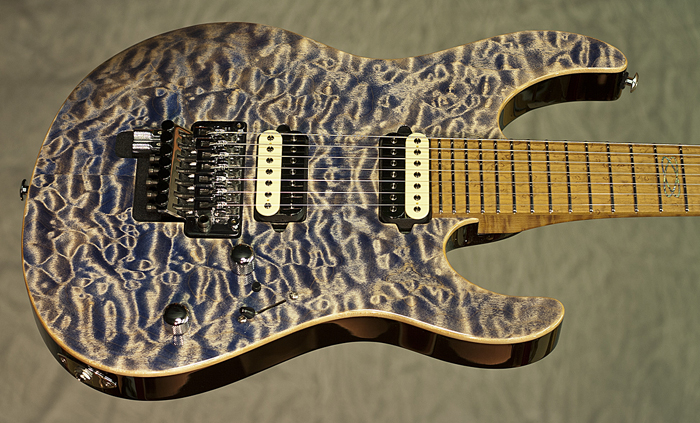 I will say that the Roscoe is definitely a handful, there's a lot of neck there. It's not as uncomfortable as you might think, though. I could get used to it, I think. My biggest obstacle was figuring out what notes were where. I didn't have a lot of time to record, though, so I just thought "minor pentatonic" to myself and winged some nonsense on it. Everything I played was in one position, which kinda blows my mind. You can cover 3 and half octaves in a single position on that beast!
| | |
| --- | --- |
| RobertUI | 12-13-2012 05:51 PM |
---
Yowza... that's some CRAZY lows coming from that bass, and the guitar is gorgeous... that's some SERIOUS quilting. I'm still saving my scheckles... one day...
All times are GMT -6. The time now is

03:51 AM

.
Powered by vBulletin® Version 3.6.12
Copyright ©2000 - 2014, Jelsoft Enterprises Ltd.