Quote:
---
Originally Posted by Fergie Fulton (Post 14007428)
CTS is associated with hand use and posture, so anything that our hands interact with has the potential over time to develop problems (not just CTS).
---
You're right, finger curl is a relatively normal and natural position for fingers. Nearly everyone's fingers curl in a normal, natural position. The closer you can play bass to a normal natural hand/wrist/elbow position, the less problems with CTS (and to a lesser extent, tendonitis) that you'll have.
Unfortunately, the nature of playing most musical instruments (as well as other activites that involve repetitive motion, like typing) forces you to put your hands in unnatural positions. However, as close as you can get your hands and your wrists into a normal, natural position as your 'center' hand position, the less likely you will be to develop CTS.
For example, this guy's wrist in the picture below is at a 90 degree angle. Your wrists weren't really made to do that for a 1/2 hour straight, let alone over 4 1-hour sets or over 30 years of playing. It's made to do that for a few seconds while you scratch your rear end or reach for something off a top shelf.
Also, everyone is different. This guy posted on another forum to say that he's been using this form for decades without problems.
Some people can use "bad" form for decade after decade without problems, as that "bad" form is actually closer to their natural form then "good" form. This usually isn't the case. For 95% of us, "good" form tends to be better for us, like the following picture (originally posted by SLaPiNFuNK):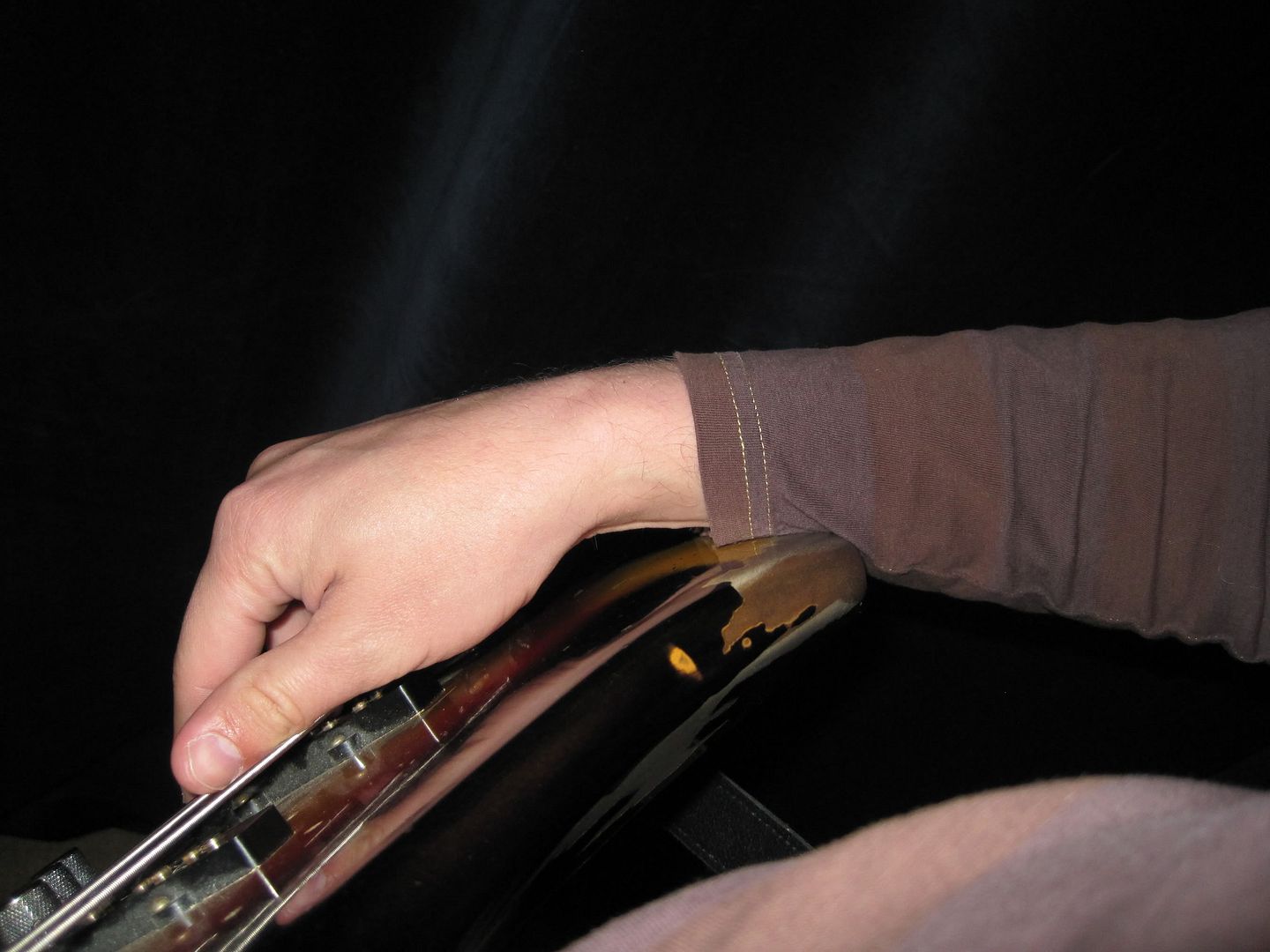 It's important to remember that everyone's body parts are built different. My experience is that the taller, lankier and more double-jointed you are, the less "bad" form tends to affect them as much, but double jointed people also can twist joints into unnatural positions without feeling it, which has bad longer term effects.
In this picture, althought it's a wierd one, both of Flea's wrists are dead straight.
His back's all wierd, so maybe he'll have back issues later, especially if he gets fat, but in most pictures of Flea playing live, his wrists are very straight, his fingers are curled a bit, and his right elbow is sticking way out.