---
Loud Button Morphine Dream and Malekko B:Assmaster double germ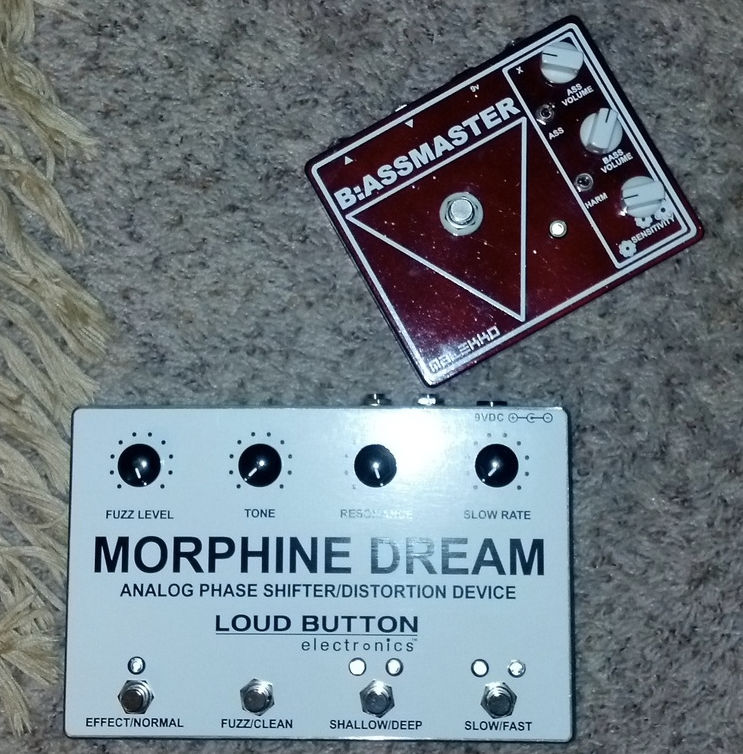 Both pedals are in great shape. I loathe all things velcro and am not particular fond of cats, so no worries about either tragic situation there. There is one small scratch on the front of the Malekko. Chances are you won't even notice it, except now that I've pointed it out, it could possibly deter you from purchasing this particular device! I am honest to a fault at times.
The Malekko has been passed around the world. It has a white LED and nifty sparkly finish. These are very rare, less than 20 double germaniums even exist. It also features an expression pedal input and the coveted low frequency mod. I don't even know what that means, but it's written on the circuit board. Cool, no?
The Morphine Dream was purchased new by me and is serial #2 which makes it even fancier than it would normally be. These are being built in small quantities and they certainly aren't cheap. However they definitely
are
awesome, but I'm currently swimming in phasers right now. I speak literally, please help me from drowning in this great swooshy wash I've surrounded myself within.
$299 each
shipped to the usual 48. Paypal works, or perhaps a USPS money order. Trade offers will be shamelessly ridiculed!
Morphine Dream SOLD!
Malekko SOLD!
Cheers and such.

| | |
| --- | --- |
| bludog | 01-28-2013 02:56 PM |
---
extremely tempting... I might be back for that MD. I need to let this stew for a while. :) GLWTS
| | |
| --- | --- |
| mjac28 | 01-28-2013 05:47 PM |
---
Would you be interested in a low number custom Behringer Super Fuzz this one was signed by Mr Behringer himself of course I would have to demand cash on your end sir and if this arrangement is satisfactory I will have my man servant Mr Sebastian complete the transaction cheers sir.
---
Oooh that sounds good! Does it come in transparent orange?
| | |
| --- | --- |
| Rawrrbass | 01-29-2013 02:01 PM |
---
That Morphine Dream is tempting!
| | |
| --- | --- |
| dlenaghan | 01-29-2013 06:14 PM |
---
Willing to send that Bassmaster abroad for another stamp in its passport?
---
Absolutely! Shipping to South Korea is an extra $35.
| | |
| --- | --- |
| dlenaghan | 01-29-2013 08:10 PM |
---
Payment sent for unholy dirt!
---
Both are done and gone!

Solid pedals, y'all enjoy them. :cool:
All times are GMT -6. The time now is

12:42 PM

.
Powered by vBulletin® Version 3.6.12
Copyright ©2000 - 2013, Jelsoft Enterprises Ltd.