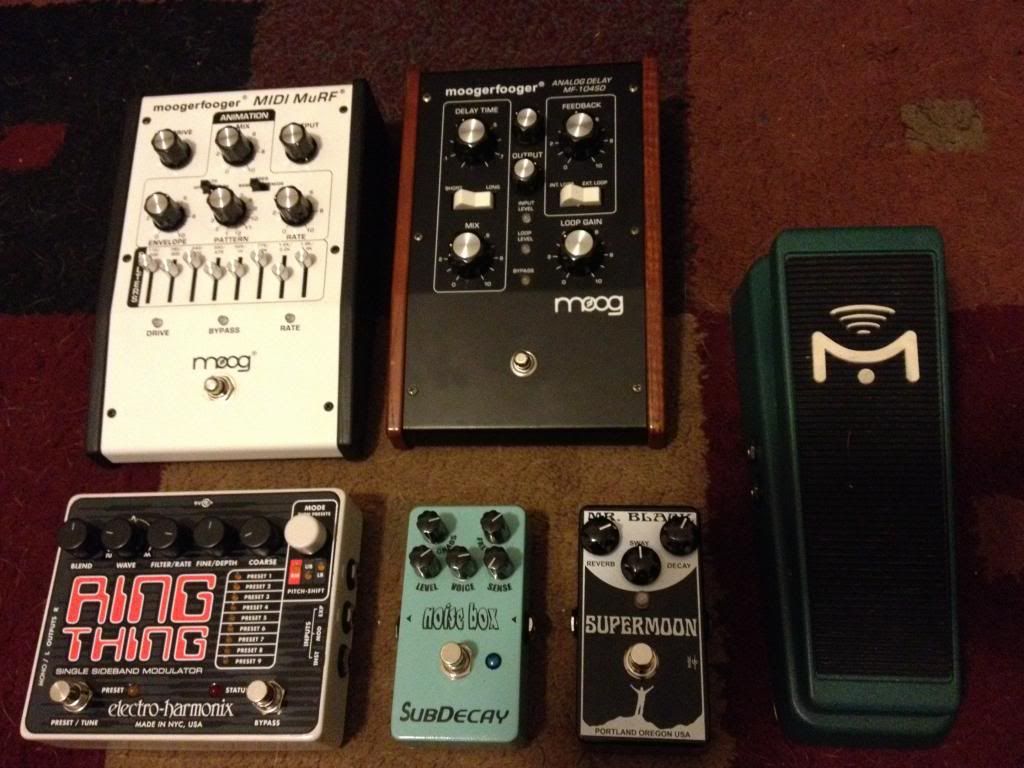 Ok, after the last 8 years of constant pedal buying, I have come to the realization that I don't need half the stuff I own. So, I'm done, I'm selling everything that is in the queue, if it's not used in my band or often...it's gone.
Moog 105M - Midi Murf in the limited edition rare Lunar White. Just got this back from Moog after a random board failure, everything was replaced so it's just like new. In great condition, no velcro, original box, adapter, manual, and everything. - SOLD - $350 - SOLD
Moog 104SD - Analog Delay - #12 of 250. This is the rarest of the rare, best of the best, and super low serial number. Warmest and richest delay out there. Does a full 1.6 seconds of delay time (double of the original 104's .8) This thing is too cool to just be sitting on a shelf in my room. Comes with the original manual and adapter (I may have the box too, but I have to check). - OFF THE TABLE FOR NOW
Mission Pigtronix Dual expression pedal - Control 2 expression effects at once, plus a inversion switch so you can ramp up the delay time on your delay while simultaniously slowing your phaser rate..or whatever you want to come up with. Super sturdy, and in great condition. It's got velcro on the bottom. - $110
Electro Harmonix Ring Thing - Polyphonic pitch shifting, and intelligent tuneable ring mod, plus sweet modulation/tremolo effects...this this rules. Original box, manual, adapter. - SOLD - $180 - SOLD
Subdecay Noisebox - Noisy, Synthy, Fuzzy, Octavey, Filtery. This thing is a blast. - $110
Mr. Black SuperMoon Reverb - Modulated reverb. Super long decay time (like 30 seconds) get your shoegaze on, or just use it for some great sounding classic reverb. Original box and manual included - SOLD - $150 - SOLD
Only trade I'd be into would be a Way Huge Supa-puss, or a Mission expression pedal for a line 6.
Thanks for looking.