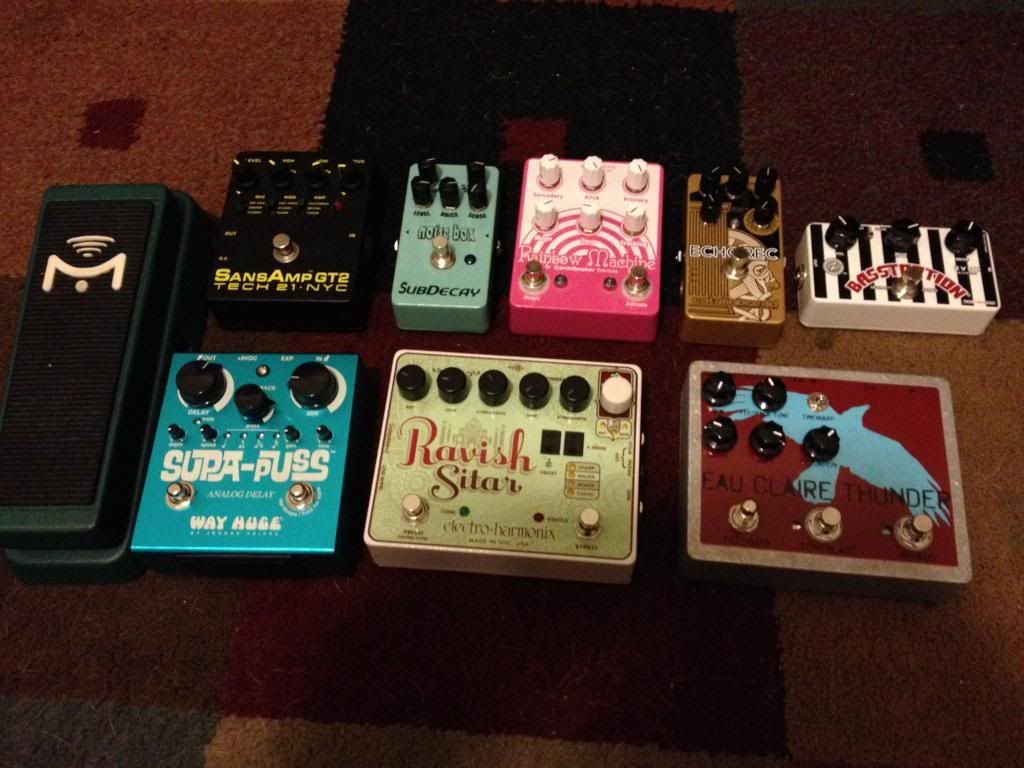 Last two....
1. Sansamp GT-2 - super verstatile and underrated OD/Gain, this will surprise you in how good it is - $85
SOLD - 2. Way Huge Supa-Puss - Tap Tempo Modulated Analog delay, what else could you need? Comes with box, manual, swag - $225 SOLD
SOLD - Mission/Pigtronix Dual Expression - control mulitple expression controls at once, plus you can make one go opposite, super sturdy, also green. - $100 - SOLD
SOLD - Zvex Basstortion - Sounds awesome, I've just got too much overdrive these days...I know you can never have enough, but I do. Comes with box, manual, swag - $180 - SOLD
TRADED - Earthquaker Devices Rainbow Machine - I don't even know where to begin, but in the end everything sounds pretty awesome - TRADED
SOLD - Subdecay Noisebox - So noisy, it's awsome, comes with manual - SOLD
SOLD - Dwarcraft Eau Claire Thunder - Cool muff stuff going on here, comes with OG box and manual - $215 - SOLD
SOLD - EHX Ravish Sitar - Get your sympatic drone on - $175 - SOLD
SOLD - Catalinbread EchoRec - This thing sounds like my space echo...like for real, still not entirely sure I want to part with this one, only Digital delay I've liked since...well ever. Comes with box, manual - $200 - SOLD
Trades: Only interested in what is listed below, nothing else.
Strymon Timeline
PT-mini (old model with lip on the back)
Get at me yo.