Hey guys, we're putting the last of our Fender Select Precision basses on clearance. It's been in our temperature controlled warehouse in the factory sealed box its entire life, but now it's time to find it a good home. This is a killer bass! The flame maple top on it looks really cool and the fretwork and craftsmanship is just superb. I know many dealers are putting these Fender Selects at a discounted price these days, but this one up for grabs at $1,449. Includes free shipping, full factory warranty, and 14 day return. If you don't absolutely love it, we'll even pay for the return and refund you 100% of your money.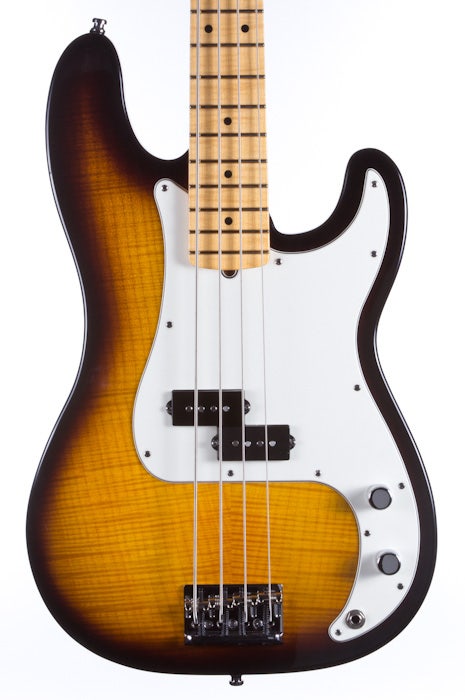 So, final price, out the door: $1,449
That's gotta be hard to beat!
For those of you who haven't heard of MusicStoreLive.com yet, let me give you some background on me and our company:
I've been a supporting member of TalkBass for a while now under my screen name GroovinOnFunk. Now I'm working for this really cool online music shop, MusicStoreLive.com, and we're trying to get our name out there. I really think that my shop is revolutionizing the way online music retail is done.
So check this out: We have some really sweet vintage pieces (like a 1960 Fender Jazz Bass (one of the first jazz basses Leo ever built), a 1959 P bass, and a 1975 J bass too. There's more than just that, but those are my personal favorites. We're also expanding our "new" basses. When I first started here back in March we were predominantly a guitar company, but now we're stocking up on Music Man, Warwick, Fender, Lakland, G&L, PRS and Gretsch basses too. So we are now authorized dealers for all those companies as well as Gallien-Krueger, Trace Elliot, Hartke, Ampeg and Eden as well as MXR, Pigtronix, Rothwell, Wampler and other pedals. We carry basses, amps, pedals, strings, cabs, etc.
So here's the deal with our shop:
All I can say is "try us," you may be surprised with how creative we're willing to get so you can get a sweet bass in your hands. We're all musicians here in Vermont and our foremost priority is to hook up other fellow musicians with sweet deals on sweet gear.
Obviously it can be tough asking someone to buy an instrument online sight-unseen. Well, we've figured out a way around that too: We're the only ones that do this, but if you purchase something from us, we'll give you a 14 day return period. If for any reason at all you don't completely love the item you purchased, we'll actually send you a pre-paid shipping label and we'll refund you 100% of your payment. So if you don't completely love what you got from us you'll get every last penny right back and we'll cover all the shipping. Also, any new pieces bought from us come with a full factory warranty.
You can send me a PM here or on my personal TalkBass account (GroovinOnFunk) or e-mail me at the shop directly
brianh@musicstorelive.com
I really believe in what we do here. Not only do we try to get to the best prices on the internet, but we're always here to help from a customer service standpoint too.
Don't hesitate to get in touch with me if there's anything I can do to help.
Cheers,
Brian Harris
802.735.5470 or 888.261.5197
27 Berard Dr Suite 2701
South Burlington, VT 05403
brianh@musicstorelive.com
See. Hear. Experience.
Website: MusicStoreLive.com
YouTube: YouTube.com/MusicStoreLive1
Facebook: Facebook.com/MusicStoreLive
Store Phone: 888.261.5197
Store Email:
info@MusicStoreLive.com
Our Mission:
http://www.youtube.com/watch?v=PaQYvPQYRu8