someone in my area is ok if i trade my warwick germany single pu streamer 99 with his warwick germany fortress one pj configuration.
i am very eager for the trade due to color and shape of fortress and also being a sucker for old no longer in production basses
the big BUT is i'm not sure of the knobs and its functions as well as the pj configuration - how does it work. i'm a noob when it comes to this configuration.
Only going to his place this sunday to check out but i will like to have some advance information if possible.
i like my streamer but i have a stingray5 which has the same configuration(and more). I will like to trade this with the hope i can achieve another few tones with that pj configuration.
other than the pick ups mean as simple as getting a jazz sound as well as getting a pbass sound what happens when both blend ? i checked out youtube but still not so clear. what i know of course there's the warwick tone that i like.
oh...looking at it the body is flamed maple i guess ?
care to elaborate anyone?
Thank you.
this one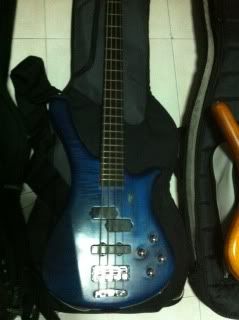 for mine