| | |
| --- | --- |
| socialleper | 01-02-2013 12:43 PM |
---
Spinters from the neck?!

I wanted to see if anyone else has had this problem. One three different occasions now I've been practicing with a band and ended up splinters in my fretting hand. Two times I didn't notice it until later and I actually thought they were just pen marks or something. One other time I definitely felt it when a 1/4 inch sliver went into my hand.
What's the deal here? Is this something common to ovangkol necks or wenge fingerboards? I've never personally waxed it in the 8 months I've had it; would that help? Should I be worried that there is something going wrong with the neck?
| | |
| --- | --- |
| Means2nEnd | 01-02-2013 02:02 PM |
---
Can you post a pic of the back of the neck? Seems very odd I have owned more than 20 German Warwicks and never had a splinter issue ever. Maybe a little light sanding or some steel wool and a wax treatment should take care of that but it's the first I have ever heard anything like this with any oil finished neck.

Did you buy it new or used? Did the previous owner do anything to the bass or the neck? Any dings, scratches etc... that would cause it?

Which model is it and where is it manufactured?
| | |
| --- | --- |
| socialleper | 01-02-2013 03:24 PM |
---
Its a 2007 German made 5 string Corvette $$ that I bought used from someone here on TB. If he had trouble with the neck he didn't mention anything about it. A close inspection of the neck and edge of the fingerboard doesn't show anything major. It seems like wenge and ovangkol have slight pits in the groves of the grain, but I don't see anything that would indicate even where some splinters would have come from.
The only trouble I've have with the neck is that I can't seem to get some buzz out of the 7th fret of the B and E even with about .65mm - .75mm (using Fender picks as a feeler gauge) of neck relief. Aside from that its been fine.

I'll try some Feed-N-Wax on it since that's all I can find quickly. It gets very dry where I live and can only go maybe 2 months of the year without having to have the A/C or heater on.

Thanks for the input.
| | |
| --- | --- |
| socialleper | 01-02-2013 10:22 PM |
---
Uh oh...looks like I spoke too soon. I waxed the neck and took another look at the side of the fingerboard where I would most likely slide my hand. The first picture is a jagged edge I found that I didn't notice before. The second is a sliver that was wedged in the rag I wiped the neck done with. Yikes!
What are my options for fixing this?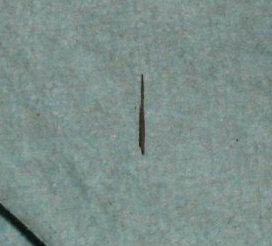 | | |
| --- | --- |
| Means2nEnd | 01-03-2013 12:08 AM |
---
Personally I would tape off the area around it with painters tape and with one of finest sand papers I could find lightly sand the area just to smooth it out and then wax it with Warwick wax if you have it or Howard's feed and wax let it soak in a couple times let it sit on there 30 minutes before wiping it down.

I figured it was from damage that broke the grain and raised part of it. Needs to be smoothed out and sealed a.s.a.p.

Others may have different suggestions but that you can do yourself cheaply and should fix it right up. Good news it's not right on a fret.
| | |
| --- | --- |
| socialleper | 01-05-2013 11:21 AM |
---
I tried this myself with some 220 grit paper and some Feed and Wax. The wood is a lot softer than I realized so I had to be very careful to use light strokes only. It feels better now, the real test will be at practice.
The Howard's seems like its pretty good stuff. I only needed a little tiny bit for the whole neck, which makes me think its going to take me years to get through the whole bottle. Luckily I believe beeswax is a natural preservative.
| | |
| --- | --- |
| WarwickOfficial | 01-10-2013 07:46 PM |
---
I would agree with Mean2nEnd, this looks like a damaged area with a splinter broken off. I think you took the right measures by light sanding and sealing. Under normal conditions, this is not an issue. Keep us posted...thanks!
All times are GMT -6. The time now is

11:29 PM

.
Powered by vBulletin® Version 3.6.12
Copyright ©2000 - 2014, Jelsoft Enterprises Ltd.