Christmas comes late
I was in danger of having my Filipino card pulled for violation of Filipino Code 917.3,
Failure to maintain a piano or piano-like instrument in ones home
. There was always a piano around growing up and it became my first instrument when my parents forced me to take lessons at age 7. I quit the lessons eventually but never stopped playing. Years later and pianoless, I tried to cop some keyboard time every chance I got
I missed having a piano at my beck and call but have no room for one so a piano-like instrument it was. I couldn't really decide between a controller to use with my laptop or a heavier, self contained unit but was lurking Ebay and "used" sites in earnest. On the morning they listed it, I found an Alesis QS7 at the North Charlotte Guitar Center for $179 and gave them a call (there's another QS7 on the GC used site for $299)!
I had some apprehension since I have had a bad experience with used GC gear and I wasn't quite sure about their packing ability but decided it was worth a gamble, asking them to send it "signature required". I was expecting delivery today and since UPS usually rolls through my neighborhood around 6pm, I fully expected to be home to accept it. As luck would have it, I came home to the dreaded UPS InfoNotice stuck to my door. I called the UPS robot and made arrangements to pick it up at the local hub and the robot told me someone would call me within one hour. About 15 minutes later, the Man in Brown knocked on my door and handed me a box big enough to carry a body or two.
The box arrived in good condition but it wouldn't have mattered if it hadn't. To my great surprise, the box contained an SKB ATA hardcase! A $250 value! :hyper:
I assumed it didn't come with a case and didn't bother asking! The LCD is nice and bright, everything works fine and the keyboard is in remarkable condition considering it's pushing 15 years. It has more sounds than I know what to do with and I'm having a blast getting reacquainted with my first instrument. If I get my chops together, I might even be able to pick up a new double!
Final score: Alesis QS7 and SKB hardcase for $179!
Oh yeah...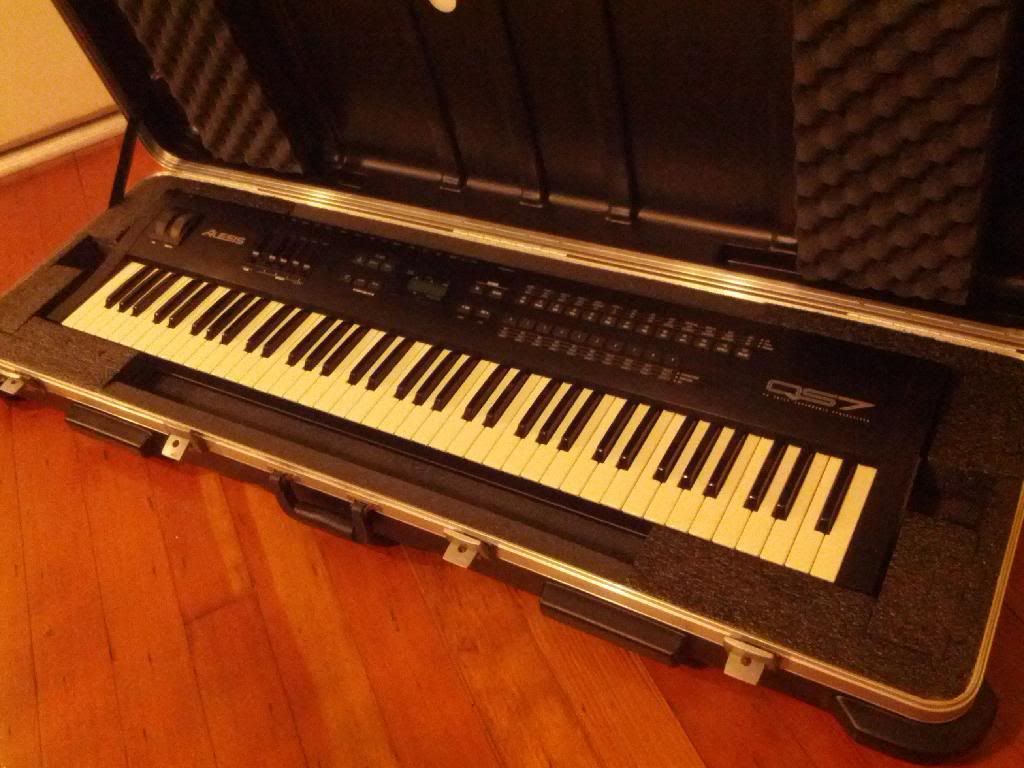 There's even a Keith Emerson demo on it! :bassist: