Hi,
I don't know how many pictures we are allowed per post so I may have to respond to myself to get them all in. ;)
This is usually the time the golf clubs in the Palm Springs area have their "season openers" because all the "snowbirds" have flown out here for the winter. This event at the Bighorn Golf Club was called "The Roundup". It was a golf tournament in sponsored by a large local European car dealership. There were activities, dinner, dance, test drives, etc, along with the golf this weekend. It was kind of a big to-do.
The venue was 90 miles away, a little past Palm Springs, in a ritzy suburb called Palm Desert. There are more golf clubs and tennis clubs than you can shake a stick at. I love driving through the desert, the topography and geology are very interesting. Heading east from the greater LA area there are a few interesting sights. I'll share just a couple.
This is the Morongo casino on the Morongo Indian Reservation. I've played there a few times.
A little farther down the freeway is the Agua Caliente casino. Rick, you'll meet later, and I used to be in a band that had the lounge gig every Tuesday night for a year and a half.
Of course, the above is not my picture. I didn't get a good shot while I was driving yesterday. :rolleyes:
There are numerous windmill farms through the passes down into the "low desert".
And this is just some fancy decoration on one of the overpasses on the way.
When I arrived I pulled up in front of the Rolls, Maserati, and Aston Martin to unload my gear. I guess it's a good thing my daughter had washed my Astro van.
This is part of the garden around the clubhouse.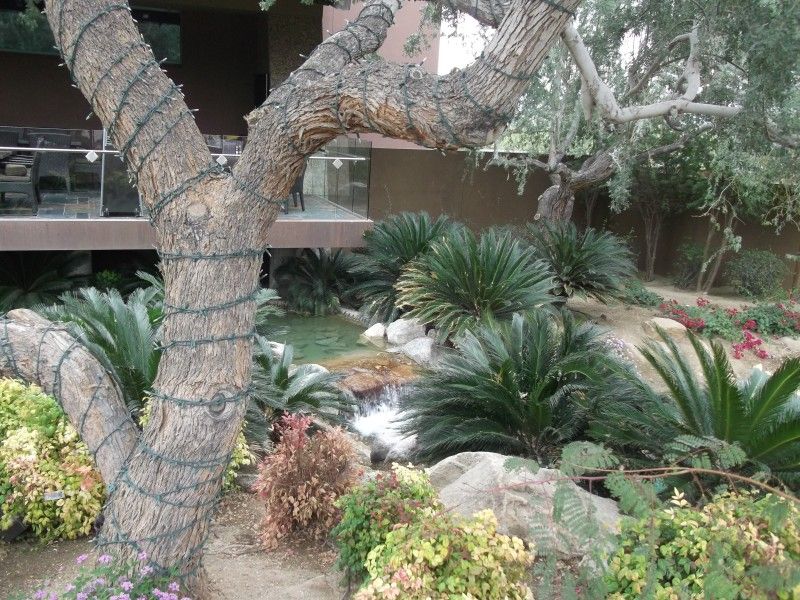 There was lots of art around the club, sculptures and paintings. This was in front. This sculpture had big ... horns.
The entryway was stone floors and nice paneling.
Down this hallway, with pictures of all the holes on the course, was the event room.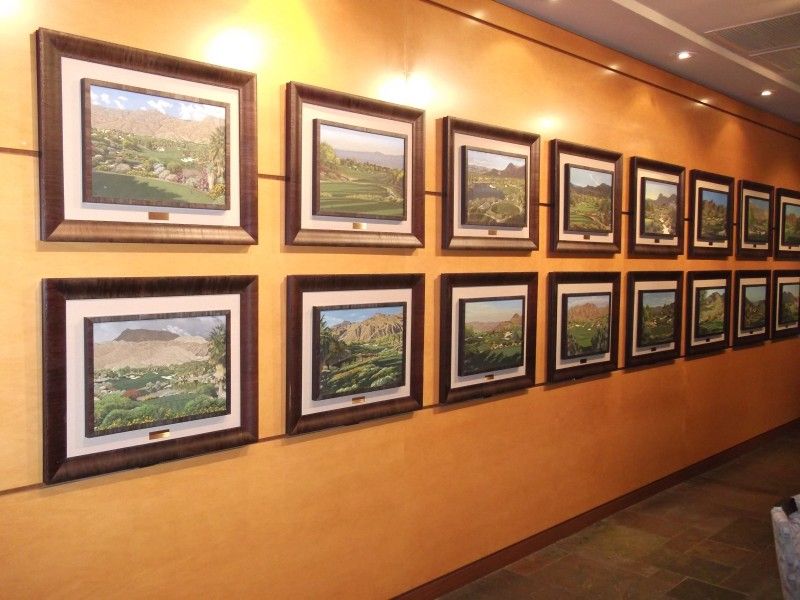 This sculpture and painting greeted you upon entering the ballroom.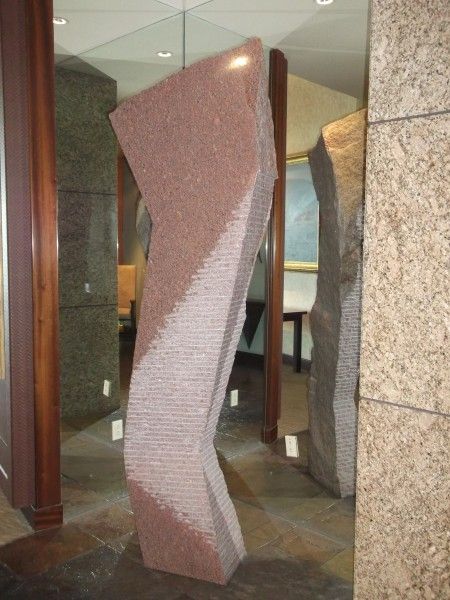 A nice poster advertising our sponsor.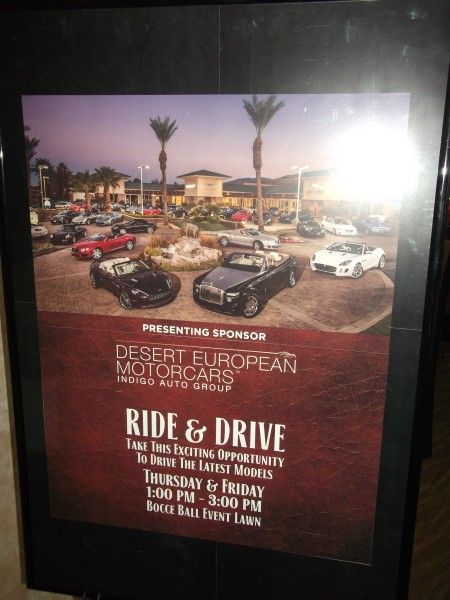 I was the first to arrive at the gig. The stage was set but the dance floor was not in place yet.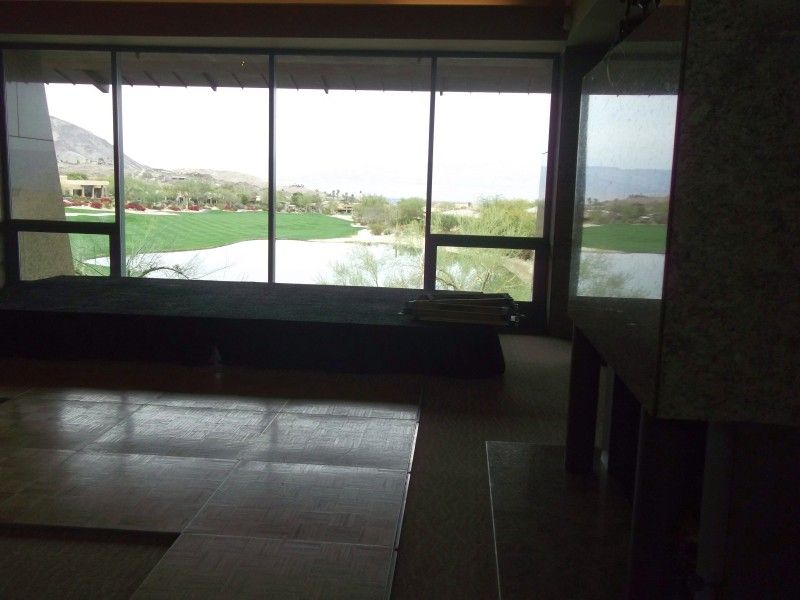 This was the view behind the stage, our backdrop behind the glass.
The rest of the band starts to arrive. This is Jack (Mr. Kelly Rae), who brought the PA and ran our sound. He is such a great guy, also a bass player, and I love working with him.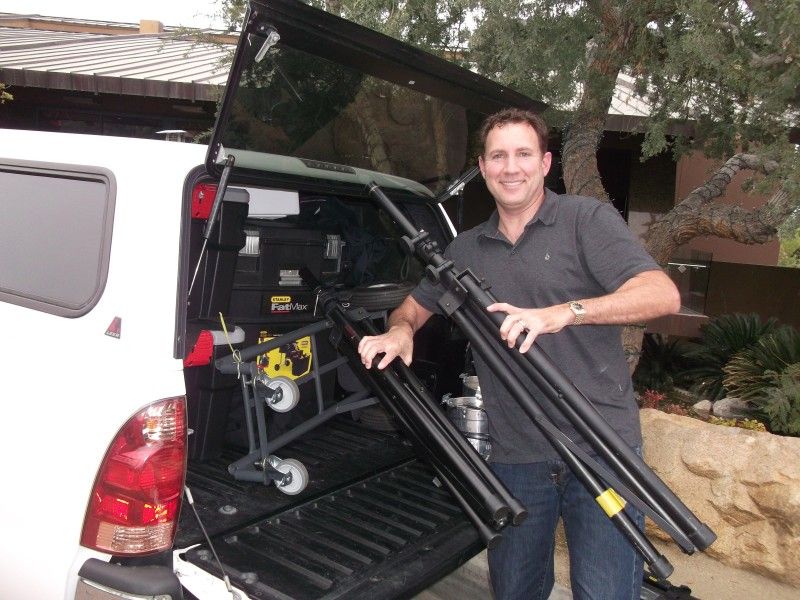 Our regular drummer couldn't make this gig so my dear old friend Rick got the call to work with us. I've been working with Rick in other projects for over 20 years. He arrived in a good mood.
Daniel arrived and started setting up. He seems to be having a little trouble with his stand. I
know
he's done this before. :p
Art is happy because he is now all set up and ready to go.
Art brought his sparkly G&L Tele-thingy.
This is always a delicate dance. Musicians politely and carefully negotiating their space on a small stage. We are used to stages that are bigger than that dance floor.
OK, we're getting there.
Daniel tunes his little five string mini Strat-thingy (Mando-caster).
While the band finishes setting up, I wandered around and took a few more pictures of the venue.
This was one of the dining rooms and it had a nice view.
Some of the art in this dining room, another bighorn.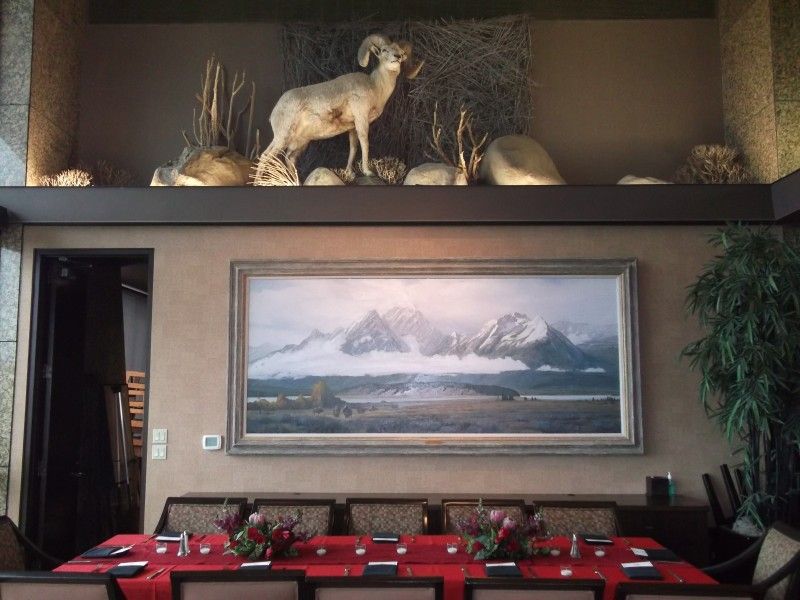 This was the menu for the evening meal.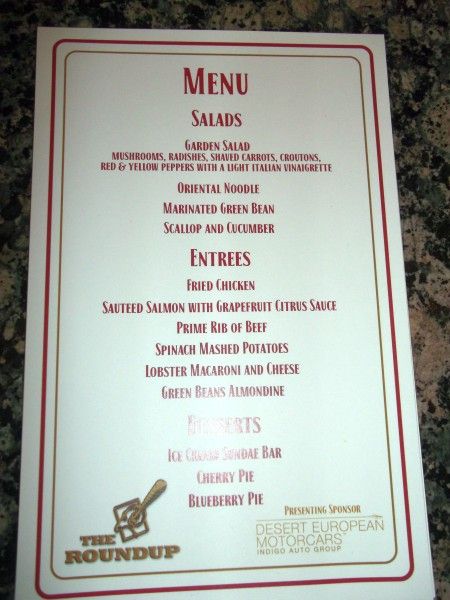 It looks like the beverage station was all ready to go.
The guests enjoyed a nice buffet.
This was the view from the back patio.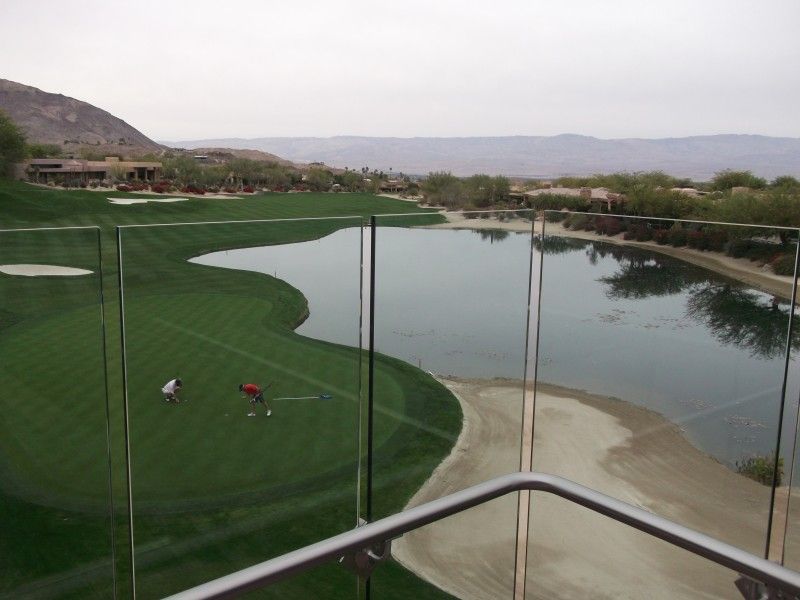 Kelly supervises the stage arrangements.
The obligatory picture of my rig on stage.
The obligatory view from my mic.
Rick brought one of his DW kits tonight. I like that finish.
This is our sound check pose. With all the glass and hard surfaces we had to keep the volume down and let Jack ensure we had a good sound out front.
Now it's time to retire to our green room for our meal and then get ready for the show.
We all had a baked half chicken and veggies. It was excellent. Not exactly what we call "jazz food" but pretty darn good.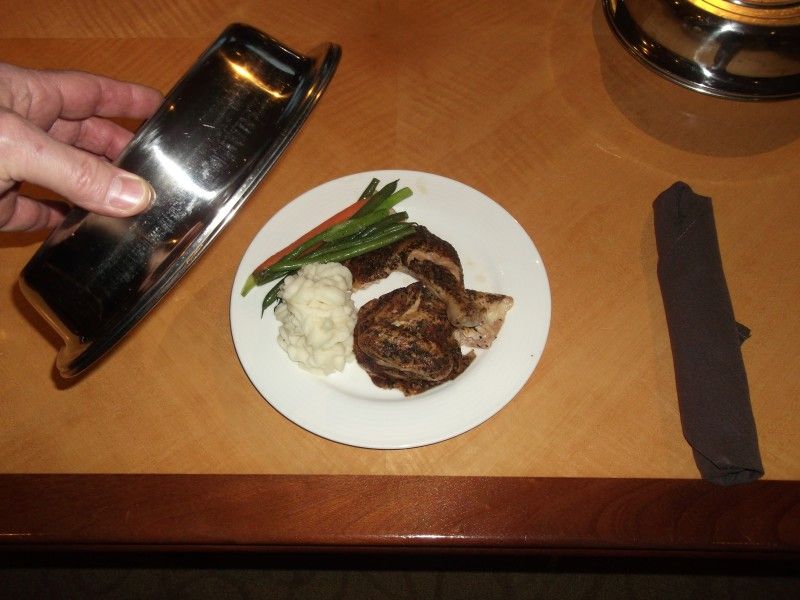 It looks like Kelly, Jack, Jeff, and Daniel do NOT want to share those cookies for desert.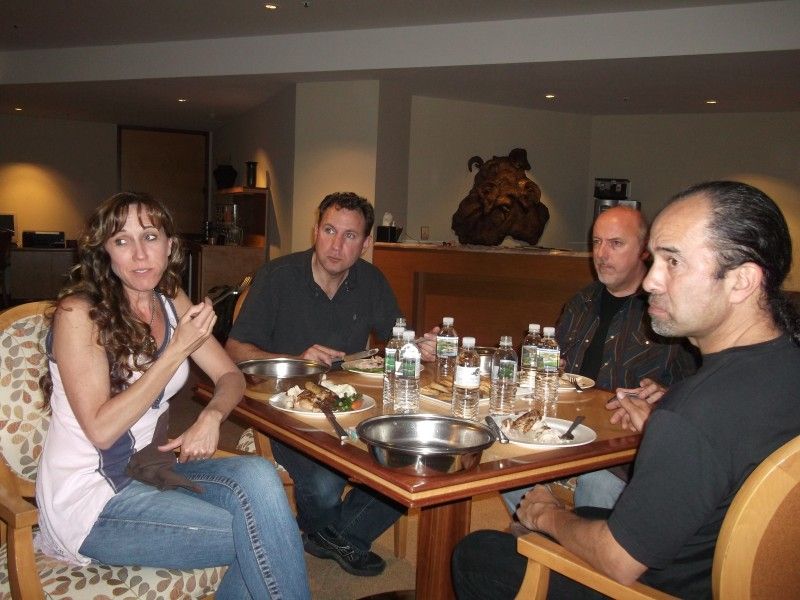 We had a pretty fancy green room. The management had reserved one of the locker rooms for us to utilize. Kelly was able to get dolled up in style.
OK, we are set up, we are fed, we are dressed. Now it's time to put on the show! Doesn't the band look sharp in our red Scully shirts? :smug:
Art and Daniel are ready for a good time.
Jeff is ready to tickle some ivory.
Even though Rick is well-caffeinated, he did a solid, steady job. Everyone could tell he had really done his homework. He had to learn about 40 tunes for this gig.
And the lovely Ms. Kelly Rae joins us on stage.
After our dinner set we retire to the green room and relax while the party makes some announcements and gives away some prizes and such.
There was even a nice little snack bar for us and a fridge full of water and soft drinks. No alcohol for the band on this gig. :rollno: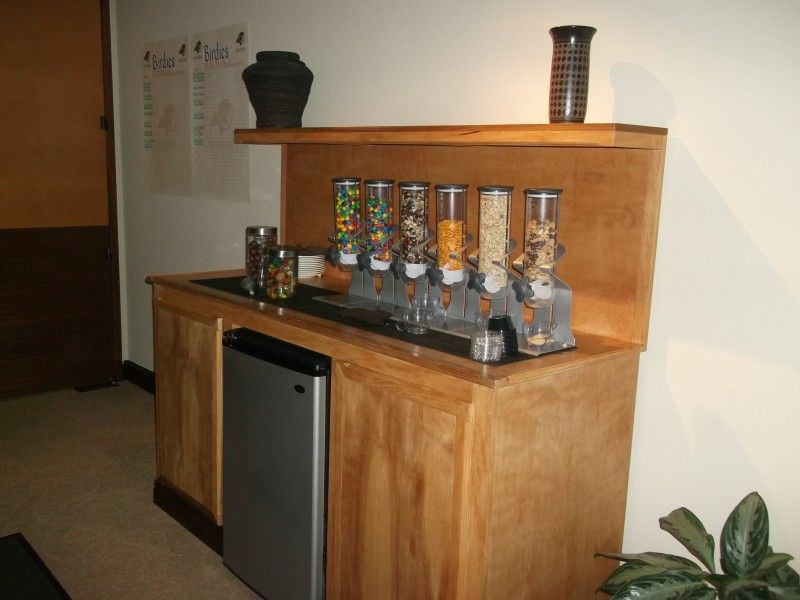 Now we're back for our dance set.
More large paintings on the ballroom wall. It looks like the guests are finished with their dinner and have had a couple. Let's get this party started!
I tell you what, that "Mustang Sally" gets them out on the floor every time.
Since the guests had been golfing all day, they had their good time early and did not stay late. We started playing at 6pm and played an hour dinner set. Then we played our dance set from 7:30 to 9:00pm and we were done even though we were scheduled until 10:00. I love those early nights! Now it's time to really earn our money. ;)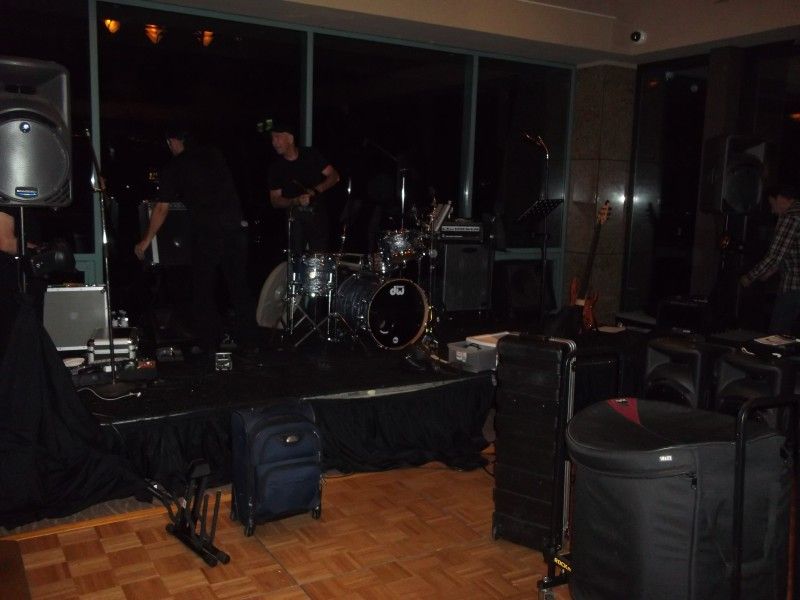 We even got to bring home the center pieces. Mrs. BassCliff loves flowers.
Since it was a small stage I brought minimal gear which made for a quick and easy load out. But I helped the others who had more stuff. We like to share the load.
After we're all loaded up, Jack and Art say good night.
Kelly and Rick say good night.
And I say good night to the Bighorn Golf Club.
These gigs are always a quite a drive, an hour and a half for me, longer for the others, but I love them because they are easy, early nights, food is good, pay is excellent, and the well-healed older crowd we play for is generally a fun bunch.
I've played a lot of golf clubs in the Palm Springs area and this is one of the nicer ones. This band has played here many times in the past, but it was my first time. They loved us so I'm sure they'll have us back. Yes, once again, it's a cushy job but
somebody
has to do it. As always, thanks for letting me share my gigs with you.
Thank you for your indulgence,
BassCliff