Now the best part of being propeller head like I am, is finding out through learning history of planes how they basically used to throw things at the wall and see what would stick.
And never is that more true than with Jets. As soon as the jet engine went into production, the R&D bozos were inspired and concepts were thought out and built, resulting in some very beautiful aircraft, such as the DeHavilland Comet airliner, the first jet driven passenger plane.
But for every good idea there was a bad one and some of the concepts they came up with were so crazy that even now we can't help to wonder "What on earth were they thinking?"
First of all the notion that if you want jets quickly but don't have that much time to properly develop purpose built jet planes you can always convert piston powered planes.
The successful Russian Yakovlev Yak-9 was seen as the ideal candidate for jet conversion once Jet technology came into their hands via captured Messerschmitt 262 fighters.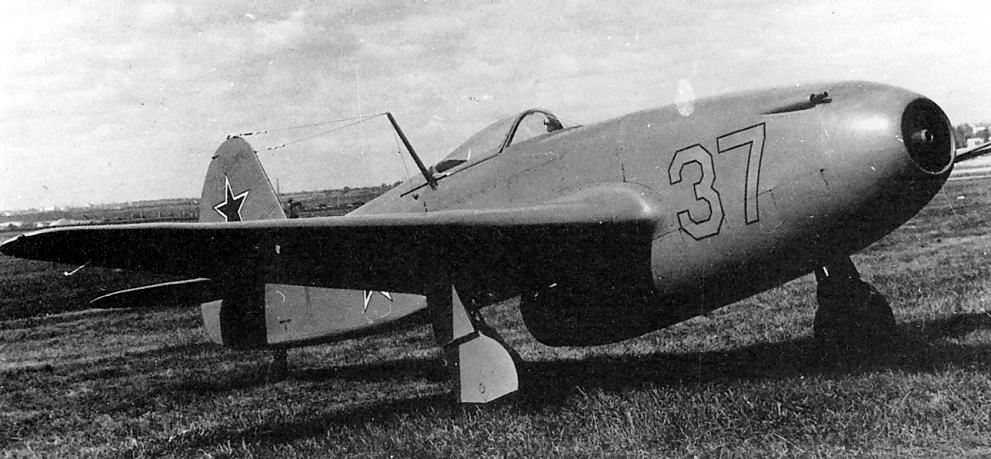 And so the crude Yak 15 came to be.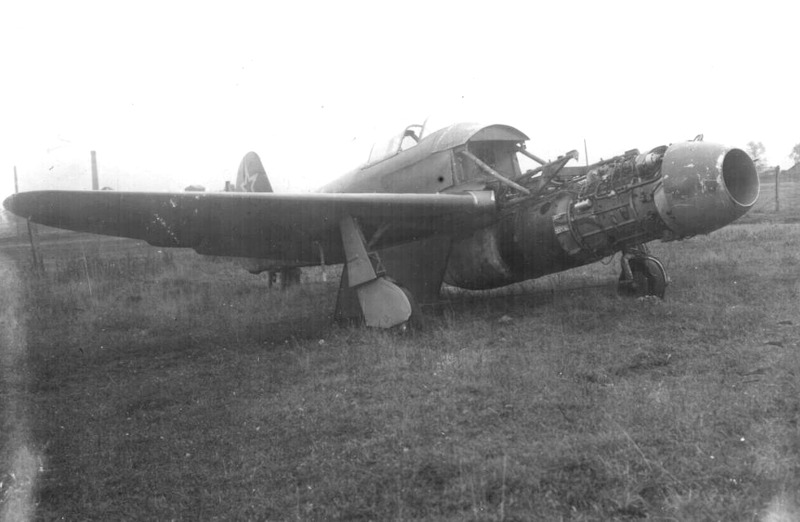 As for how crude it was: here's one with the engine cover removed, showing how basic the installation of the engine into a Yak-15 frame was. You can still see the engine mounts for the 12 cylinder V engine the Yak-9 had.
The Swedish SAAB J-21 was another odd beast: it had a twin boom configuration with a Daimler inverted V-12 engine in a pusher set up.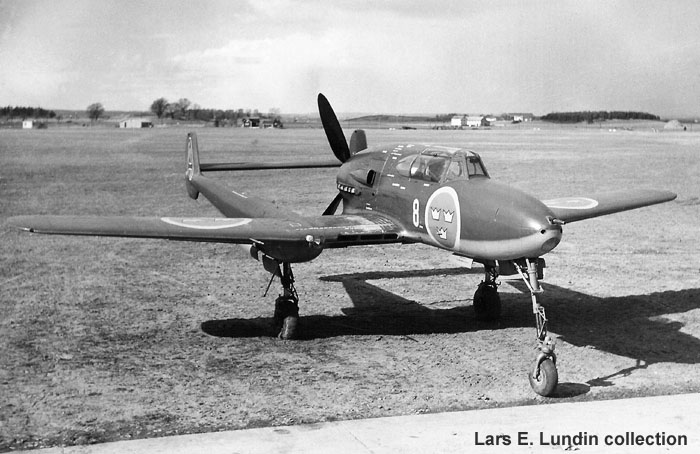 But with Jet Technology in their hands the Swedes had the good sense (Certainly when seeing the similar twin boom DeHavilland Vampire jet) that the J-21 could be an ideal candidate for conversion and so the J-21R came to be.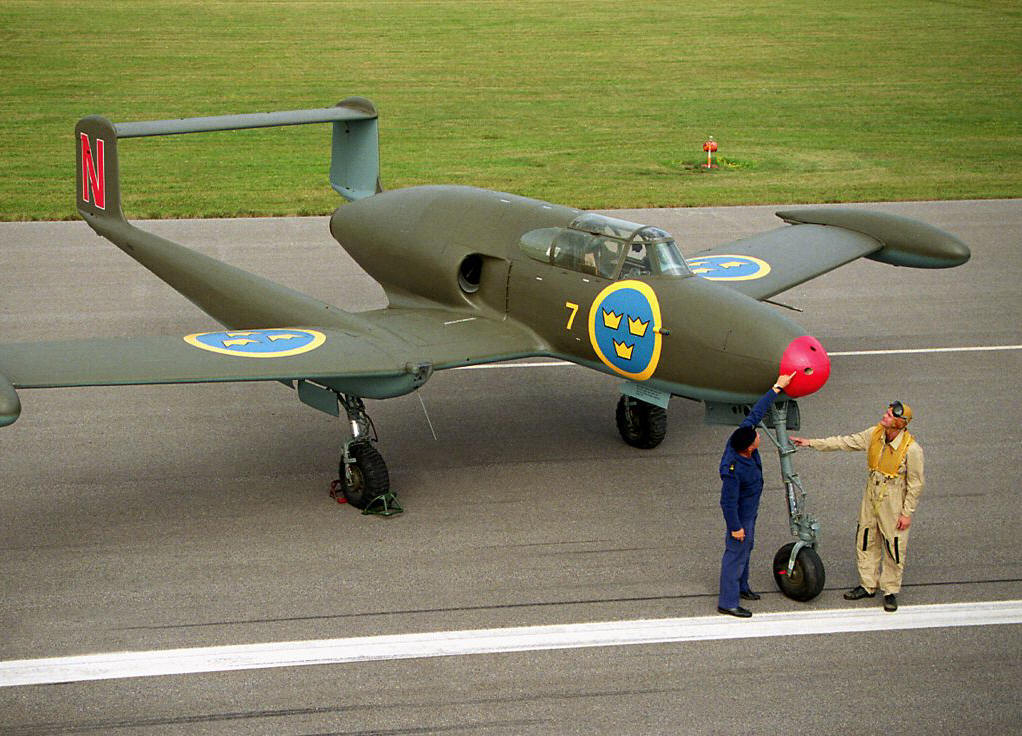 A relatively successful plane, the j-21R was built in a respectable total of 299 and was in service for 9 years.
So converting a propeller plane into a jet plane can work but if you have a Propeller plane that's already quite fast, you can shorten development costs by using that said plane parts and put them on a new fuselage.
Now the iconic P-51 Mustang itself used a lot of "Spare parts" the under carriage came form an AT-6 Texan trainer as did much of the avionics. So when North American aviation got their hands on Jet technology it made perfect sense to look at the Mustang and go from there.
The resulting FJ-1 Fury had the Mustang's wings, tail planes, avionics and Cockpit. And if you go, "Now hang on that plane looks familiar." it should, because the fuselage of the Fury was used to create the F-86 Sabre.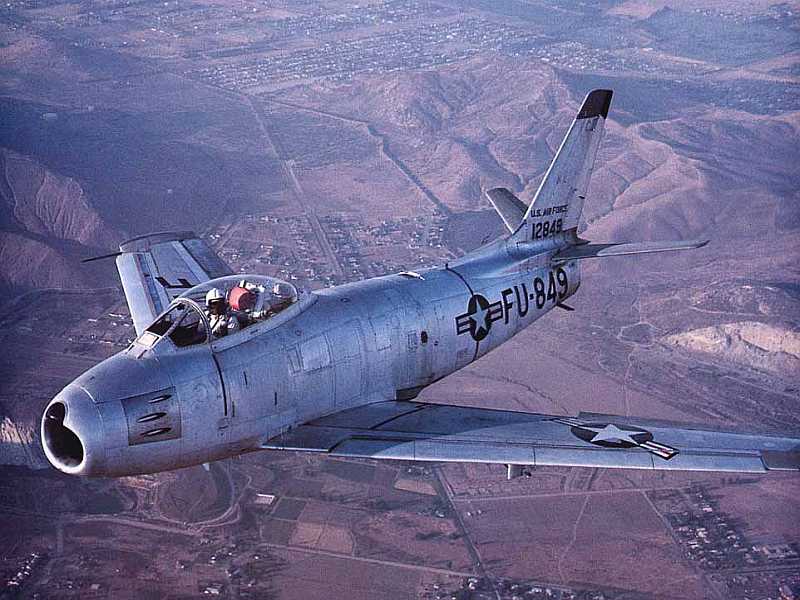 And the Mustang Wing also was found on another jetplane North American made: the T-2 Buckeye.
So with the Fury and the Buckeye the old Mustang wing proved to be perfectly suited for jet use. But not all wings were that good.
In the UK an effort to refine the already legendary Spitfire resulted in the Spiteful, which was a redesigned Spitfire with a completely new wing with laminar flow profile.
But the Spiteful never quite lived up to the promise of being a "Better" Spitfire. Regardless the boffins of Vickers-Armstrong decided that that groundbreaking new wing shouldn't go to waste and so they decided to use it on what was to be their first jet: the Supermarine Attacker.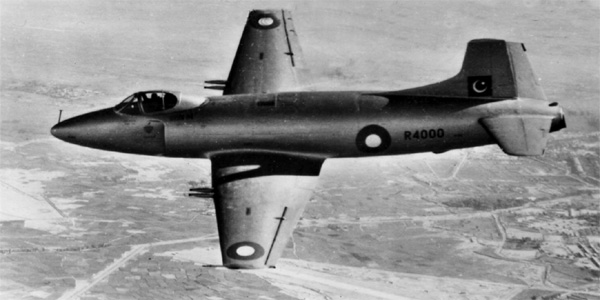 This Pakistani Air force attacker in flight shows the Spiteful wing to good effect.
However the design for the wing of the Spiteful meant that The Attacker ended up with a peculiarity one wouldn't associate with a jet.
Because in order to make the wing design work the Attacker had to have the wing in the same spot as where it sat on the Spiteful, meaning that the Attacker had to be built as a Taildragger.
Add to the fact that the attacker was a very unstable plane and the accident rate was high it's safe to say that a taildragger jet with the wings from a failed follow up to the Spitfire was never going to work.
The second world war had taught people that runways could be bombed which meant that no matter how much fighter jets you have, they'll be useless if they can't take off. So VTOL (
V
ertical
T
ake
O
ff and
L
anding) planes were beginning to look more and more as THE solution for having airpower even after your runway is destroyed.
The concept was simple: take a look at a rocket, build a plane that like a rocket stands on its tail, takes off vertically, tilts over to level flight and lands on its tail, sounds pretty simple and straightforward doesn't it?
In fact it sounded so simple that seemingly everybody had a go at it.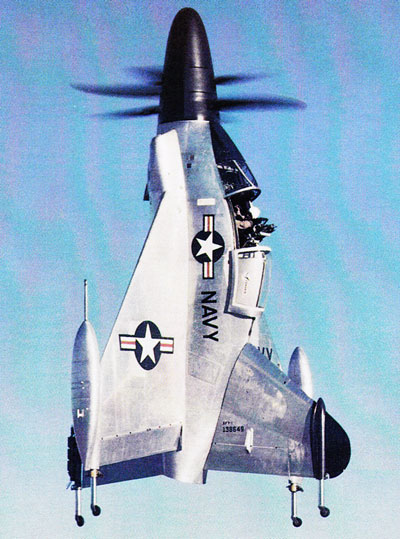 The Convair POGO
The Lockheed Salmon
The French Snecma Coleoptére.
The Ryan X-13 Vertijet
But what they quickly found out is that it took a very steady hand on the throttle controls of the jet, to make it hover without it keeling over, which took very little to do. As a result NONE of those early VTOL jets was taken into mass production.
Of course one VTOL Jet which DID go into production was the Hawker Siddeley Harrier. This clips basically explains why that concept works in simple terms.
http://www.youtube.com/watch?v=HpYRyxHr_vw
That concept of vectored trust had the R&D devision of the German Dornier company go: "If we can have fighters take off vertically, why not transport aircraft?" and so they came up with the Do-31 which used two Harrier engines and eight(!) lift engines in pods at the ends of its wings.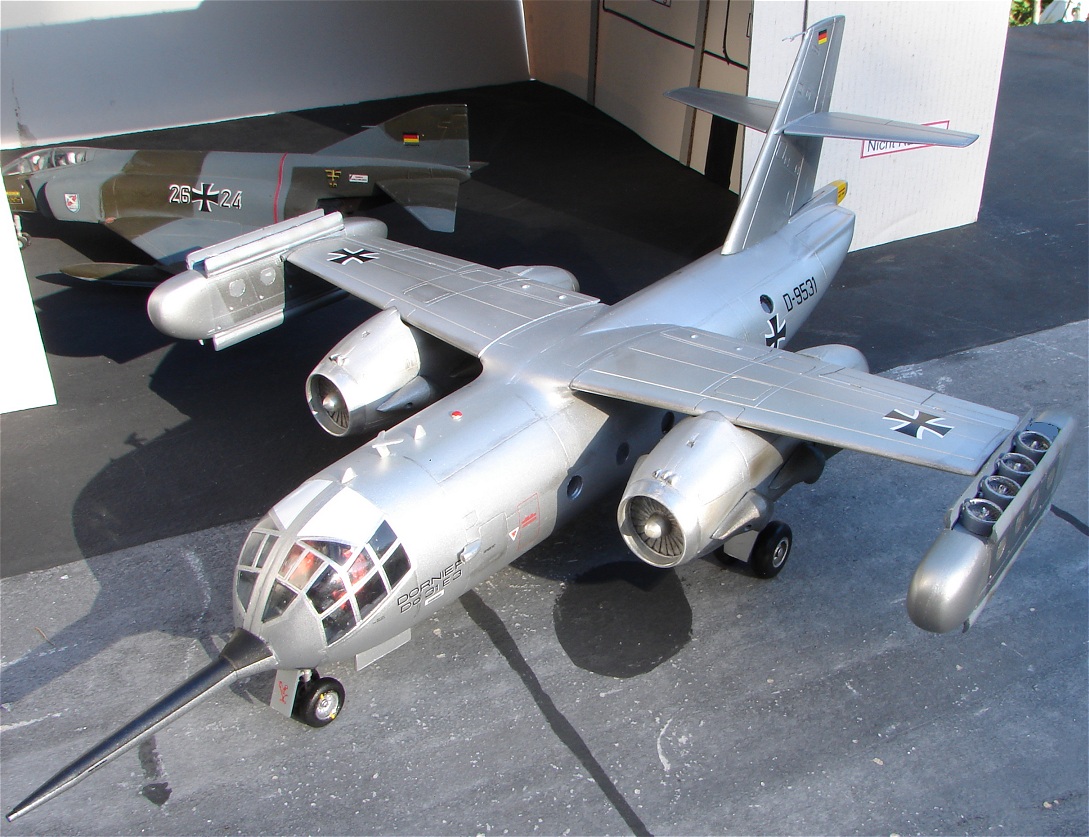 Donier build three prototypes which were tested and flown until somebody basically told them that a transport helicopter would work just as well, if not better than the Do-31. And so the project was shelved.
And just when you'd thought you'd seen everything...
The Royal Navy had been testing out Jets on aircraft carriers after the end of the second world war but the high rate of fuel costs for a jet-fighter made it that take offs and landing were considered to be expensive, so in order to have a plane carry more fuel it was decided that that said plane would do away with the under carriage and have the space used to store more fuel.
"Right, no wheels, so how would they land?" I hear you ask, well, like this...
http://www.youtube.com/watch?v=f7Lu6LEQ0zo
They worked it out so it became practical but it was decided that it was too difficult to land a plane that way (And the pilots were complaining about whiplash) and so it was abandoned.
And to close it all off here's the bizarre McDonnell F-85 Goblin
Now the notion was that it took fighter escorts way too long to reach the bombers they were to protect and so to have instant Fighter support they would outfit a couple of the bombers with Goblins which could be lowered from the bomb bay, fight the enemy planes off and be hoisted back on board again.
Needless to say that wasn't very practical and as such was never taken in full scale production.