Here ya go ....
Jacks securely mounted to the chassis and not mechanically attached to the PCB. The little tiny pcb on the jacks are called "chiclets" that make it easier to do final assembly soldering joints. Note the use of ribbon wire.
Same with the footswitch, securely mounted to the thick chassis but not mechanically attached to the pcb.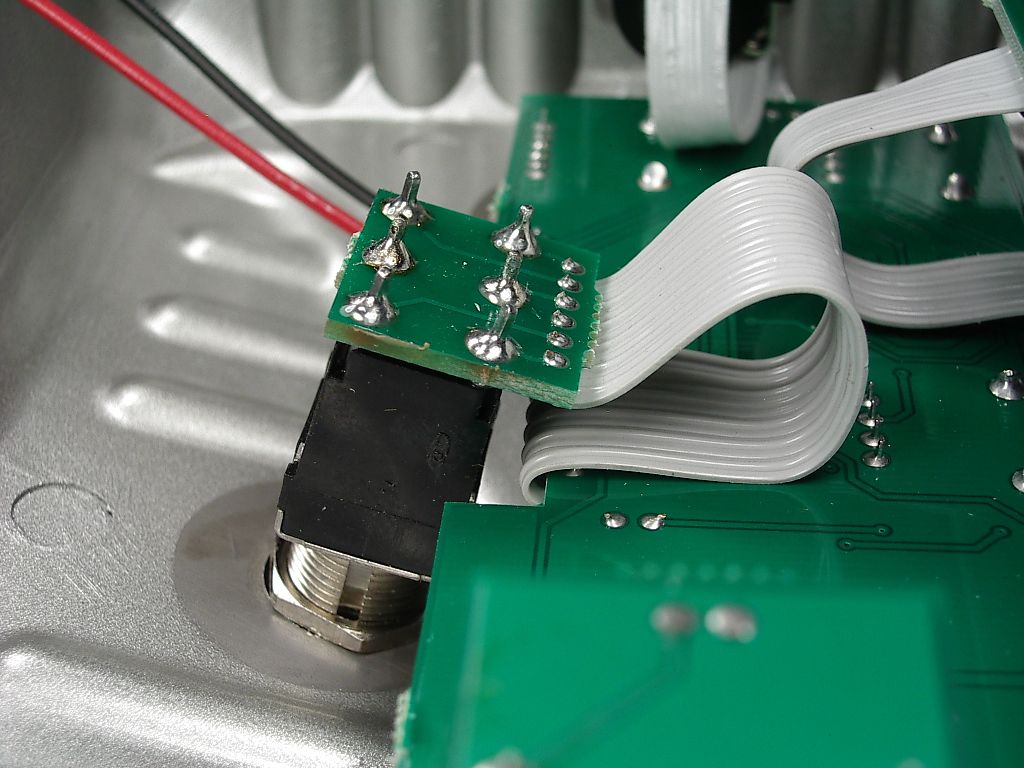 Nice, heavy duty die cast chassis. Not positive but I think it may be powdercoated.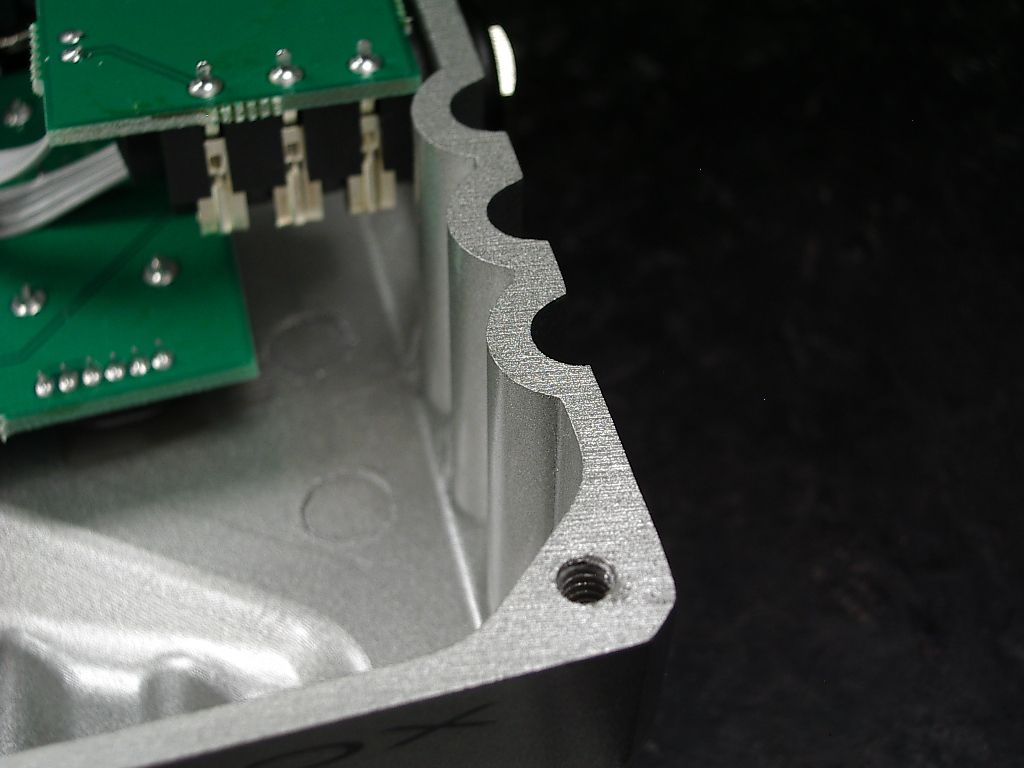 High quality allen head screws secure the bottom cover plate to the main chassis.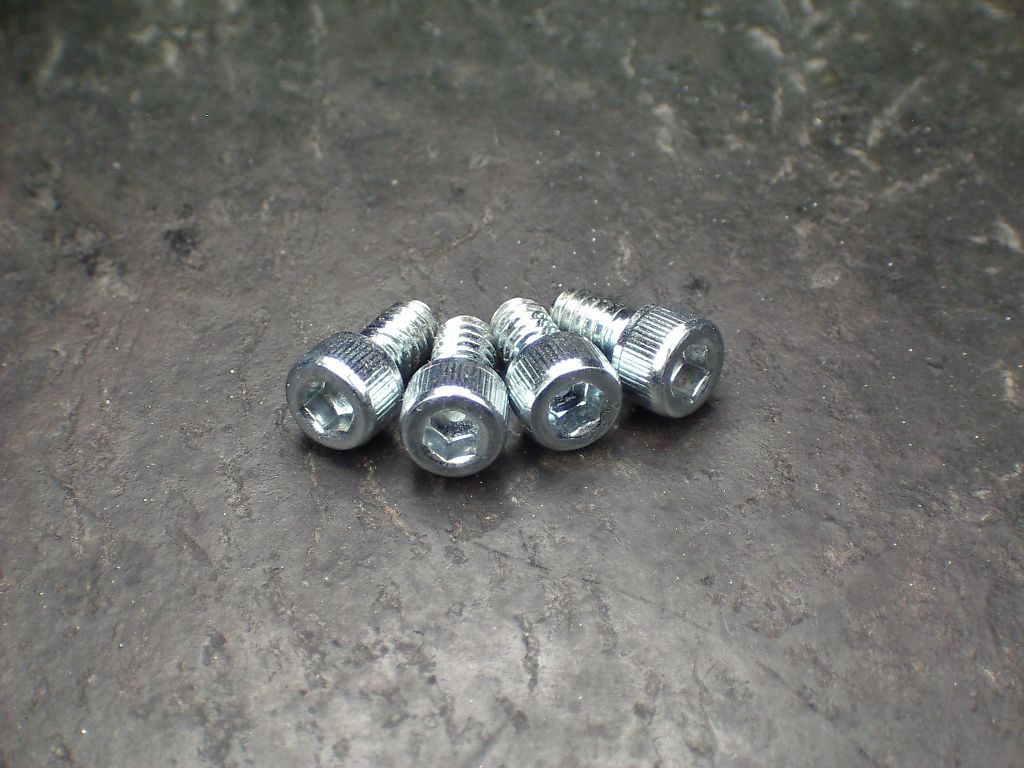 Fully enclosed battery box with ~no tools needed~ access to the 9v battery.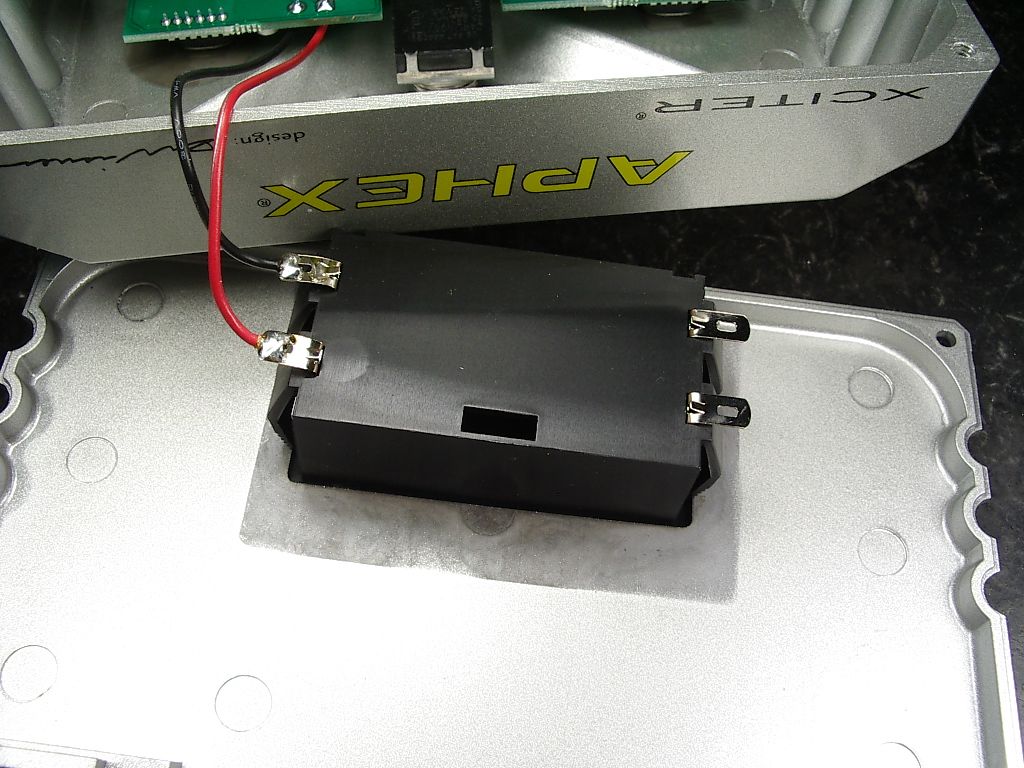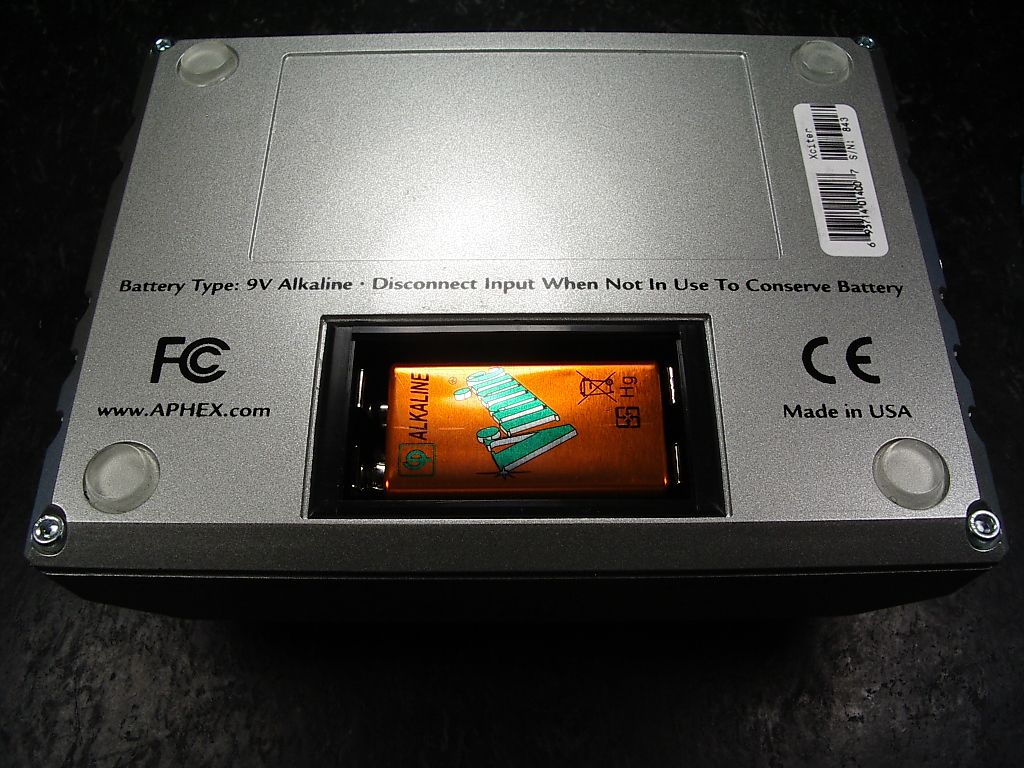 This was nice to see ....
For whatever reasons Aphex gave a nod to the designer of this oddly shaped stompbox. I rather dig the hell out of the way it looks. Sortof has this alien space ship look about it, or perhaps Milspec "stealth" angular shape.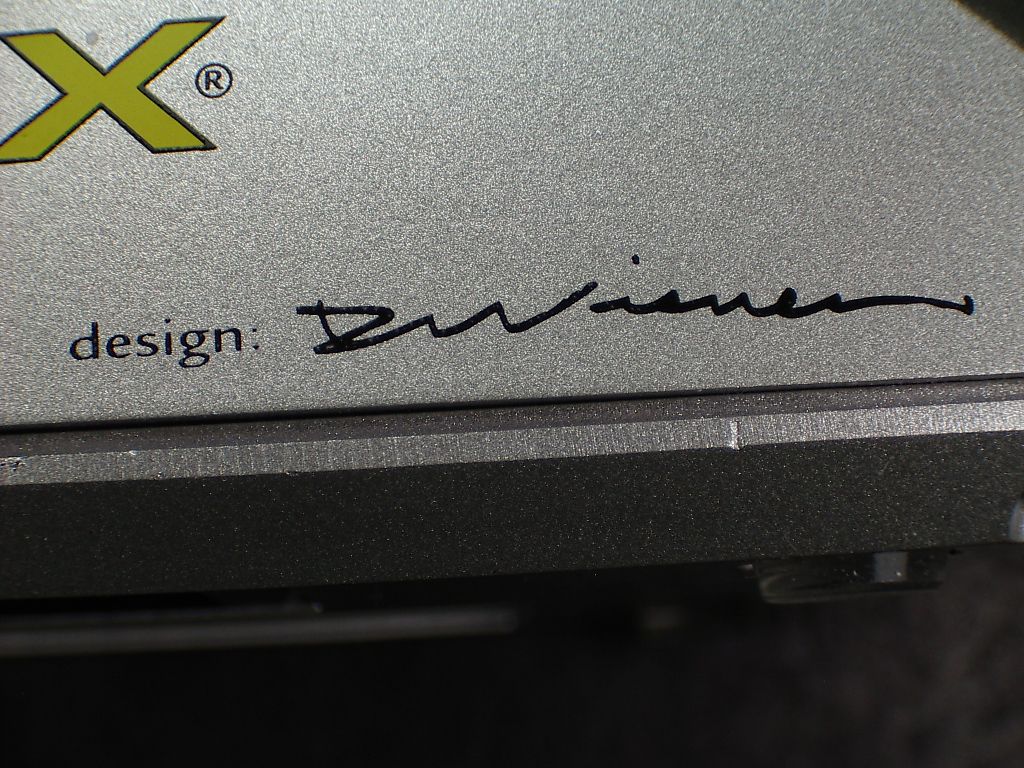 Look closely and you can clearly see a nut under that knob that secures the control pots directly to the chassis. The knobs are machined aluminum as well.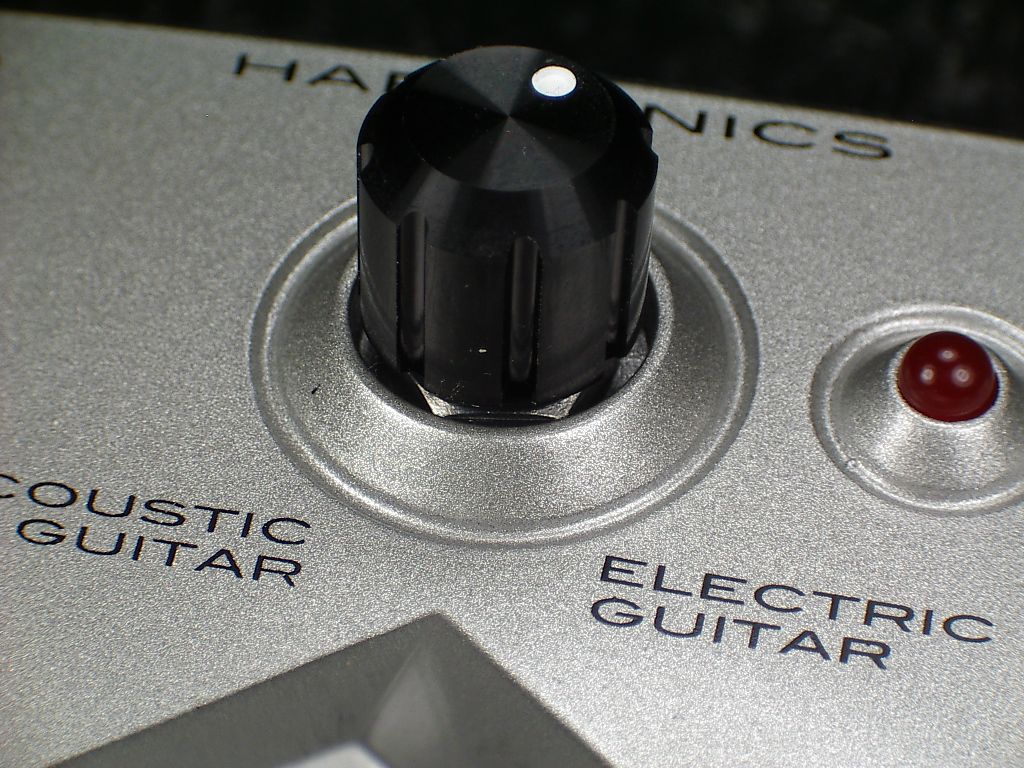 These are the same type of jacks used on Marshall amplifiers. They're very smoothe, easy-insert/easy-extract type.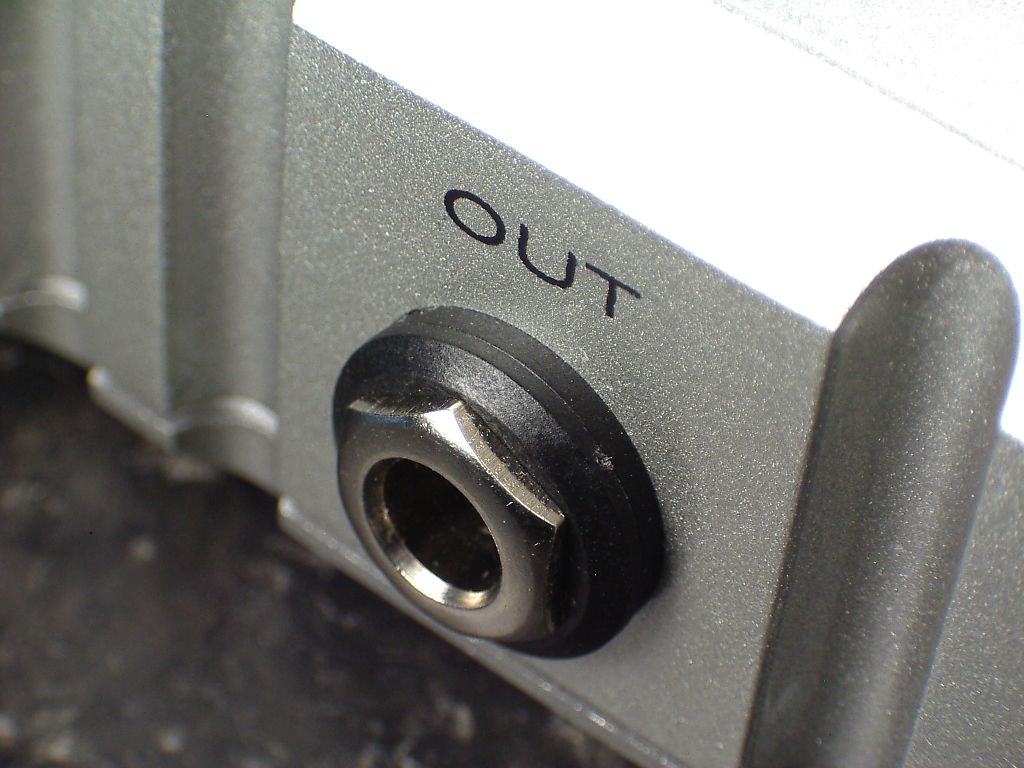 Gold plated connectors on the DI XLR jack. Also note the screws that secure the DI jack to the chassis, and the 48volt phantom power graphic.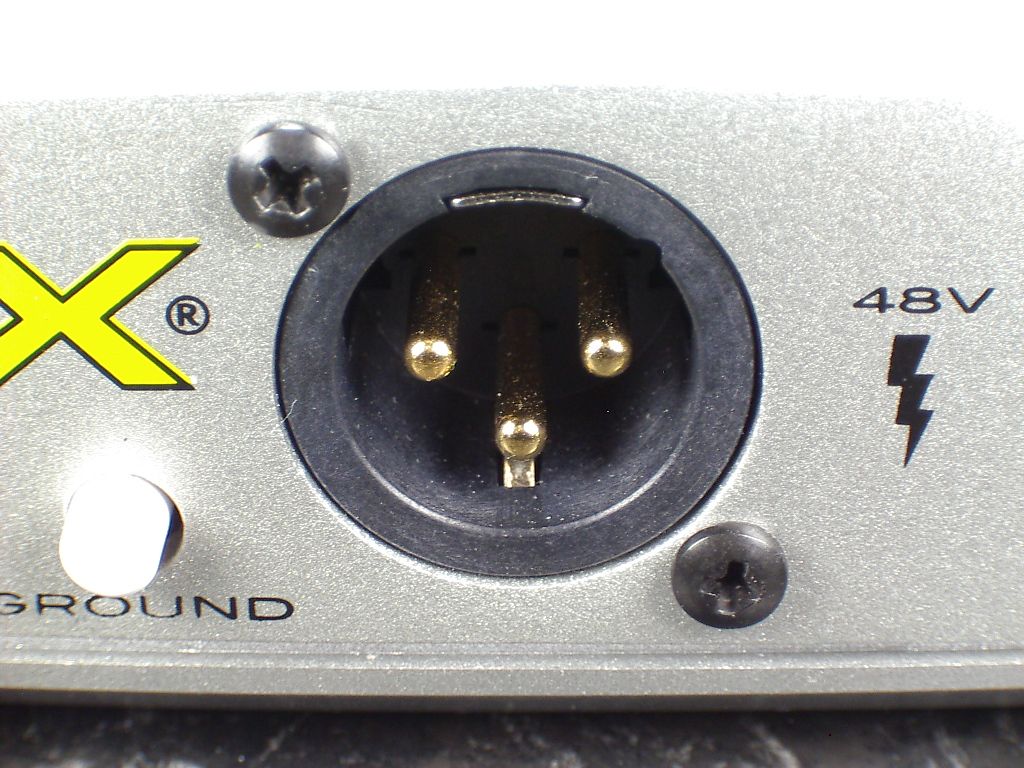 Input power graphic. This thing runs on nearly anything!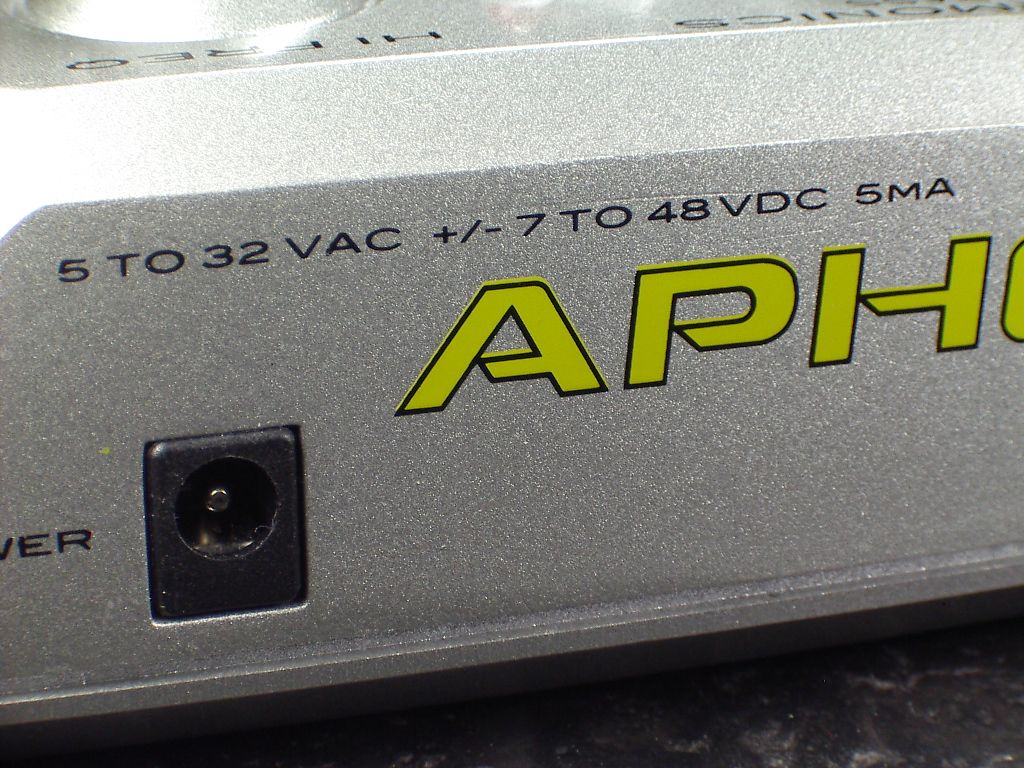 There you go. As you can see this new Xciter is nothing at all like the old crappy design. These new ones are built like a shovel.
As far settings, it's just too easy. The minimum freq for the bass setting is roughly 70hz. The max is roughly 250hz. Set the bass section's level control up to at least ~noon~ (even more is better just to get the initial feel at first). Then sweep the freq knob until you hit the freq-area you wish to address ... use your ears here. Then reset the level to whatever suits you. I usually have the freq at around 8 o'clock or so, but it depends on what I'm doing at the time. My rig is very versatile and is capable of many things, so I use a lot of different settings.
For the high end, use the exact same process. I prefer the freq set to around 800hz or so, with the level totally maxxed out. If you set the level up really high, you can REALLY hear the filter sweep as you work with the FREQ control. So once you find ~the good spot~ you can reduce the level control.
I saw it mentioned that some sortof delay circuitry is used to produce the magic this thing makes. Perhaps, but know that this is NOT a delay pedal. I personally think that Aphex uses a combination of compression and semi-parametric EQ simultaneously to get done what it gets done. I use it to re-establish the low end that is sucked out of my tone when I use a POD Pro. The POD is primarily a guitar processor and it tends to have low end freq centers around 125hz or so. The Big Bottom circuitry of any of my Aphex units TOTALLY rebuilds the low end after having the signal run through the POD. So using these Aphex units allows me to use any number of guitar type FX and then rebuild the low end after the guitar processors. This opens up many doors for me. It allows me to use the bazillions of guitar-oriented processors and still have my bass sound like a dang bass.
Here's the POD and the Aphex 204 ...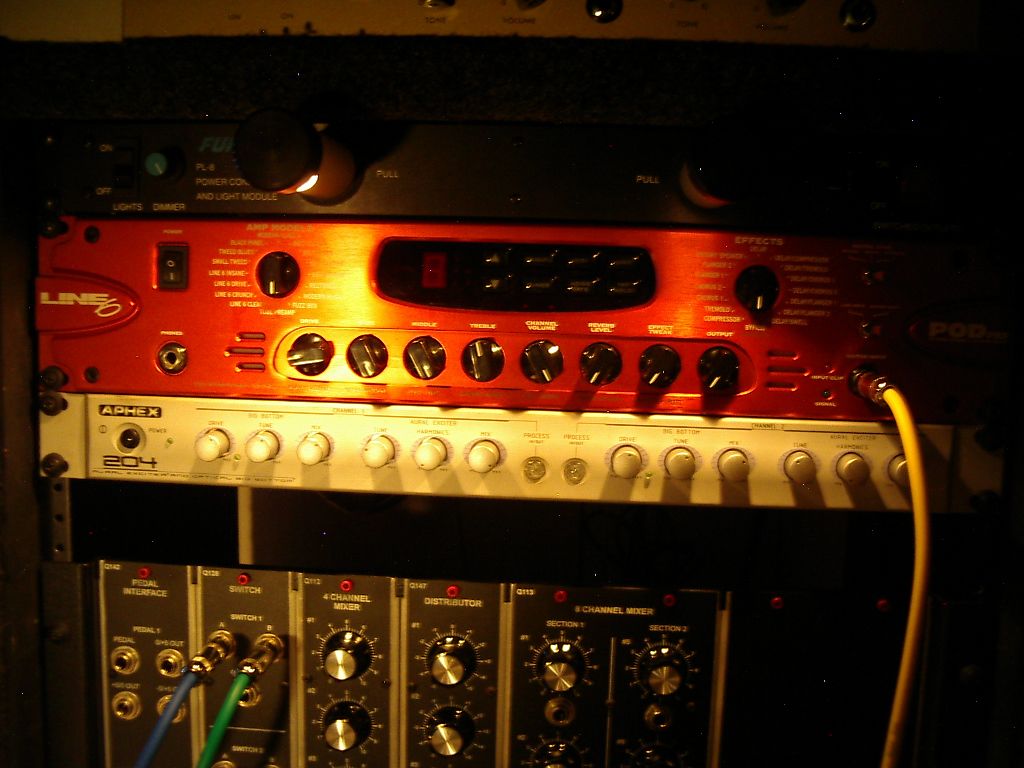 I can reef on the Big Bottom control and the level LEDs on my Mackie 1400 watt power amps don't even budge. Actually, I only need to turn the BB level up to roughly 2 o'clock.
To address what was asked of me regarding BB settings (you can kinda see the settings in the picture above), on my 204 I typically set the "TUNE" control to about 1 o'clock (40 to 50hz or so), the "DRIVE" to the spot where the drive light is just blinking when I spank the strings, and the "MIX" is set to roughly 2 o'clock. I little goes a very long way with these things. I try to tune the BB to the same freq centers that most of the better Ampeg amps are centered at (40 or 50 hz). Your better bass preamps usually center the bass controls around 40-50, on up to 80hz (Tech 21 BDDI uses 80hz, 750hz, and 3.2khz freq centers on the bass, "non-mid", and treble controls). Just so ya know.
And just to add to this, know that I use no bass amp. I use just processors and a Mackie power amp that is set in 2-channel mode (aka "stereo"). It drives a 2x10 front shelf ported cab and a 4x10 sealed cab, both are 4ohms. And of late I've been adding a guitar amp to help with clarity and definition, that is a Marshall JTM45 (36 watt tube head) powering a 2x12 open back cab with a pair of Celestion vintage 30s in it. The cab is set up for 4ohm loads. I use a special distribution setup to send signals to all three amp channels. No crossover. See my sig for roughly ten+ pages of details.
So I just use stuff like these Aphex aural exciters with Big Bottom, a POD Pro, a Presonus EQ3B 3 band fully parametric EQ, and a few other tricks to produce my bass tones. No traditional bass amp is used at all. I've been down that road MANY times.
Ok, that's it. I hope this helped. I'll try to answer any other questions as best I can. Thanks! :)
Oh and btw .... these Xciter stomp boxes street price at around $199 or so (you can find them as low as $159 though ... or lower .. read on!). However, we were sniffin' around on ebay and found this one for $109. Brand new, still in the box and sealed up. It was obvious that the box had never been opened up when we got it. The seller was a big retailer. All I can figure is that whoever was hired to input items into their ebay ads accidently hit a zero instead of a nine and typed $109 instead of $199. Not knowing any better (just being a person that inputs numbers and specs to ads) the person didn't catch the error. So we got a shmokin' deal on this one. We couldn't really afford it but it was one of those things you just DO NOT pass up when it's presented to you.
L8r T8rs!!! :)