I play a variety of gigs and styles as well as a fair amount of session work. I'm a big advocate of effects - but I also recognize that they aren't needed all that often!
That said, I pretty much always use the same "big board", whether doing a tv jingle session, country date or with one of my 'regular' bands: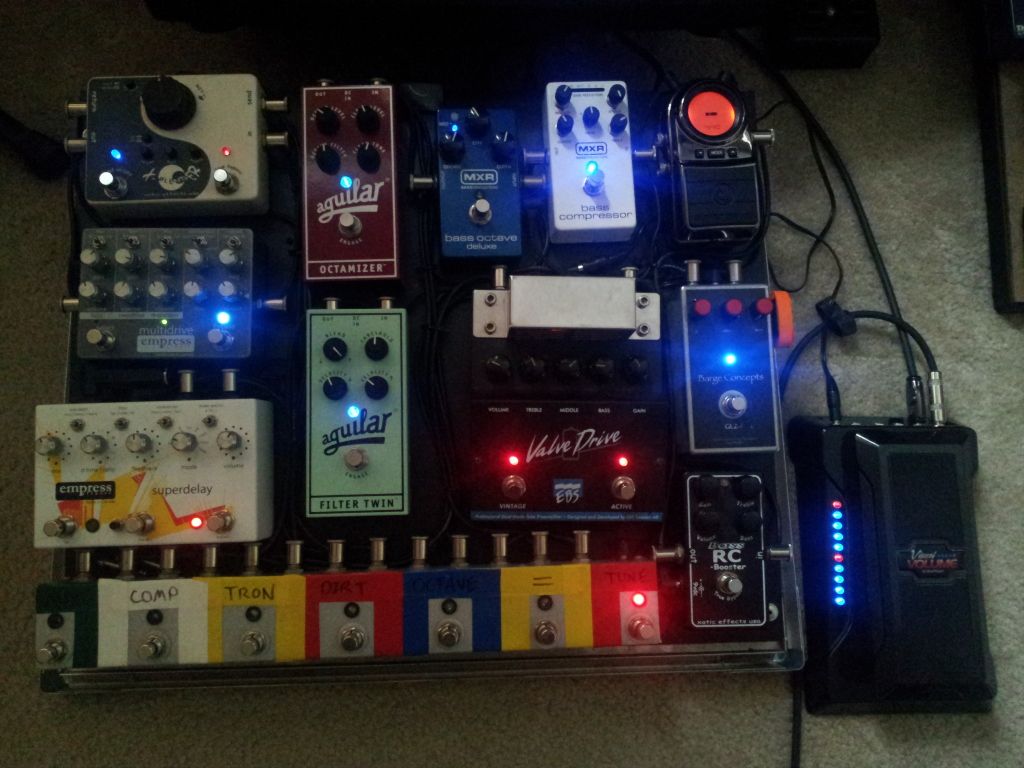 Granted, a lot of this stuff is "utility" stuff (true bypass looper, buffer, tuner) but the other pedals on this board are my favorites. I did start using a TurboTuner recently though. This board also has an "auxiliary" loop in case I need a delay, chorus or such - it inserts into the back panel along with a 9v dc outlet.
If I'm doing a quickee fly-date, I sometimes put together a micro-board just for that gig. Something like this, but I usually just bring the bog board above: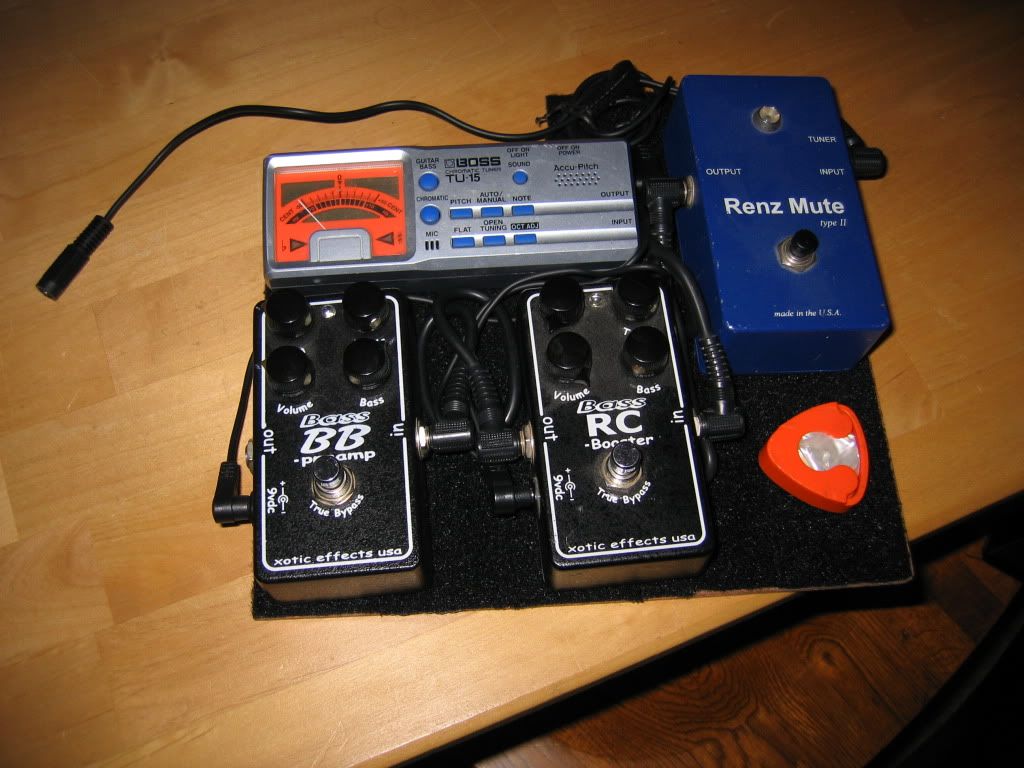 There are two important issues though, imo, with bassists and big pedalboards:
1)
Psychology
! The vast majority of artists, producers and engineers just want to see the bassist walk in with a Fender and a cable. So, right off the bat, you are dealing with some pretty set-in prejudices! I'm fortunate to have built a career and reputation for good tone and tasteful use of effects (see point 2 below), so I usually get a little extra grace -
but
if it's a new set of clients I will either leave the board at home or simply try not to draw attention to it. I've literally done sessions where I threw my jacket over the board until I got more comfortable & established a rapport with the engineer and producer over the course of the day!
2)
Taste
. If I'm being honest with myself, I probably didn't really use effects to their best musical advantage until I was in my 30's! Things like using too much overdrive & getting lost in the mix, inappropriate delay/time-based sounds that were distracting and overall making poor tonal choices.
It's embarrassing to admit, but important to be honest with ones self.
The quickest way to invoke the prejudice detailed in point 1 above is to make a poor effects choice when working with people! I've found that over the last 8-10 years that a big pedalboard is a lot more palatable to folks when you use it musically. Yes, this tends to mean a little more infrequently too! Just because the pedal is there doesn't mean you have to stomp on it every other song! ;)
Bottom line? "If it sounds good, it is good". (Rupert Neve) So, if you can be objective about your own role in the ensemble/band you are in & always make sure the music is served by your choices - I think you'll have better acceptance when you bring out the ole 'deli tray' on the gig! (Mitchell Froom called my board the Deli Tray once - ha! He's Mitchell Froom so he can say what he wants! ;))